Amy Hanauer
From KeyWiki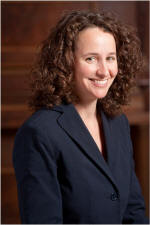 Amy Hanauer ... is the founding Executive Director of Policy Matters Ohio, a policy research institute dedicated to examining issues that matter to Ohio's working families. Since she founded the organization in January of 2000, Policy Matters has produced more than 100 reports, generated more than 1,000 newspaper stories, and begun to change the economic debate in Ohio.
Ms Hanauer has a Master's of Public Administration from the University of Wisconsin-Madison and a BA from Cornell University. She previously served as a Senior Associate at the Center on Wisconsin Strategy, and as a Policy Analyst for Wisconsin State Senator Gwen Moore, now a member of Congress. Ms Hanauer has also done research and policy work in Colorado and Washington DC for Policy Matters, in addition to running the organization, Ms Hanauer does research on work, wages, tax policy, energy policy and other issues.
Demos Involvement
In 2009 Amy Hanauer was on the Board of Trustees for New York based think tank Demos.[1]
National Leading From the Inside Out Alum
Amy Hanauer, Executive Director, Policy Matters Ohio, was a 2016 Rockwood Leadership Institute National Leading From the Inside Out Alum.[2]
Rally for No Cuts to Social Security, Medicare and Medicaid
A broad coalition says national debt should be reduced through cuts to military spending, bank bailouts and corporate loopholes and end to Bush era tax cuts.
A Rally and March will take place on Saturday, December 10, 2011 in Downtown Cleveland calling for No Cuts to Social Security, Medicare, and Medicaid. The event coincides with International Human Rights Day. The rally will begin at Public Square in Cleveland at Noon. A march will follow to the Federal Building on E. 9th street.
The rally and march is sponsored by the December 10 Mobilizing Committee, a broad coalition of community, religious, labor and health care organizations.
Speakers at the rally will be US Representatives Dennis Kucinich, Marcia Fudge and Betty Sutton. Other speakers will include Harriet Applegate, North Shore AFL-CIO Federation of Labor; Rev. Tony Minor, Metropolitan Lutheran Church; Becka Hawkins, Occupy Cleveland; Khalid Samad, Peace in the Hood; Wynne Antonio, Senior Voice Retiree Council; Nina McLellan, Peace Action; Amy Hanauer, Policy Matters; Debbie Kline, Jobs with Justice; April Stoltz, National Association of Letter Carriers (ret,); David Anthony, Akron Education Association; Rachel DeGolia, Universal Health Care Action Network; Greg Coleridge, Northeast Ohio American Friends Service Committee; and Jerry Gordon, Emergency Labor Network.[3]
References
↑ [ http://www.noacinfo.org/The Northeast Ohio Anti-War Coalition, Clevelanders to March & Rally for No Cuts to Social Security, Medicare and Medicaid]