Amber Mostyn
From KeyWiki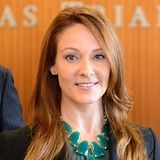 Amber Anderson Mostyn was born and raised in Fort Worth, Texas where she attended and graduated from Trinity Valley School. Ms. Anderson received her Bachelor of Arts degree from Vanderbilt University in Nashville, Tennessee with degrees in Anthropology and Spanish. After taking a year off to work in Washington D.C. and traveling to El Salvador, Amber went to the University of Texas Law School in Austin where she received her law degree in 1997. At UT Law School, Ms. Anderson excelled in trial advocacy and received many awards and honors, including induction into the nationally recognized Order of the Barristers.
Ms. Mostyn practices in the fields of personal injury law and wrongful death throughout the state of Texas. Mostyn has been an adjunct professor at Texas Wesleyan Law School and at South Texas College of Law, where she taught mock trial courses.
The late Steve Mostyn and Amber Mostyn lived in Houston, Texas. They werethe proud founders and supporters of The Glenda Jean Mostyn and Joe E. Moreno Educational Foundation. The Mostyn Moreno Foundation supports and operates programs and collaborative efforts across Texas that serve to encourage the abilities of children with special needs.[1]
Democracy Alliance
Steve Mostyn and Amber Mostyn joined the Democracy Alliance.[2]
Important donor
Trial lawyer, Amber Mostyn is the chair of Annie's List, the Texas variant of EMILY's List, and was one of the 2012 cycle's biggest super PAC donors.
When Democratic strategists Paul Begala and Bill Burton visited Mostyn and her husband, Steve Mostyn, to ask for a super PAC donation, Steve was prepared to hand over a $1 million check in about 20 minutes. But he drank a beer on the deck of the couple's yacht while Amber cross-examined the pair for another hour.
According to data collected by the Texas Tribune, Wendy Davis' two largest sources of campaign cash for her 2012 reelection were Annie's List contributions and checks from the Mostyn Law Firm's campaign account, at a total of $1.02 million—in a race, which Davis won narrowly, where the candidates combined spent $5.5 million. She has turned the 10-year-old Annie's List into a considerably stronger electioneering force than it had been, so that when larger Democratic organizations bring out Texas's growing Latino vote, there are as many of her hand-picked female candidates as possible waiting for them on the ballot sheet.
Mostyn is preparing to lend her deep fundraising connections to another female pol: Hillary Clinton.
Amber Mostyn is already a familiar name to anyone who closely tracked the super PACs of the 2012 election cycle. She and her husband gave a combined $5.2 million to Democratic causes, surpassing even George Soros, Paypal co-founder Peter Thiel, and Bill Koch Link titlein their generosity. Most of the Mostyn's money derives from the formidable Houston law firm Steve founded in 1999. Each year the firm rakes in millions suing insurers—most infamously, a state-backed hurricane insurer known as the Texas Windstorm Insurance Association—for failing to honor insurance claims. Their home is an astonishing $6.6 million modern art mansion down the street from Houston's Museum of Fine Arts.2 The couple's yacht, where Begala and Burton courted the Mostyns for a donation to their Obama-affiliated super PAC, is modestly named the "All Or Nothing."
Amber Mostyn is a big character—"I mean, it's Texas, so everyone's a big character," says Grace Ann Garcia, the executive director of Annie's List—with flame red hair and a total lack of guile. ("This is why I don't like to do interviews," she said. "Because I talk too much.") She cops to the financial motivations for supporting Democrats pretty easily. "It's the chicken and the egg question," she said. "We're Democrats because were trial lawyers and we're trial lawyers because we're Democrats."
Accordingly, Mostyn has her "slightly Machiavellian" reasons for running more women as Texas Democrats. "A woman running for office, all things being equal, has a two to three percent edge over a male candidate," she said. But Mostyn, one of the biggest political spenders motivated by reproductive rights, has personal motivations as well. Wendy Davis' biography, for example, reminds Mostyn of her own mother's. Davis was a teenaged wife who became a single mom when her marriage to her high school boyfriend ended. Mostyn's mother was kicked out of high school for getting pregnant with Amber, before a short-lived marriage to Amber's father. "She really just raised me knowing that she loved me more than anything in the world, but to keep me was her decision, and it would be wrong to force that on anyone else," she said. Eventually, Mostyn's mother made a happier life married to a trial lawyer. Mostyn and her siblings would do their homework in the office their parents ran out of a Fort Worth shopping mall; that's where Mostyn became enchanted with the idea of litigating "anything that falls into the 'that's not right' category."
In addition to the couple's joint donations in 2012, Mostyn herself gave $1.05 million to the House Majority PAC—making her one of its largest donors—and $200,000 to the super PAC Planned Parenthood Votes. But Steve, perhaps because he is less press-shy, and perhaps because he gained notoriety in 2010 by spending nearly $10 million to unseat tort reform-supporting Republicans—much of it paying for virulent ads against Rick Perry—got the lion's share of attention for the couple's political activities.
But they're distinct political players who sometimes even spend against one another in Democratic primaries. (In 2008 he maxed out to Obama, and she to Hillary.) "There is this perception with [Sheldon] Adelson, and I guess I share it, that his wife's doing is his bidding," Steve said. "But that's not the case with Amber and me." Amber Mostyn is also a rarer breed of super-patron—and not just because she was one of the only women in the top 25 of 2012 super PAC donors. Where Steve Mostyn readily turns on the fire hose—and so do his Republican counterparts in Foster Friess and the late Bob Perry—Amber Mostyn is much choosier: Her donation to Planned Parenthood was prefaced by a painstaking conversation about the PAC's goals, research, consultants, and ad content. She also prefers to get her hands dirty with election strategy rather than simply writing checks.
This has made Mostyn one of the biggest reasons that women's rights issues are having their day in Texas. Five years ago, when many staid Austin Democrats were still nay-saying Wendy Davis' chances to win a Senate seat, Mostyn was trying to recruit her and promising to open her wallet. Eventually, Annie's List, where Mostyn was a general board member, succeeded in getting Davis to challenge a longstanding Republican incumbent; Mostyn and Annie's List together gave Davis more than $155,000, about a tenth of her total campaign haul for that race. Garcia and Begala said that with Mostyn as its chair, the ten-year-old sister organization to EMILY's List has become less of a loud group of activists and more astute at picking winnable races. "I don't want to say that generally men are stupid and will just throw their money at anything," she said. "But our board and leadership are very demanding of the candidates we support."
So far, Annie's List has had some success in bright-red Texas. In 2012, they recruited House candidates like Nicole Collier and Mary Ann Perez, whose victories were critical to breaking the GOP's House supermajority. The $421,000 they funneled to Davis's 2012 bitter reelection fight helped Democrats stave off a Republican supermajority in the Senate. Soon, Annie's list will launch a down-ballot program to lard the lower ranks—school boards and city councils—with what they hope are future Wendy Davises. "She's built an infrastructure that never really existed before, and made candidates like Wendy Davis possible," said Burton. Begala noted Mostyn's promise, the day of Davis's filibuster, to match all donations to Annie's List made before midnight, which Garcia said raked in $70,000 after the match.
But while Texas is keeping Mostyn busy for now, 2016 promises an expansion of her influence. Mostyn and her husband already have donated $25,0004 to Ready For Hillary, a super PAC raising money for Hillary Clinton's widely anticipated 2016 presidential run (albeit without Clinton's endorsement). In exchange for her fundraising prowess, Mostyn has demanded a say in the PAC's strategy discussions. It's a sign of her burgeoning importance, said Begala. "It used to be you needed your Walter Shorenstein, your Lew Wasserman"—donors who gave gobs of money to the Democratic party, but also got involved in party strategy. "This next cycle, you've gotta have Amber Mostyn."[3]
Focus groups
Three million registered African-American and Latino voters stayed home 2010, not to mention the 2 million who were unregistered. Following the crushing Republican victory in 2010, Texas Organizing Project launched an ambitious project to discover, as Crystal Zermeno put it, "who was not voting, and why."
Texas Organizing Project embarked on a series of intensive focus groups, which were largely financed by Amber Mostyn and Steve Mostyn, a pair of progressive Houston claims attorneys. (Their string of lucrative settlements included some with insurance companies who had balked at paying claims for Ike-related house damage.) Year after year, the Mostyns had loyally stumped up hefty donations to middle-of-the-road Democrats who doggedly pursued existing voters while ignoring the multitude who sat out elections all or most of the time. When TOP asked these reluctant voters about their abstention, the answer was almost always the same: "When I have voted for Democrats in the past, nothing has changed, so it's not worth my time." There was one telling exception: in San Antonio, voters said that the only Texas Democrat they trusted was Julian Castro, who ran for mayor in 2009 on a platform of bringing universal pre-K to the city, and delivered on his promise when he won.[4]
Beginnings of Battleground Texas
On November 30, 2012, half a dozen wealthy Texans—all of whom had donated to the Obama cause and were in Washington to attend the early flurry of holiday parties—gathered in Ben Barnes's downtown office to talk about how to turn their state blue. Among them were Dallas progressive activist Naomi Aberly, Austin realtor Kirk Rudy, and Adrienne Donato, the Obama campaign's chief Texas fund-raiser. Donato had organized this meeting. With her was a nerdily dashing and fast-talking 34-year-old named Jeremy Bird, who had found his way in life from a trailer park in Missouri to Harvard Divinity School to a job as the South Carolina field director for Barack Obama's 2008 primary campaign to a subsequent job as the national field director for Obama's 2012 reelection. Which is to say that standing before this group of hungry Texas Democrats were the brains behind the greatest national field organization that American politics had ever seen.
The subject of Texas had been in the back of Bird's mind for years. Like many top Obama campaign staffers, it didn't make sense to him that the state was so dependably red, given its demographic trends. During the summer of 2008, when the Obama campaign had literally more money than it knew how to spend, Bird had given some thought to investing in a few Texas events, but he'd lacked the time to plan them. In 2012 his field operation had the opposite problem: time but no money. Every dollar was needed in the battleground states. Nonetheless, Bird remained transfixed by Texas and its 38 electoral votes. The only state with more was solidly Democratic California. Added together, the two had 93 electoral votes, an all but insurmountable margin. While talking to field organizers or big donors, Bird would stand beside a map of the United States and sketch out pathways to victory from the West Coast to the East. Invariably his finger would fall on the Lone Star State and he would say, Someday we're going to have a different kind of conversation about Texas. That day had now arrived.
Still giddy from the reelection, the Texans in the room swore to Bird that their state was within reach, if only someone with his field wizardry would coordinate the crusade. They told him how the state's wealthy liberal donors were itching to spend their money back home. The effort would need a catchy name. Somebody—no one seems to remember who—blurted out "Battleground Texas!" and everyone buzzed with excitement. Bird had never met most of the attendees before, but he was impressed by their unity and enthusiasm. He walked out of the meeting thinking, We can do this.
Five days later, at an office on Capitol Hill, Bird and Donato convened a second meeting, with a much larger group of Texans. This time, Bird did much of the talking. He explained to them that a twenty-first-century grassroots operation no longer meant simply knocking on doors and making calls—it would involve heavy use of digital resources and data analytics. He also walked them through the state's enticing population trends but said, to the surprise of some of the donors in the room, "You can't just wait for a big demographic shift to happen. That's not enough to turn things around." By the end of this meeting, it was evident to Bird that Battleground Texas would be his new project. What he needed next was seed money—and he knew who to call on to get it.
On the morning of January 14, Bird and Donato arrived at the home of Amber Mostyn and Steve Mostyn. The hosts had remained big donors since the debacle of 2010—they'd given $9.8 million to Democrats nationwide during the 2012 cycle—but defeat had made them wary. Now the couple and their political adviser, Jeff Rotkoff, listened to Bird make his pitch. He wanted $250,000 to start up Battleground Texas. His hosts wanted to know how he planned to generate Obama-style enthusiasm in Texas without a candidate as charismatic as Obama.
"We're going to do a lot of research, focus-group our own activists, and figure out what worked that we can transport to a new effort," Bird assured them.
"When can we see a budget?" Steve Mostyn asked—by which he meant not a one-page summary but a detailed spreadsheet.
"I'll get that to you right away," Bird said. Less than two weeks later, the Mostyns received a lengthy itemization of anticipated expenses, right down to office supplies and monthly health insurance costs. They cut Bird a check, as did Naomi Aberly, longtime state Democratic activist Aimee Boone, and Houston attorney Carrin F. Patman, among others. In late January word went out to the state and national press: the Obamaites were coming to Texas, and they intended to stay.[5]
Advisory Board
Battleground Texas Advisory Board, 2018;
Board Chair Jenn Brown, Naomi Aberly, Jeremy Bird, former Dallas Mayor and Ambassador Ron Kirk, Congressman Joaquin Castro, community leader Eric D. Johnson, Austin Ligon, Brownsville Mayor Tony Martinez, volunteer leader Jennifer Longoria, labor leader Marvin Ragsdale, Eddy Morales, Amber Mostyn, Carrin Mauritz Patman, Carrin F. Patman, Kirk Rudy, and Lynda Tran.[6]
Texas Future Project
High-powered Democrats from Texas and California have joined with national labor unions in an effort to mobilize out-of-state donors and raise millions of dollars to build a progressive majority in the Lone Star State that could change state policy and national elections.
The Texas Future Project - that also will seek to convince Texas Democrats to donate here - wants to direct funding to groups that it has identified as working to effect change, from Battleground Texas to Planned Parenthood of Greater Texas.
The project has commitments for close to $1 million, said Houston lawyer Steve Mostyn. He and his wife, Amber Mostyn, are top Democratic donors and part of a small core group of members of the project, which also includes a key California-based supporter of President Obama.
"The main thing ... when we talk to people from out of state, or folks in this state about keeping your money here, is the fact that it's possible - and that if the work is done, and the money is spent, that it's probable, it's actually probable -that you now become a battleground state in 2016 for the presidential race," Steve Mostyn said. "And the long-term effect - once you get a voter to vote once, then twice, then they are pretty much to be there."
Mostyn said the group would "like to raise as much as we can. If it's not doing a few million a year, then it's not really doing what it was designed to do."
Neave victory
Harris County is by no means the only arena in which TOP and its allies scored convincingly in 2016. East Dallas County, a band of suburbs to the east and south of Dallas, comprises House District 107 in the state legislature. Despite a Latino and African-American majority, Republicans have been carrying the district for years, albeit with narrow margins. This time, however, thanks to an intense registration and organizing drive by Texas Organizing Project and other groups, including labor unions, Victoria Neave, the Democratic candidate, ousted her Republican opponent by 836 votes.
"The interesting thing about that race," Amber Mostyn told Andrew Cockburn, "is that the Republicans spent around a million dollars. There was no more than three hundred and fifty thousand dollars spent on our side, and no television — the Republicans probably spent half a million dollars on TV. Our campaign was focused on getting folks to turn out, and we knew that a lot of them don't have time to watch a bunch of TV. They're working two jobs, they're not engaged in the political process anyway, so if they see a commercial, it means nothing to them. But Victoria Neave was out talking to people, TOP was out talking to people, labor was out talking to people — it's the one-on-one engagement that makes the difference."[7]
References