Alessandra Biaggi
From KeyWiki

Alessandra Biaggi is seeking the Democratic nomination for the New York State Senate in District 34 in New York City.[1] Alessandra Biaggi's grandfather was Representative Mario Biaggi of New York.
Alessandra Biaggi served as Hillary Clinton's Deputy Operations Director.[2]
Background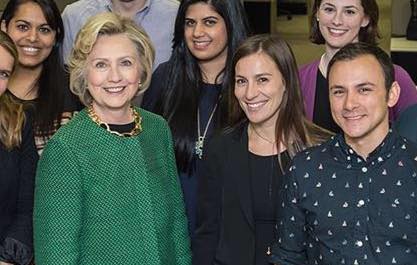 "Alessandra entered politics with an internship for Rep. Joseph Crowley (D-NY). She went on to work at the Kings County D.A.'s Office, the U.S. Attorney's Office for the Southern District of NY, the Presidential Succession Clinic at the John D. Feerick Center for Social Justice as an editor, and the NYS Governor's Office of Storm Recovery as Assistant General Counsel.
"In early 2015, Alessandra was offered a position on the vetting team of the Hillary Clinton campaign. She accepted immediately, ecstatic about the opportunity to help elect the first female president in United States history.
"On April 1, her official title on the campaign became Deputy National Operations Director. She described her roles and responsibilities as "literally everything."
[...]
"Alessandra also got involved with countless progressive efforts such as Ladies Get Paid, Rally + Rise, New York University's Women's Initiative, Impact Hub, Solidarity Sundays, Columbia University, Changemaker Chats, All In Together Campaign, and the latest, with Diane Von Furstenberg. She currently sits on the Advisory Board of the New Leaders Council, is a member of The New Agenda's Young Women Leadership Council, and serves on the host committee for the Arena Summit. She describes all of these organizations as "communities" of politically active progressives from across the country."
Backing Bowman
Jamaal Bowman's 2020 challenge to Eliot Engel won him endorsements from Bernie Sanders and Alexandria Ocasio-Cortez; thus they rejected Engel even though he had co-sponsored their bills. The soon-to-be member of Congress also won the backing of the Sunrise Movement, which provided his campaign with scores of volunteers and who made over a million phone calls on his behalf. The endorsement of Bowman by the New York Times was a major blow to Engel. The list of Bowman's individual backers is impressive: they include Senator Elizabeth Warren; State Senators Alessandra Biaggi, Gustave Rivera, and Robert Jackson; NYC Public Advocate Jumaane Williams; City Comptroller Scott Stringer; Naomi Klein; and Jessie Ramos.
State Senate run
New York State Senate, District 34.
For several years, a group of eight Democratic state senators in New York, known as the Independent Democratic Conference (IDC), aligned with the GOP to hand Republicans the levers of power. The New York Times called it "one of the oddest political arrangements in the country." Alessandra Biaggi, 31, who's running against the group's leader, Jeff Klein, called it "a complete atrocity." Under increasing fire, the group disbanded in early April, and a group of seven challengers, including Biaggi, aim to oust the former IDC members.
From 2004 to 2016, Klein received at least $320,000 in campaign donations from real estate developers—more than any New York legislator. That support once made Klein "virtually untouchable politically," as one local publication put it in 2016. But times have changed. Klein is under investigation over a sexual harassment charge, which he denies, and seems newly vulnerable.
Biaggi, who worked for Hillary Clinton's 2016 campaign, is emphasizing protections against sexual harassment and assault, as well as "making sure that every person in the district has a good, well-paying job."[3]
'Our Revolution' Endorsement
Our Revolution endorsed Alessandra Biaggi.[4]
'Working Families' Endorsement
Working Families endorsed Zellnor Myrie, Jessica Ramos, Alessandra Biaggi, Rachel May, Robert Jackson, John Duane, and Jasmine Robinson.[5]
Other Endorsements
Endorsements as listed on Alessandra Biaggi's campaign website:[6]
Progressive Change Campaign Committee, Charles Rangel, Lester Wolf, G. Oliver Koppell, Eldar Shuminov, Marilyn Zielinski, Hanan Kamal Eldahry, Liz Massie, Tara Harned-Weishaupl, Toby Marxuach-Gusciora, Scott Stringer, 32BJ-SEIU, VoteProChoice, Indivisible We Stand UWS, Persist81, Progressive Women of Pelham, Local Democrats of New York, Indivisible Rivertowns, Indivisible Harlem, Northwest Bronx Indivisible, Northern Westchester Indivisible, New York Indivisible, North Brooklyn Progressive Democrats, Northwest Bronx Democrats, NYCD16 Indivisible, Inwood Indivisible, Morningside Heights Resistance, IBK, Run for Something, Downtown Women for Change, Rockland United Community for Social Justice, Empire State Progressives, Hearts Across Queens, Rise Uptown Indivisible, Rise and Resist, Take Back 20, True Blue NY, True Blue NY-53, True Blue NY Grassroots Coalition, United Thru Action, Indivisible Brooklyn Do or Die, Rally+Rise, Up2Us, New York Progressive Action Network (NYPAN), Blue Media Project, The Arena, Concerned Citizens For Change, Tenants PAC, Daily Kos, Jim Owles Liberal Democratic Club, Progressive Change Campaign Committee, Sunrise NYC, Moms Demand Action, Italian American PAC, WUFPAC, Citizen Action of New York, People for Bernie.
Corey Johnson Endorsement
New York City Council Speaker Corey Johnson endorsed Alessandra Biaggi, Jessica Ramos, Robert Jackson and Zellnor Myrie, who are challenging four former IDC members in the upcoming primary.[7],[8]
'Rise and Resist' Rally for Alessandra Biaggi
In April 2018, Rise and Resist hosted a rally for Alessandra Biaggi.
From their Facebook invitation:[9]
"Join us as we rally for Alessandra Biaggi, our next state senator in District 34. Biaggi, members of grassroots groups, and Democrat voters will meet for a short rally followed by voter education.
"The IDC may have rejoined the Democrats for now, but they've been willing to ally themselves with the GOP since 2011 - and they've claimed to return to the Democratic fold before. New York deserves REAL Democrats who stand for progressive values, not Trump Democrats."
Letter to Independent Democratic Conference
In April 2018, IDC challengers Jessica Ramos, Robert Jackson, Alessandra Biaggi, Rachel May, Jasmine Robinson, Zellnor Myrie and John Duane released a letter to the Independent Democratic Conference, which is perceived by progressives as a conservative wing of New York lawmakers, which consist of Marisol Alcantara, Tony Avella, David Carlucci, Jesse Hamilton, Jeffrey D. Klein, Jose Peralta, Diane Savino and David J. Valesky.[10] The letter derided the members for blocking a budget that would have allotted funds for issues like climate change, transgender rights, funding for illegal immigrants to go to college, and gun control.
True Blue NY
March 1st, 2018, New York, Today, more than 60 New York grassroots groups endorsed the following challengers to five members of the New York Senate's Independent Democratic Conference (IDC): Alessandra Biaggi (District 34, Bronx and Westchester), Robert Jackson (District 31, Northern Manhattan), Rachel May (District 53, Syracuse area), Zellnor Myrie (District 20, Brooklyn), and Jessica Ramos (District 13, Queens).
The newly formed True Blue NY Grassroots Coalition is a diverse network of groups that have mobilized statewide with a unified goal to defeat the IDC. Coalition leaders spoke out today at a press conference at City Hall in Manhattan. The Coalition will eventually endorse challengers for all of the districts represented by IDC members.
"We stand here today not just because of stalled legislation in Albany, but because the IDC has been costly in other ways. Senator Jeffrey D. Klein and Independent Democratic Conference divide the Democratic Party when unity is paramount. We also stand here today because we've decided it's time to take back our government and our Party," says Carmela Gaines of Queens Huddle.
Sunrise endorsement
Sunrise Movement September 13 2018:
THIS. IS. HUGE. Sunrise-endorsed candidates Zellnor for New York and Alessandra Biaggi won their elections today. After months of door-knocking, making calls and texts to voters, we just might create the conditions to flip the Senate in New York State and have the votes to pass the strongest climate legislation in the country into law.
Endorsed by Working Families Party.
Muslim Democratic Club endorsement
The Muslim Democratic Club of New York endorsed Alessandra Biaggi in 2018.
PDA support
Progressive Democrats of America March 26 2019:
Veteran PDA activist and columnist Pearl Korn honored at a breakfast in New York for her years of commitment to the progressive movement, and her volunteer work to help get progressive firebrand Alessandra Biaggi elected State Senator in New York. Biaggi defeated an entrenched incumbent in the primary as part of a progressive insurgency. You rock, Pearl!
References