Aldo Vagnozzi
From KeyWiki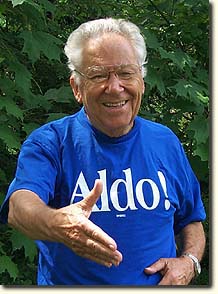 Aldo Vagnozzi, a former Michigan state rep. and friend of Democratic Socialists of America died in 2009.[1]
Detroit DSA lost a good friend on Sunday, March 22nd when former State Representative Aldo Vagnozzi died of pancreatic cancer. He was 83.
Vagnozzi had been married to Lois Carl who died in 1999.
Background
Vagnozzi was born in Rosetto, Italy in 1925. His family emmigrated to the United States when Aldo was 8. He was drafted out of college in 1943 and served as an interpreter with Italian prisoners of war. After discharge from the army, Aldo attended Wayne State University where he received a Bachelor of Arts degree in journalism. He went on to edit both the Michigan State AFL-CIO News and the Detroit Labor News.[2]
Service
Rep. Vagnozzi held the distinction of being the first directly-elected Mayor of Farmington Hills, a position he held for five years. He was a member of the Farmington Hills City Council and remained on the Council for seven years. Additionally, Rep. Vagnozzi served on the Farmington District School Board for four years. His past service includes President of the Farmington Area PTA; member of the Home Owners Association; Chair of the Consumers Protection Committee; Vice President of the Farmington-area AARP; former member of the Steering Committee of the Multi-Cultural/Multi-Racial Committee; and as Oakland County Coordinator for the Michigan Campaign for Quality Care. [3]
Politics
Vagnozzi served on the Farmington School Board from 1969 to 1973. He was elected to the Farmington Hills City Council in 1987 and served as Mayor from 1995 to 1999. He ran unsuccessfully for the Michigan State House in 2000, losing narrowly to the House Majority Leader Andrew Raczkowski. He ran again in 2002, and won. He was re-elected in 2004 and 2006.
Detroit Democratic Socialists of America supported Aldo Vagnozzi in each of his State House races, though "he hardly needed our help in 2006, when he won by a 62%-38% margin".[4]
During a time when red-baiting was still an effective political weapon, Aldo never backed away from his association with DSA. "The socialists are my friends," he said." They are as free as anyone else to express their political views. I welcome their support." We will miss him
DSA picket
On Tuesday, December 4th, 2001, at the request of the United Steel Workers-Region 2, members of Detroit Democratic Socialists of America joined an informational picket at Hospice of Michigan in Farmington Hills. Approximately seventy-five people representing DSA, Gray Panthers, Metropolitan Detroit AFL-CIO, Jobs with Justice, Alliance for Democracy, and Michigan Universal Health Care Access Network picketed in order to show community and labor support for the nurses aides, cooks, and other ancillary personnel at Hospice of Michigan who were attempting to organize a union.
Eleven DSA members marched in the picket line, including Earl Mandel, Eric Ebel, David Elsila, Maurice Geary, Helen Samberg, Lon Herman, Ed Nol, Linda Housch-Collins, Brandon Moss, Larry Schwarczynski, and David Green.[5]
Even the former mayor of Farmington Hills, Aldo Vagnozzi, participated in the demonstration.[6]
DSA support 2004
In 2004 DSA targeted local races where control of state houseswere up for grabs and where statewide electoral-vote outcomes hinged on successful local district turnouts.
Detroit DSAers isolated two state legislative races where they can make a difference in swing districts of this toss-up state. In the Detroit suburbs of Farmington/ Farmington Hills (SD 37) labor backed Democratic incumbent Aldo Vagnozzi holds his seat thanks to a 2002 upset...In Port Huron/Lexington (SD 83) former migrant farm worker John Espinoza, who opposes school vouchers, is making living wage and health care features of his campaign.
Thanks to Farm Workers leader Dolores Huerta for connecting DSA with the candidate, who is well-liked but is running a poorly financed operation. That may not matter, as his Republican opponent is caught in a scandal over use of nonprofit funds for campaign purposes.
A fund raiser was hosted by Detroit DSA chair David Green, who urges friends to "...write two checks (made out to 'Aldo Vagnozzi for State Representative' and 'Committee to Elect John Espinoza' respectively). Write 'DSA Fundraiser' on the memo line."[7]
DSA victory
In Democratic Socialists of America's Democratic Left Winter 2004/2005, Theresa Alt wrote;[8]
We reported on the candidates that DSAers were supporting in the last issue of Democratic Left. How did they do?
Michigan is a success story. Both state senate candidates, the long-shot insurgent former farmworker John Espinoza and the labor-backed but Republican-targeted incumbent Aldo Vagnozzi won.
DSA electoral support
Greater Detroit Democratic Socialists of America has a "simple but effective electoral strategy. We endorse progressive candidates in competitive races where the focused efforts of a small group such as ours can tip the balance in favor of the progressive candidate. This strategy has served us well in electing state representatives such as Steve Bieda, Alma Wheeler Smith, John Espinoza, Aldo Vagnozzi, and Fred Miller, and state senators such as Gilda Jacobs and Hansen Clarke."
We have expanded our efforts in 2008 by endorsing four candidates instead of two candidates as we traditionally do.
In 2008 Greater Detroit Democratic Socialists of Americaendorsed state representative candidates Sarah Roberts (St. Clair Shores-Harrison Township), Vicki Barnett (Farmington-Farmington Hills), Lisa Brown (West Bloomfield-Harrison Township), and Jonathan Switalski (Warren-Sterling Heights). As a result, DSA members have been canvassing, phone banking, and stuffing envelopes for one of these four candidates almost every weekend since the late summer. To date, the following members have participated in at least one (and usually several) campaign dates: Brandon Moss, Selma Goode, Michelle Fecteau, Bob Alpert, Lon Herman, Maurice Geary, Helen Samberg, Bob Frumkin, Charlie Rooney, Julie Barton, David Elsila, David Green, Dave Ivers, Michael Dover, Bill Helwig, Bob Denoweth, and Marylyn Schmidt.[9]
DSA fundraiser for Lisa Brown
Under the heading "Fundraiser for Lisa Brown a success" a Greater Detroit Democratic Socialists of America 2006 newsletter report on a Detroit DSA meeting Nov. 4 2006 stated;[10]
Lisa Brown is a progressive Democrat running for the state representative seat in West Bloomfield/Commerce Township. She received Detroit DSA's endorsement at our July general membership meeting.
As part of our endorsement, our members voted to hold a fundraising reception for Lisa.
That reception took place on Friday, October 13 at the home of David and Teena Green in Farmington Hills. We collected $2070 from twenty-six individual donors (with more checks reportedly in the mail). Folksinger Julie Beutel provided entertainment.
State Senator Gilda Jacobs was the guest of honor. State Representative Aldo Vagnozzi (D—Farmington/Farmington Hills) also attended and contributed to Lisa's campaign.
It was a fun, and successful fundraiser.
DSA fundraiser
On Saturday, September 6th 2008, Detroit DSA held a fundraising house party at the home of David Green and Teena Green. The goal of the party was to raise money for the campaigns of state representative candidates Vicki Barnett (Farmington-Farmington Hills), Lisa Brown (West Bloomfield-Commerce Township), Sarah Roberts (St. 0Clair Shores-Harrison Township), and Jonathan Switalski (Warren-Sterling Heights). Our "local endorsed these four candidates because of their progressive positions on issues (e.g., support for universal health care, support for living wage, support for the labor movement, environmental consciousness). We also endorsed them because we suspected their respective races would be difficult, and the concerted effort of a small group such as ours might provide the margin of victory."[11]
Our fundraising effort was essential for these campaigns because the Presidential (Obama) and Congressional (Gary Peters and Mark Schauer) races had already tapped the traditional sources of funding for Democratic/progressive candidates. Surprisingly, we raised $6500 from 37 different contributors. And we had fun doing it! Folksinger Julie Beutel provided the entertainment and had everyone singing by the end of the party.
Guest of Honor: State Representative Aldo Vagnozzi.[12]
Endorsed MichUHCAN
As at Feb. 1, 2011, State Rep. Aldo Vagnozzi, Farmington Hills was listed as an endorser and ongoing supporter of MichUHCAN's Health Care Security Campaign Coalition.[13] The Michigan Universal Health Care Access Network is a state-wide network that promotes comprehensive health care for all and improved health outcomes by addressing the social determinants of health through education, strategy development and advocacy. The leadership of MichUHCAN is heavily dominated by members of Democratic Socialists of America.[14]
References