Al McSurely
From KeyWiki
Al McSurely has dedicated half a century to fighting for civil rights and a more just society. After joining the civil rights movement in 1961, working with N.Va. CORE and SNCC in D.C., Al and Margaret Herring were recruited to move to E. Kentucky to help carry out the Black Power strategy of winning poor and working white people to the anti-racism, anti-war, and anti-poverty Movement of SNCC. In 1967, Al and Margaret were arrested for sedition in Pike County, Kentucky for trying to repair the breaches of racism. In 1968, they narrowly escaped death when assassins threw 8 sticks of dynamite at their mountain cabin's bedroom window, and in 1969, they were arrested again for Contempt of Congress after they refused to turn over the names of hundreds of southern Movement organizers.
To stay out of jail, Al apprenticed himself to his attorneys, Morton Stavis, William Kunstler and Arthur Kinoy, some of the most creative and brilliant civil rights lawyers in history. After 17 years of working without a license alongside Kinoy, Kunstler and Stavis and their new Center for Constitutional Rights, Al and Margaret won a jury award in McSurely v. [Sen. John] McClellan in 1984. With his share of settlement proceeds at the age of 48, Al entered law school at N.C. Central. He passed the bar on the first day of Spring in 1988. Over the past 23 years he has helped hundreds of workers challenge and win their employment discrimination cases. In addition to his private civil rights practice, Al has served as the Chair of the N.C. NAACP's Legal Redress Committee and currently serves as Communications Chair of the State Conference as well as the Legal Redress Chair of the Chapel Hill-Carborro NAACP.
He was married to Ashley Osment.
Other Experience
1979-84: USPS mail carrier, Union steward and newspaper Editor, Washington, DC.
1972-78: Associate Professor, Antioch University, Washington, D.C.
1969-72: Middle School Teacher, Maryland and New York. Organized and led Teachers Union.
1967-1969: As a Field Secretary for the Southern Conference Educational Fund (SCEF), Al helped experiment with the
difficult task of rebuilding the Black-White populist movement against racism, poverty and war in Appalachia. At Dr. Martin Luther King, Jr.'s invitation, he helped bring three busloads of Appalachians to Washington for the 1968 Poor People's Campaign. He and Margaret endured sedition arrests, illegal subpoenas, contempt of congress convictions, and an assassination attempt in 24 months, as the ruling powers went to great lengths to stop Black-White populist alliances from forming.
1964-67: As Director of suburban Washington anti-poverty programs, Al and some SNCC-trained organizers set up neighborhood-based programs in Virginia, Maryland, and across D.C. 1960-64: Fairfax Va. juvenile probation counselor; N. Virginia CORE; Editor, Gum Springs News, President, Saunders B. Moon Community Action Agency in Gum Springs.[1]
Sponsors of the Founding Conference of the NAARPR, May 11-13, 1973
Included a list of "sponsors" of "A Call" for a founding conference of the Communist Party USA front National Alliance Against Racist and Political Repression from the large pamphlet sent out about it.[2] Al McSurely - Local 2352 AFT, and leader of CPUSA front SCEF in Kentucky, and his wife Margaret McSurely, 1199 D.C. Drug and Hospital Workers Union.
Chile Emergency Committee
In 1973 Al McSurely - Southern Conference Education Fund, was a sponsor of the Communist Party USA guided Chile Emergency Committee.
Hard Times Conference
In 1976 Al McSurely for Alliance for Labour & Community Action, DC attended the Weather Underground and Prairie Fire Organizing Committee organized Hard Times Conference Jan 30 - Feb 1 at the University of Chicago.[3]
Line of March
Al McSurely was involved with Line of March.
Call for a Conference on Racism and National Oppression
Call for a Conference on Racism and National Oppression was a 1980 call by Marxist-Leninists of The Trend, most of whom were Line of March activists, for a national conference on "Racism and National Oppression" to be held in the summer of 1981 in New York or the Bay Area.
Signers from Washington DC were;
"An Open Letter to the Party Building Movement"
This open letter is signed by past and current members of the Organizing Committee for an Ideological Center (OCIC), and others in the party building movement who have had close contact with the OCIC. As a result of important recent events in the OCIC, we want to make known our urgent concerns regarding the line and practice of the Steering Committee (SC) of the OCIC and its impact on the party building movement as a whole.
Signatories included Al McSurely.
LOM Contributing editor
In March 1981, contributing editors to Line of March were Tom Angotti, Fran Beal, Ralph Beitel, William Bollinger, , Jim Dann, Hari Dillon, Michael Downing, Cam Duncan, James Early, Phil Gardiner, Steve Hamilton, Fred Lass, Dan Lund, Marian McDonald, Al McSurely, Jan Newton, Tim Patterson, Margery Rosnick, Mel Rothenberg, Ann Schwartz, Albert Szymanski, Cathi Tactaquin, Mike Withey.[4]
Guardian supporter
In 1983, Al McSurely - National Association of Letter Carriers, AFL-CIO NALC AFL-CIO, was listed as a supporter of the The Guardian, a Maoist leaning magazine. [5]
Working with Barber, and the NAACP
From his first days as a lawyer, McSurely worked closely with the Chapel Hill branch of the NAACP, which he helped found in 1986, often bringing discrimination cases against UNC-Chapel Hill and the town of Chapel Hill. He has long been a white man among blacks, and that's how he likes it: He often uses the word "we" when talking about African Americans.
"Since I joined the movement, I've always felt much more comfortable in a black setting than in a white setting," he says. "I feel very uncomfortable when I'm in a room with all white people."
McSurely took his talents from Chapel Hill to the state level when William J. Barber II was elected president of the N.C. NAACP in 2005. "What Al brings to the table is a historical perspective with an almost youthful idealism," Barber says. "He has not lost his idealism and yet he has the historical perspective of having lived through the '60s, '70s and '80s. That means he is able to give very wise counsel."[6]
UNC Housekeepers Association
In December of 1996, UNC Housekeepers Association won a historic legal victory against the University. According to the NAACP News, Chancellor Michael Hooker and housekeepers agreed on a settlement, "worth more than $1 million, which included pay raises, back pay, recognition of the HKA as the representative of the housekeepers…
On November 26, 1996, a group of housekeepers at the University of North Carolina at Chapel Hill settled a lawsuit with the university that provided the workers with increased wages, improved career training and education programs and more transparent communication with university administrators.
Al McSurely, a civil rights lawyer represented the UNC Housekeepers Association, [7].[8]
The Brittany Willis murder case
Brittany Willis was a 17-year-old high-school soccer player who, according to investigators, was a victim of robbery and had been raped and shot to death on June 28, 2004. Her body was found in a field near the Brentwood Shopping Center in Wilson, North Carolina.
James Johnson, 18 at the time, and Kenneth Meeks were arrested and charged with first-degree murder and other charges in the case. Meeks later pleaded guilty to the crime.
Johnson, who has maintained his innocence in the crime, spent three years in jail under a $1 million bond awaiting trial. He was released from jail under a reduced bond in September amid a high-profile campaign by the North Carolina conference of the National Association for the Advancement of Colored People to have the case dismissed.
The NAACP has claimed racial discrimination, prosecutorial misconduct and constitutional rights violations against Johnson. It has said that Johnson should be seen as a hero who helped solve the case.
Race is not an issue, the family said, adding "nothing could be further from the truth."
The Willises said North Carolina NAACP President Rev. William J. Barber II and U.S. Rep. G.K. Butterfield, D-N.C. — who on the NAACP's behalf, requested a federal investigation into whether Johnson's constitutional rights were violated —"have injected that belief" into the case to sway public opinion.
"The NAACP's actions and the news media's bias(ed) coverage of everything they have done have resulted in this case being forced to be disposed of as quickly as possible by our elected officials," the Willis family said.
The North Carolina NAACP's attorney, Al McSurely, said he hopes the Willis family can look at the evidence and see the original charges against Johnson were a "miscarriage of justice."
"The family has suffered a tremendous loss," he said. "Everyone was led to believe by the Wilson County authorities for three years that James Johnson was involved, and I can understand their disappointment."
Butterfield's communications director, Ken Willis, denied any political influence from the congressman.
"Mr Butterfield was contacted by the NAACP to help resolve the murder charge against James Johnson," he said. "Three years is a long time to be in jail for a crime that he didn't commit."[9]
"David Price Six"
On May 7 2007, six student protesters went to trial on trespassing charges in connection with a February demonstration in U.S. Rep. David Price's office. The self-proclaimed "David Price Six" Laura Bickford, Ben Carroll, Alisan Fathalizadeh, Sara Joseph, Dante Strobino and Tamara Tal demanded a meeting with Price to ask that he vote to defund the Iraq war. "After about 15 minutes it was pretty apparent we weren't going to talk to him so we sat down and refused to leave," Bickford says. A legislative aide called police and the students were handcuffed and taken to jail. They were released on their own recognizance. Chapel Hill attorney Al McSurely, who represented the students, filed a motion for necessity defense, which argued that the trespassing violation was a necessary action for the greater good. A judge dismissed the charges.[10]
"Wilmington Ten" pardon
In May 2012, By unanimous vote, the national NAACP Board passed a resolution during its Florida retreat last weekend supporting the petition of pardons of innocence for the Wilmington Ten.
Rev. William J. Barber II, president of the NCNAACP and a national NAACP Board member, and veteran civil rights attorney Al McSurely, crafted the resolution language. Barber, who is also chair of the national NAACP's Political Action Committee, then asked NAACP Chairwoman Roslyn Brock to have the meeting agenda amended to allow for the proposed resolution to be heard, which it was without objection.
Guilford County, NC Commissioner Carolyn Coleman, another member of the national NAACP Board and Executive Committee member, introduced the motion, and after strong lobbying by both Ms. Coleman and Rev. Barber, it passed unanimously.
"What this means is not only do we have a public endorsement of the [national] NAACP," says Rev. Barber, "but passage of a board resolution makes this an NAACP policy throughout the entire association, and the full weight and structure [of the NAACP] is available to support and promote the call for a pardon [of innocence],"
"This is why Ms. Coleman and I felt it necessary to insist and ensure that this resolution passed."
Dr. Benjamin F. Chavis, leader of the Wilmington Ten, and past president of the national NAACP, upon hearing the news of the resolution, thankedd Rev. Barber, adding, "May God continue to bless the NAACP."[11]
Micah and Repairers of the Breach
Micah and Repairers of the Breach:Spirituality and Social Justice Conference, was convened July 26, 2013, at Rebuilding Broken Places CDC 2105 North William Street, Goldsboro, North Carolina.[12]
Leaders in the social justice movement explore key justice issues & the responsibility of the church[13]
Speakers
Rev. Dr. William J. Barber II, The Holy Spirit, Faith and Social Justice.
Panelists
Lennon Lacey case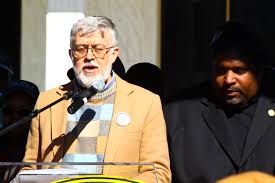 The black teenager was found in a North Carolina trailer park, hanging from a swing set by a dog leash and a belt that were not his own. His mother said he showed no sign of suicidal thoughts, yet authorities quickly ruled that he had taken his own life.
Now the FBI is reviewing the investigation after Lennon Lacy's relatives and the NAACP raised doubts about the official findings, which the county coroner also questions.
"We don't know what happened that terrible night," said the Rev. William J. Barber II, president of the state NAACP chapter, on De. 12, 2014. "It is possible that a 17-year-old excited about life could commit suicide. The family is prepared to accept the truth. They're not prepared to accept this theory that's been posited with a rush to a conclusion of suicide so quickly. We have said there are far too many unanswered questions."
Bladen County District Attorney Jon David said Friday that he also asked the FBI to review the case because the family and the NAACP said they had information that they would provide only to federal authorities. He said he had seen no evidence of foul play.
"Not only is the case open, but our minds are open," David said.
In the 911 call, the dispatcher advises the caller to try to get the person down in case he was still alive. When investigators arrived at the trailer park that the NAACP has described as predominantly white, the body was on the ground. Investigators told NAACP attorneys that one shoe was on the body and one was on the ground, said Al McSurely, a lawyer working for the NAACP.[15]
NAACP calls for Lennon Lacy investigation
December 11 2014, the North Carolina NAACP has called on top lawmakers in the state to join in calling for a new investigation into the death of 17-year-old Lennon Lacy, a black teenager who was found hanging from a swing set in August. An independent autopsy on the teen's body calls into question the police department's decision to record the death as a suicide.
Ahead of a rally scheduled for Saturday, the group's president, Rev. William J. Barber II, announced Thursday the release of a letter to Sen. Richard Burr, a Republican, and Sen. Kay Hagan, a Democrat, as well as incoming Senator-elect Tom Tillis, a Republican, Rep. G.K. Butterfield, a Democrat, and North Carolina Gov. Pat McCoury.
Barber announced the appeal to lawmakers in a conference call with reporters as the chapter prepared to lead a march through the streets of Blandenboro, N.C., Lacy's hometown.
"We have deep questions," Barber said during the call. "We have said this may be, and it could be, suicide, but what this family cannot accept is this being told to them without there being a full investigation."
The organization wrote a letter to U.S. Attorney Thomas Walker in November requesting that his office join the investigation of the "suspicious hanging death" of Lacy. Barber said that neither the group nor Lacy's family has yet been told whether or not Walker's office will open an investigation.
Al McSurely, a lawyer working with Lacy's family on behalf of the NAACP, said that the district attorney in Bladen County has "been open with us from the beginning" and has "welcomed" possible intervention from the FBI and U.S. Department of Justice.
"What we have here is a suspicious death and we assume, and the family assumes, that the law enforcement will do everything it can to find out what happened to Lennon Lacy that night," he said.[16]
Holder, McSurely connection
Eric Holder, William J. Barber II, Al McSurely, T. Anthony Spearman.
Yonni Chapman's political vision
Yonni Chapman on a digital voice recorder in the year leading up to his death. Recordings are political and personal in nature. There are a group of recordings from September and October 2009 recorded while Chapman was in home hospice care. These contain lenghty sessions with Chapman and several local activists in which they speak about continuing Chapman's political vision after his death. Speakers include Timothy Tyson, Nancy McDurmott, Kerry Taylor, Supeinda Keith, Al McSurely, Rebekah Cowell, and Hayumi Higuchi.[17]
References