Adolph Reed, Jr.
From KeyWiki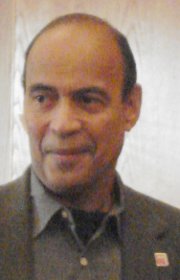 Prof. Adolph L. Reed, Jr. serves on the Board of Directors of Public Citizen Inc.[1]
The Progressive
Reed has been a frequent contributor to the liberal magazine, The Progressive.
DSA member
Adolph Reed was formerly a member of Democratic Socialists of America[2].
Socialist Scholars Conference 1990
The Socialist Scholars Conference 1990, held September 6-8, at the Hotel Commodore, New York, included panels such as:[3]
Race and Class
Sponsor: New Politics
Moderator: Gertrude Ezorsky, editorial board, New Politics
Harold Cruse, Emeritus, Afro-American Studies, University of Michigan
Susanne MacGregor, Birkbeck College, London
Adolph Reed, Jr., Afro-American Studies, Yale
Stephen Steinberg, Queens College
1995 DSA Youth Conference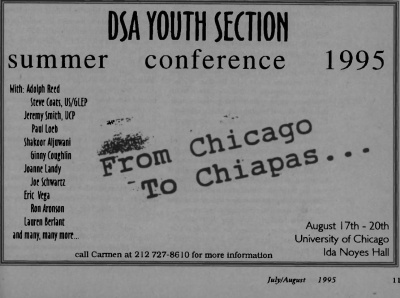 In August 1995 Adolph Reed, Ginny Coughlin, Joanne Landy, Jeremy Smith, Stephen Coats, Paul Rogat Loeb, Lauren Berlant, Joseph Schwartz, Shakoor Aljuwani, Ron Aronson and Eric Vega, spoke at the Democratic Socialists of America Youth Section conference in Chicago.[4]
Black Radical Congress
In March 1998 "Endorsers of the Call" to found a Black Radical Congress included Adolph Reed, Labor Party, Chicago[5].
How Class Works
At the How Class Works - 2002 Conference, panels included; 3.0 Class and Public Policy
Open letter to Andy Stern
On May 1 2008, Adolph Reed, a Professor of Political Science, University of Pennsylvania signed an open letter to SEIU president Andy Stern in protest at SEIU move to force its local United Healthcare Workers into trusteeship.
"We are writing to express our deep concern about SEIU's threatened trusteeship over its third largest local, United Healthcare Workers (UHW). We believe that there must always be room within organized labor for legitimate and principled dissent, if our movement is to survive and grow. Putting UHW under trusteeship would send a very troubling message and be viewed, by many, as a sign that internal democracy is not valued or tolerated within SEIU. In our view, this would have negative consequences for the workers directly affected, the SEIU itself, and the labor movement as a whole. We strongly urge you to avoid such a tragedy."
"Support Bill Ayers"
In October 2008, several thousand college professors, students and academic staff signed a statement Support Bill Ayers in solidarity with former Weather Underground Organization terrorist Bill Ayers.
In the run up to the U.S. presidential elections, Ayers had come under considerable media scrutiny, sparked by his relationship to presidential candidate Barack Obama.
We write to support our colleague Professor William Ayers, Distinguished Professor of Education and Senior University Scholar at the University of Illinois at Chicago, who is currently under determined and sustained political attack...
We, the undersigned, stand on the side of education as an enterprise devoted to human inquiry, enlightenment, and liberation. We oppose the demonization of Professor William Ayers.
Adolph Reed of the University of Pennsylvania signed the statement.[7]
Interim National Council
As at April 2005, the following served as chairs on the National Council of the Labor Party:[8]
Donna DeWitt, President, South Carolina AFL-CIO - Co-Chair
Bill Kane, President, New Jersey Industrial Union Council - Co-Chair
Baldemar Velasquez, President, Farm Labor Organizing Committee - Co-Chair
Noel Beasley, International Vice President, UNITE HERE
Deborah Burger, President, CNA
Dave Campbell, Secretary-Treasurer, PACE Local 8-675
Marilyn Clement, Director, CNHP NOW
Russ Davis, Vice President, AFGE Local 2782
Rose Ann DeMoro, Executive Director, CNA
Mark Dimondstein, NC Piedmont Triad chapter
Lisa Frank, Metro Pittsburgh chapter
Cheri Honkala, Founder, Kensington Welfare Rights Union
Bruce Klipple, General Secretary-Treasurer, UE
C. Robert McDevitt, President, UNITE HERE Local 54
Bill Onasch, Kansas City chapter
Cecilia Perry, Public Policy Analyst, AFSCME
Adolph Reed, Jr., Professor, University of Pennsylvania
David H. Richardson, PhD, Secretary, AFGE Local 12
Dean Robinson, Professor, UMASS-Amherst
Preston Smith II, Professor, Mount Holyoke College
Brenda Stokely, President, AFSCME DC 1707
Chris Townsend, Political Action Director, UE
Gerry Zero, IBT Local 705
Center for the Study of Working Class Life
In 2009 Adolph Reed, Political Science, University of Pennsylvania served as an Academic on the Advisory board for the Center for the Study of Working Class Life[9].
New Labor Forum
New Labor Forum is published by Center for Labor, Community, and Policy Studies, Joseph S. Murphy Institute for Worker Education & Labor Studies.
Editorial Board members listed, as of March 2013; were;[10] Elaine Bernard, Ron Blackwell, Barbara Bowen, Kate Bronfenbrenner, Arthur Cheliotes, Mike Davis, Amy Dean, Steve Early, Hector Figueroa, Janice Fine, Bill Fletcher, Jr., Juan Gonzalez, Marie Gottschalk, Gerald Hudson, Lisa Jordan, Tom Juravich, Robin D G Kelley, Jose LaLuz, Nelson Lichtenstein, Manning Marable, Ruth Needleman, Ai-jen Poo, Katie Quan, Adolph Reed, Daisy Rooks, Andrew Ross, Kent Wong.
External links
References