Adele Cannon
From KeyWiki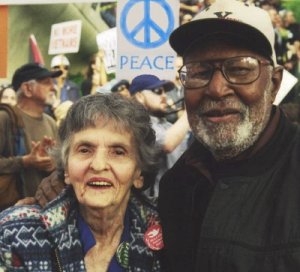 Adele Cannon was the wife of Oneil Cannon, and the mother of Jan Goodman. She was a long-time Communist Party USA and Peace and Freedom Party activist. She was state treasurer of the Peace and Freedom Party for many years, and the P&F candidate for Congress against Henry Waxman in the 2006 election. Her husband, Oneil Cannon, ran Fidelity Letterpress for many years and provided cheap printing for movement publications. Together, they founded the Paul Robeson Center in South-Central L.A.
Their commitment and dedication to the struggle for justice and socialism made them fixtures on the Left in the Los Angeles area, and California, for many decades.
Adele Cannon passed away on August 12th, 2009.[1]
Education
Adele Goodman studied chemistry at UCLA.[2]
Meeting Oneil
Adele and Oneil Cannon met in Los Angeles while distributing leaflets for the Independent Progressive Party in 1947. They were part of a group of activists who campaigned for Raymond Cox, who ran for U.S. Congress in California's 50th District in the 1950s as the state's first black congressional candidate.[3]
Peace and Freedom Party
In 2006 Adele Cannon stood for California U.S. Representative, 30th District on the Peace and Freedom Party ticket.[4]
Cannon ran against a long-standing Democrat and a 26-year-old Republican taking his first crack at public office.
She's running on a platform that calls for the immediate withdrawal from the Iraq war, a single-payer health care system, and a plan to double the minimum wage.[5]
References