Abe Feinglass
From KeyWiki
Abraham Feinglass was a Chicago based Communist Party USA (CPUSA) member, unionist and "peace activist." His secret CPUSA high-ranking membership goes back at least as far as 1939, if not earlier. He was listed as attending "meetings of the Executive Committee of the Illinois Communist Party Communist Party of Illinois held during May 1941" and identified in the War Department, Military Intelligence Division report as "Abe Feinglass", V.P., Fur Workers' Union (CIO), report of June 3, 1941. He later became a leader of the CPUSA dominated Amalgamated Meatcutters and Butcher Workmen's Union (AFL-CIO) as well as being an International Vice President of the Soviet/KGB "peace" front, the World Peace Council (WPC) among other CPUSA and Soviet fronts.
[Full name of the Fur Workers' Union is the "Fur, Leather and Machine Workers Union" [CIO)].
In Prof. Paul Kengor's book about Frank Marshall Davis, "The Communist: Frank Marshall Davis: The Untold Story of Barack Obama's Mentor", Chapter 17 - "American Committee for Protection of Foreign Born (ACPFB}, an old CPUSA front, there are on pages 225-228, a good synopsis of identified CPUSA front groups and personal affiliations of Feinglass in Chicago. The individual fronts will be listed below.
Fundraising for Israel
May 8, 1966, more than 1,200 representatives of government, labor, industry and professions attended a dinner here given in honor of Abe Feinglass, noted labor leader, by the American Trade Union Council for Histadrut at the New York Hilton Hotel. Mr. Feinglass, who resides in Chicago, was cited for 35 years of service to organized labor. The sum of $100,000 raised at the dinner was contributed toward establishment of a Histadrut community center in Arav, a new development town overlooking the Dead Sea in Israel.
Senator Wayne Morse, Oregon Democrat, who addressed the guests, hailed Mr. Feinglass as a labor statesman with proven leadership on domestic and international policy, "and as a person who has given such strong support to Israel and to Histadrut." Lauding the Histadrut achievements in Israel, Sen. Morse said: "The United States cannot justify sending military aid anywhere in the world that builds up tyranny. There is no sense in American military support to the Arab countries. Too often, U.S. military aid has built up military tyrants playing into the hands of Communists in country after country. Israel is the only true democracy in the Middle East and we must stand by her, not surrendering to Arab blackmail."
Dr. Sol Stein, executive director of the National Committee for Labor Israel, said: "Israel is undergoing a process of growth and change and we must expect rough going from time to time. Aid to Israel must be sustained at the highest possible level; it would be a mistake if America drastically cut its support, whether from governmental or voluntary sources." Aharon Becker, Secretary General of Histadrut, cabled felicitations to Mr. Feinglass and thankedd American labor for their continued support to labor in Israel. Mr. Feinglass, who is vice-president of the Amalgamated Meat Cutters and Butchers Workers of North America, was presented with an illuminated scroll.[1]
Hanoi Lobby Front Organizations
Abe Feinglass was on the official "Invitational List of Delegates" to the "National Anti-War Conference" sponsored by the CPUSA/Socialist Workers Party dominated "National Mobilization Committee to End the War in Vietnam" (National Mobe)held the weekend of July 4-5, 1969 in Cleveland, Ohio. This item was part of the Staff Study, House Internal Security Committee (HISC) report entitled "Subversive Involvement in the Origin, Leadership and Activities of the New Mobilization Committee to End the War in Vietnam and Its Predecessor Organizations", 92st Congress, 2nd Session, 1970, p. 24 and Footnote 323 with his Communist Party identifications found in congressional hearings: Ft. 323: "Hearings on "Communist Activities in the Chicago Area - Part 1 (United Electrical, Radio and Machine Workers of America (UE); and Farm Equipment Workers Council (UERMWA), House Committee on Un-American Activities (HCUA), Sept. 2, 1952, 82nd Congress, 2nd Session, p. 3638. See also hearings on Investigation of Communist Activities in the Chicago Area - Part 3, HCUA, 83rd Congress, 2nd Session, April 29, 1954, pp. 4279-4294. For a report on the founding of the New Mobilization Committee to End the War in Vietnam (New Mobe), see: "Extent of Subversion in Campus Disorders Part 2 - Testimony of Max Phillip Friedman", Senate Internal Security Subcommittee (SISS), Senate Judiciary Committee, 91st Congress, 1st Session, Aug. 16, 1969/released Oct. 15, 1969. Other HISC hearings on New Mobe were "New Mobilization Committee to End the War in Vietnam", Parts 1 & 2, 91st Congress, 2nd Session, April 1970, and New Mobe's successor hearings were "National Peace Action Coalition (NPAC) and Peoples Coalition for Peace & Justice (PCPJ)", Parts 1-4, 92nd Congress, 1st Session, several months, 1971.
Interestingly, the names of both Feinglass and jack Spiegel disappear from the mid-October and late November, early December 1969 letterheads of the "New Mobe" committee and its' October "1969: No Christmas As Usual! letter. In fact, only 2-3 CPUSA and documented labor leader supporters names appear on this list, possibly as a result of recent congressional hearings/publications and key articles in the Congressional Record that exposed their Party membership and ties.
Chicago Committee to Defend the Bill of Rights
In 1970, the Advisory Council of the then Communist Party USA front Chicago Committee to Defend the Bill of Rights consisted of Timuel Black, Rev. Edwin Buehrer, Prof. Carl W. Condit, Rev. Martin Deppe, Joseph Engel, Abe Feinglass, Rev. Gerard G. Grant, Very Rev. Samuel J. Martin, Rabbi Robert J. Marx, Rev. Jules L. Moreau, Al Raby, Rev. Joseph Sattler, Jack Sullivan.[2].
Cablegram to Portugese Socialists and the M.F.A.
In 1974, after a pro-communist military coup in Portugal;
More than eighty Americans, all identified with opposition to the Vietnamese war and with various radical and liberal causes, sent on August 9 a cablegram to to the Portugese Armed Forces Movement, to Portugese president francisco da Costa Gomes and to portugese socialist leader Mario soares expressing the hope that "democratic freedoms"...will continue to grow in Portugal".
Michael Harrington, the national chairman of the Democratic Socialist Organizing Committee, organized the effort with help from 5 "Initiators" - Lawrence Birns (writer), Sissy Farenthold (past president National Women's Political Caucus), Congressman Michael J. Harrington, Martin Peretz (chairman, editorial board New Republic), Cleveland Robinson (vice president, Distributive Workers of America), Leonard Woodcock (president United Auto Workers, Jerry Wurf (president AFSME).
Abe Feinglass signed the cablegram.[3]
Chicago Citizens Committee to Save Lives in Chile
The Chicago Citizens Committee to Save Lives in Chile sent twelve Chicago-area leaders to Chile, February 16-23, 1974. The delegation included Bea Lumpkin, two local legislators: Anna Langford, veteran Chicago City alderman and Doris Strieter, village board member in Maywood. Abe Feinglass, UFCW international vice president and Ernest DeMaio, UE district director, brought a strong labor voice. Academics included Geoffrey Fox, University of Illinois, Chicago; Father Gerard Grant, Loyola University, Chicago; George Gutierrez, Northern Illinois University and Joanne Fox Prazeworski, University of Chicago. From religious organizations were James Reed, pastor of the Parish of the Holy Covenant United Methodist Church, Chicago; Jane Reed, of the board of Church and Society, United Methodist Church, and Dean Peerman, managing editor, Christian Century.
The twelfth member was Frank Teruggi, Sr., whowanted to find out who had killed his son, Frank Teruggi, Jr., during the coup. When he returned, he said that his questions had been answered. He believed that his son had been detained in the National Stadium and murdered there, perhaps on order of the U.S. government.
The delegation spent one week in Chile. They gave a dramatic report on their return. Over 800 Chicagoans paid admission to hear their report and to support solidarity with Chile. For those who could not attend, Peggy Lipschutz and Bea Lumpkin produced an illustrated booklet with the highlights of the report.[4]
Communist Party member
On February 8 and 9, 1975, the Second National Conference in Solidarity with Chile was held at Concordia Teachers College in the Chicago suburb of River Forest. Known Communist Party USA members sponsoring the event included Abe Feinglass[5]
World Peace Council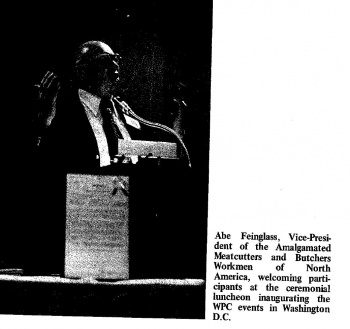 Feinglass was involved in the the Soviet front World Peace Council.
The first official World Peace Council conference[6]in the U.S. was the Dialogue on Disarmament and Detente held January 25-27, 1978, in Washington, DC.
It was sponsored by a small committee including and World Peace Council Presidium member Communist Party USA functionary and Amalgamated Meatcutters Union vice-president Abe Feinglass.
Attendees included Katherine Camp, International President of the Women's International League for Peace & Freedom, Rep. Ron Dellums, International Association of Machinists and Aerospace Workers president William Winpisinger, Edith Villastrigo, legislative director of Women Strike for Peace, Illinois State Representative Peggy Martin Smith and Connecticut State Representative Irving Stolberg.
In the late 1970s, the Information Centre of the Soviet front World Peace Council, Helsinki Finland, published a booklet naming members of the organization, worldwide.[7]
We publish in this booklet a list of members of the World Peace Council elected at the Council's Session in Warsaw in 1977.
U.S. members listed, included; Abe Feinglass, International Vice-President, Amalgamated Meatcutters and Butcher Workmen's Union of North America AFL-CIO.
NASSCO3
In 1981 Mark Loo, a Chinese-American member of the Communist Workers Party[8] , his party comrade Rodney Johnson, and unionist David Boyd were charged with the attempted bombing of the National Shipbuilding Company in San Diego, California. The trio were represented by lawyer Leonard Weinglass.
Defending the NASSCO 3, soon became a major cause for the Communist Workers Party.[9]
A cocktail party in support of the NASSCO3, was held at Ramsey Clark's house in New York on July 10. Sponsors of the event included Haywood Burns, Abe Feinglass, Juan Gonzalez, William Kunstler, Stewart Kwoh, Manning Marable, Margaret Ratner, Abbott Simon, Frances Borden Hubbard, Flo Kennedy, and Ramsey Clark.[10]
References