Abdul-Aziz Hassan
From KeyWiki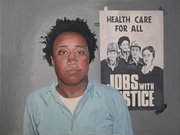 Abdul-Aziz Hassan , was in 2010, the partner of Docia Buffington
He works for 22nd Ward Alderman Ricardo Munoz.
Activism
Living and working in the Little Village Community for a number of years, Abdul-Aziz Hassan now works in the 22 ward as the assistant to Alderman Ricardo Munoz. He is responsible in the ward for community outreach and constituent concerns. While completing his Bachelor's degree at Roosevelt University, Mr.Hassan was awarded the Matthew Freeman Award for Social Justice, by Roosevelt, for his leadership deelopment work with High School students in the greater Lawndale area. He has been working within the political arena for over a decade, with a speciality in voter outreach and community engagement. Mr. Hassan is a seasoned activist, always working with friends and neighbors to address community needs and national issues.Grounded in political theory and strong values, he strives to find the balance between theory and practice, to synthesize the experience and knowledge he has gained at peoples doors with a larger global politic. A native New Yorker, raised in Harlem, Abdul-Aziz Hassan now lives in the community he serves with his beautiful and supportive wife Docia Buffington.
DSA comrades
Vicko Alvarez Vega July 29 2020.
CDSA members: I am once again asking for your vote but this time for Chicago Democratic Socialists of America Southside Steering Cmt 😬.
I am also going to take this opportunity to express a heavy bias for new AFROSOC members (but mad experienced organizers) Tlali Crys (Crystal) and Abdul-Aziz Hassan on the southside and Lucien Liz-Lepiorz, Oswaldo Gomez and Ken Perriwinkle on the northside.
Young Communist League
In 2005 Abdul-Aziz Hassan was an Harlem member of the Young Communist League USA.[1]
I first came in contact with the YCL at a meeting in Chicago. I didn't know anyone, but I had a really good time. We sang songs and talked about politics and talked about books I had read that I had never got a chance to talk about. When I realized YCL-ers were people that I could hang with, I saw that my social life and my political life didn't have to be separate.
Dynamic Collective 2005
In 2005, the Collective running the Young Communist League magazine Dynamic, consisted of Shane Brinton, Cesar Casamayor, Melissa Chadburn, Julia Donahue, Maya Funaro, Cristina Gallo, Abdul-Aziz Hassan, Molly Kelley, Tony Pecinovsky, Kristy Ringor, Brandon Slattery, Mike Tyner, Keren Wheeler.[2]
Communist Party USA
In September 2006 the Peoples Weekly World[3]listed several members of the Illinois Communist Party USA.
Joan Elbert, Barbara Russum, Bea Lumpkin, William Appelhans, Bill Mackovich, Carolyn Black, Carroll Krois, Dee Myles , Doug Freedman, Frank Lumpkin, John Bachtell, Kevin Collins, Lance Cohn, Mark Almberg, Marguerite Horberg, Martha Pedroza, Mike Giocondo, Pepe Lozano, Roberta Wood, Scott Marshall, Shelby Richardson, Sijisfredo Aviles, Sue Webb, Terrie Albano.
Saluting workers everywhere!
In 2009 the Peoples Weekly World carried an article "Saluting workers everywhere!"
Our unity makes Wall Street tremble
Employee Free Choice and universal health care!
A 'green', demilitarized, democratized economy that works for all!
Illinois Readers of the PWW signed the article.
Terrie Albano & John Bachtell - Jon Allen - Sijisfredo Aviles - Eric Robert Berdell - Carolyn Black & Bill Appelhans - Owen Brill - Helen Boothe - John Bradley - Docia Buffington & Abdul-Aziz Hassan - Cathy Campo & Kevin Lindeman - Cristobal Cavazos, Tania Brown & Anita Naoli - Andrew Chebuhar - Dean Christ & Joan Phillips - Ben Cline - Carmen Cohn & Lance Cohn - Alison Cooper - Clarice Durham - Joan Elbert - Thomas Fineberg & Maxine Fineberg - Oscar Forsman - Connie Hall - Ahmad Hassan - Harold Hill - Dajiang Hu - Marge Gamboa - Mike Giocondo & Carroll Krois - Luster Jackson - Ed Jenks & Mary Jenks - Earl R. Jones - Kenneth Kapel - Molly Kelly & Dallas Brown - Angela Larson & Bamshad Mobasher - Jim Lange - Joyce Lightfoot - Stephen Livingston - Guadalupe Lozano - Pepe Lozano - Bea Lumpkin & Frank Lumpkin - Megan Marshall - Scott Marshall & Roberta Wood - Bill Mackovich - Damien Matthews - Donn Miller - Stanley Moe - Ken Nelson - Tom Pace - Ted Pearson & Kathy Pearson - Martha Pedroza - Hector Pedroza - Shelby Richardson – Mark Rogovin & Michelle Rogovin - Barbara Russum -Armando Santos - Tom Shepherd - Evelyn Swan - Ruth Tregay -Kevin Tyson - John Wojcik.[4]
Bernie connection
Docia Buffington, December 23, 2015 ·
Some people have all the fun. My baby, chilling with our first socialist president. No big deal #feelthebern — with Abdul-Aziz Hassan, Carlos Gamboa, Victor Vera and Ismael Cuevas.
Jesus Garcia connection
Jesus Garcia with Abdul-Aziz Hassan.
National Party Building Conference
National Party Building Conference Hosted by Communist Party USA and People's World.
Saturday, November 11, 2017 at 12 PM – 6 PM EST
Join Communist Party activists and members in a national conference. You can register here https://tinyurl.com/ycdouk3y
The conference will take place November 11th to 12th to plan our work in the fight against the Trump Administration and its white supremacist ruling class backers. Find information here about how to participate. http://www.cpusa.org/2017-national-party-building-conference-resist-organize-vote-grow/
The conference will be streamed from Chicago to regional meetings in New Haven, Los Angeles, and Orlando. Whether you're on the East Coast, West Coast, in the MIdwest or the South, you'll be able to participate.[5]
Those invited on Facebook included Abdul-Aziz Hassan.
References