Abba Ramos
Jump to navigation
Jump to search
Template:TOCnestleft Avelino (Abba) Ramos was an Hawaii and Northern California Communist Party USA activist. A longtime leader in the International Longshore and Warehouse Union, Ramos died in his sleep of Lewy body dementia, June 5, 2012, at Bali Bay Care Home in Richmond, Calif.
Ramos was active all his life in the "fight for justice for the Filipino community, in the Philippines and in every community where he lived and worked. He was a dedicated supporter of the People's World/Mundo Popular."
Ramos was preceded in death by his wife, Kimiyo Ramos. He was survived by his children, Renee Yamagishi, Ramona Ramos, Marcelino Ramos and Anna McKenzie.[1]
Early life
Born April 12, 1934, in Hilo, Hawaii, Ramos began his education about economic, social and racial justice in the 1930s, on the sugar plantations of the Big Island. His dedication to the ILWU started when he was a student and a sugar worker in the 1940s. In the late 1950s he became the first Hawaii-born organizer for the United Pacific Workers of Hawaii.
In 1958 Ramos graduated from the University of Hawaii, one of the first children of sugar workers to do so. In 1962 he met and married Kimiyo Ramos, a music teacher and jazz singer from Nagano, Japan.[2]
San Francisco
In 1962, the couple moved to Berkeley, Calif., where he was elected first as shop steward and then as business agent in ILWU Local 6, serving the local until 1984, when he was named ILWU international representative.
Ramos retired in 1997. He was honored that year at the ILWU's 30th International Convention in Honolulu, for his lifetime of service to the union.
In its resolution, the ILWU said Ramos played a central role in the union's work to help form the Asian Pacific Labor Alliance. He was "always on the clock" as an organizer, "spreading the word about the benefits of unionization and ILWU membership to the unorganized," the resolution said, adding that he "consistently shared his experience and knowledge about the labor movement, international solidarity and community activism with young people in schools, writers and historians."[3]
Communist Party Labor Day call
The Communist Party USA paper People's Weekly World issued a statement to mark Labor Day 1995, entitled "We honor the dead and fight like hell for the living."
Of the more than 100 endorsers listed, almost all were identified members of the Communist Party USA.
Abba Ramos, ILWU Local 6 Berkeley, California, was on the list.[4]
People's Weekly World Banquet 1996
Sponsors of the 1996 Bay area People's Weekly World banquet, at His Lordships, Berkeley Marina, included Oakland City Council members Ignacio de la Fuente, Sheila Jordan and John Russo, Berkeley City Council members Maudelle Shirek, Linda Maio and Dona Spring, San Francisco Supervisors Tom Ammiano and Sue Bierman, Alameda County Supervisor Keith Carson, and California State Assemblyman John L. Burton.
Honored were 5 labor leaders - Walter Johnson, Owen Marron, Shirley Ware of SEIU, Abba Ramos of the ILWU and Francisco Martin del Campo of the San Francisco labor Council for Latin American Advancement.[5]
Party supporter
Ramos appeared in a 1994 CPUSA promotional film, Communist Party USA, "History's Challenge."[6]
Robeson event
On may 9, 1998, the Communist Party USA's Peoples Weekly World held a centennial festive tribute celebrating the life of Paul Robeson. Speakers and performers included Communist Party vice chair Jarvis Tyner, co-hair , retired ILWU international rep. Abba Ramos, co-chair communist Marilyn Bechtel, Owen Marron, Alameda Central Labor Council, Martin del Campo, San Francisco Labor Council for Latin American Advancement, Berkeley mayor Maudelle Shirek, dancer Jackie Artman, Northern California Young Communist League co-chair Amie Fishman, Joe Johnson, trade unionist and personal friend of Robeson, poet Dr. Tolbert J. Small, and singers Anthony J. Smith and David Winters (American Federation of Musicians).
Among the events more than 100 co-sponsors were Senate president Pro Tem John L. Burton and Oakland mayor Elihu Harris.[7]
Endorsed Communist Party fund raiser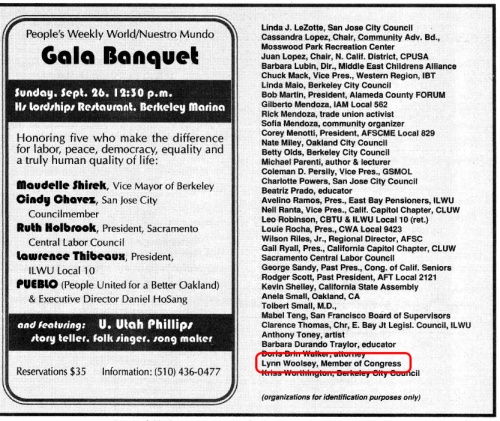 In September 1999, Avelino Ramos, President, East Bay Pensioners ILWU, co-sponsored a Communist Party USA fund raising event in Berkeley. Rep. Lynn Woolsey co-sponsored the same event. [8]
1999 May Day greetings
May Day greeting was included in the Special May Day 1999 Supplement of the Communist Party USA's People's Weekly World. Greeters included Abba Ramos.[9]
Salt of the Earth Labor College 2002 speakers
Salt of the Earth Labor College 2002 speakers included;
References