Aarti Kohli
Jump to navigation
Jump to search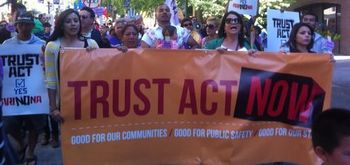 Aarti Kohli Senior Fellow, Chief Justice Earl Warren Institute on Law and Social Policy, University of California, Berkeley School of Law
Legal Scholars Endorse California Trust Act
National Day Laborer Organizing Network posted a letter[1] of "legal scholars" who endorsed California's Trust Act.
The letter read in part:
"In practice, we have seen that immigration screening programs in jail tend to increase the likelihood of racial profiling by police, a finding that is supported by the disproportionate impact the "Secure Communities" program has had on Latinos. Given these serious concerns about local enforcement of immigration detainers and the fact that such enforcement is not mandatory, California can and should adopt the sensible protections against blanket enforcement of immigration detainers that are set forth in the TRUST Act. In doing so, it will be a model for the nation as progressive policy makers and communities consider how to respond to anti-immigrant state laws (such as Arizona's SB 1070 and its progeny) and federal programs that have similar negative consequences for civil rights, trust in law enforcement, and public safety. We urge you to sign this important legislation."[2]
Aarti Kohli was one of the signatories.
Host Committee
The Chinese Progressive Association (San Francisco) Celebrates 45 years of Resilience and Resistance.
[[On Saturday, October 7, 2017, the Chinese Progressive Association (San Francisco) will celebrate our 45th anniversary with the theme, "Harnessing the Strength of a Thousand Rivers.
Host committee members were:
Fahd Ahmed, Alysabeth Alexander, Mike Casey, Myra Chow,Cathy Dang, Antonio Diaz, Supervisor Sandy Lee Fewer, Norman Fong, Conny Ford, Alicia Garza,George Goehl, Rudy Gonzales, Corinna Gould, Sherry Hirota, Dana Kawaoka-Chen, Helen Kim, Supervisor Jane Kim, Aarti Kohli, Laura Livoti, Gordon Mar, Xavier Morales, Vanessa Moses, Tim Paulson, Supervisor Aaron Peskin, Ai-jen Poo, and Mu Ping Poo, Supervisor Hillary Ronen, Saket Soni, Sarath Suong, Mabel Teng, Shiree Teng, Supervisor Norman Yee, Haeyoung Yoon, Miya Yoshitani, Anand Singh.[3]
Adachi connection
A warrior for social justice and criminal reform" is how Aarti Kohli will remember Jeff Adachi. Kohli, a 1993 graduate of Berkeley, is executive director of the San Francisco-based, nonprofit Asian Americans Advancing Justice-Asian Law Caucus. Adachi was on the leadership team for her group, the nation's first legal and civil rights organization for low-income Asian Pacific Americans.
"We worked with Jeff on the intersection of criminal justice and immigration, and also on sanctuary policies, for our Cambodian and Southeast Asian clients with criminal records," she said. "Jeff was an ally in advocating for police accountability."
She said Adachi started a project in which public defenders go to immigration court to help immigrants who face deportation, including Cambodian- and Vietnamese-Americans who came to the United States as youngsters. There aren't enough lawyers in the nonprofit sector who can help, she added, and most clients are low-income and can't pay private attorneys.
"He stepped up and said his office would help, and we supported that idea," said Kohli. "It's great to have a government office supporting immigrants' rights."
Although Kohli and Adachi attended Berkeley at different times, she said she developed on campus "my own political analysis to help me understand the fight for social justice, and I feel it was the same for Jeff, particularly in the Asian American studies program. There are so few places where you can get that level of insight into the Asian-American story, and how it fits into the fight for civil rights."
"It was at Berkeley that I learned about the Chinese Exclusion Act, about Japanese internment. Things you're never taught in high school," she added. "Jeff learned from his family story, but Berkeley helps you connect your personal family story to a broader political and social context, and you make the changes you need to become a leader, to shape society, and it becomes your passion for your career. That's what Jeff was trying to do in his role as public defender. He wanted to help create and reform the criminal justice system."
References