AVODAH
From KeyWiki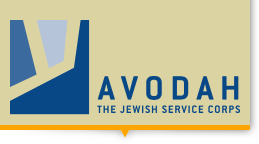 AVODAH: The Jewish Service Corps seeks to strengthen the Jewish community's fight against the causes and effects of poverty in the United States. Participants in our service Corps program live out and deepen their commitments to social change and Jewish life through a year of full-time work at anti-poverty organizations in Chicago, New Orleans, New York, and Washington, DC.[1]
History
The organization was founded by Rabbi David Rosenn, and a group of activists and educators from across the spectrum of the American Jewish community. Some were religious; others not. Some worked in the nonprofit world; others were educators or rabbis or graduate students. Dedicated to the notion of "AVODAH" — a Hebrew word which encompasses spiritual, communal and work-related "service" — they joined forces to create the first and only Jewish service corps.
Launched in New York in 1998 with one house of nine participants, the program doubled within a few years. In 2002, AVODAH began a new program in Washington, D.C. which quickly grew from nine participants to fifteen. In 2005, AVODAH opened its third site in Chicago with 9 participants.
In 2008 AVODAH was expanded to New Orleans, opening a fourth site.
In March of 2010, Rabbi David Rosenn left AVODAH after serving as Executive Director for 13 years and started as Deputy Director at the New Israel Fund, a grantmaking organization that works to promote democracy, human and civil rights, and a strong civil society in Israel.
Currently expanding to Chicago, New Orleans, and Washington, DC, AVODAH is now planning the next phase of growth. By 2012, AVODAH plans to more than double the number of participants in their one-year program, bringing the total to more than 100 each year.
Sneiderman Announced as Exec. Director
On July 8, 2010, an AVODAH press release announced that Marilyn Sneiderman had been selected to be Executive Director of AVDOAH. The release reads as follows,
Marilyn Sneiderman to become Executive Director of AVODAH: The Jewish Service Corps
July 8, 2010-- Marilyn Sneiderman has just been appointed Executive Director of AVODAH: The Jewish Service Corps. Sneiderman replaces Rabbi David Rosenn, who served as AVODAH's founding director for 13 years. Sneiderman will begin her duties on July 26, 2010.
"AVODAH's Board of Directors is proud to have Marilyn assume the helm. Marilyn has a long history of commitment to social justice issues, a deep attachment to her Judaism, and has been connected with AVODAH for many years. I'm confident that she will take our organization to new heights," said Steven Dow, AVODAH's Board Chair.
Sneiderman has spent much of her life as a community and union organizer dedicated to fighting poverty. Prior to coming to AVODAH, Marilyn worked at B'nai Brith Youth Organization (BBYO) as Deputy Director and Chief Field Officer. During her tenure at BBYO she revamped their entire field organization to help transform BBYO into one of the country's premier Jewish teenage leadership development organizations. Prior to joining BBYO, she directed the Department of Field Mobilization for the AFL-CIO from 1996-2005. Under Sneiderman's leadership, she launched a national initiative designed to unite community, union, religious, and civil/immigrant rights groups regionally and nationally to campaign for decent jobs, better schools, and social and economic justice in communities around the country.
"I believe that Marilyn is the ideal person to build on AVODAH's success. She's a highly skilled organizer, a great institution builder, and someone who personifies AVODAH's commitments to Jewish life and social justice, " said Rabbi David Rosenn
Sneiderman earned a Master's Degree in Social Work from University of Wisconsin-Madison, and has served on the faculty at three universities: Georgetown University Law School, the University of Illinois, and at Cornell University. From 2003 to the present, she has served on the National Board of the Leadership Conference on Civil Rights Education Fund. She also co-authored a booklet entitled, Labor in the Pulpits with Kim Bobo of the National Interfaith Worker Justice.
"I am thrilled to be joining AVODAH and continue my passionate pursuit of social justice and service work in the Jewish community. I look forward to working with the staff to lead AVODAH into its next phase of growth," said Sneiderman.
The Board of AVODAH selected Sneiderman following an extensive national search.
AVODAH: The Jewish Service Corps was founded in 1998 to strengthen the Jewish community's fight against the causes and effects of poverty in the United States. AVODAH does this by engaging participants in service and community building that inspires them to become lifelong agents for social change whose work for justice is rooted in and nourished by Jewish values.
Each year AVODAH recruits young Jewish adults from across the US and Canada – and from the full spectrum of Jewish backgrounds – to spend a year working full-time at anti-poverty organizations in New York, Chicago, New Orleans, and Washington, DC.
The AVODAH experience continues after participants complete the year-long program. Pursue: Action for a Just World, a project of AVODAH and American Jewish World Service, offers alumni and other young Jews ongoing opportunities to make change together within and beyond the Jewish community. Pursue connects young people at the intersection where their Jewish values meet their passion for social justice, building a community that takes action to create social change.
Personnel
Staff
As at April 4, 2011, the following worked for the organization:[2]
Chicago Office:
New Orleans Office:
New York Office:
Washington DC Office:
AVODAH/AJWS Alumni Partnership:
Board of Directors
As at April 4, 2011, the following served on the Board of Directors:[3]
Chicago Advisory Council
As at April 4, 2011, the following served on the Chicago Advisory Council:[3]
New Orleans Advisory Council
As at April 4, 2011, the following served on the New Orleans Advisory Council:[3]
Washington, D.C. Advisory Council
As at April 4, 2011, the following served on the Washington, D.C. Advisory Council:[3]
Corps Participants
The following were Corps members in 2011:[4]
Chicago:
New Orleans:
New York:
Washington, D.C.:
Financial Supporters
National support:
Chicago: Major support for the Chicago program has been provided by:
New Orleans: Major support for the New Orleans program has been provided by:
Washington, DC: Major support for the Washington, DC program has been provided by:
Major Donors September 2008-August 2009)
$10,000 AND UP
$5,000 - $9,999
$2,500 - $4,999
$1,000 - $2,499
Articles and Press Releases
Oregonians Fighting Poverty - The Jewish Review
References