21st Century Democrats
Jump to navigation
Jump to search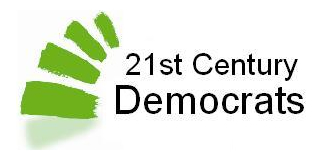 21st Century Democrats is a political organization that has stood for Progressive causes for over 20 years. Founded in 1986 by Senator Tom Harkin, Texas Agriculture Secretary Jim Hightower, and Congressman Lane Evans, 21st Century Democrats has helped elect progressive politicians such as U.S. Senator Tim Johnson, U.S. Senator Barbara Boxer, U.S. Senator Russ Feingold, and U.S. Senator Jeff Merkley. Its three main goals are to help elect progressive candidates, train young people about grassroots organizing, and lastly, to continue to support our elected officials after Election Day "through our comprehensive progressive network".
Board chair is one time Democratic Socialists of America member Jim Scheibel.
Mission
The mission of 21st Century Democrats is to build a "farm team" of progressive populists who will be the future leaders of the Democratic Party.[1]
According to Advisory Board member Carol Moseley Braun;
"We can turn back the growing power of the extreme right wing in this country by standing with 21st Century Democrats. We need every committed Democrat to get involved — the future of our nation is at stake."[2]
Growth
In 2004 election cycle, according to the Political Money Line, it was the 13th largest Political Action Committee (PAC) in the United States raising nearly $7 Million. Among progressive ideological PACs, it ranked fourth behind America Coming Together, EMILY's List, and MoveOn.org. [3]
Unlike traditional PACs, 21st Century Democrats focuses on recruiting, training, and hiring field organizers to organize grassroots campaigns on behalf of candidates for local offices, statewide office, and even targeted presidential swing states.[3] The group has ties to Democracy for America, which grew out of Howard Dean's presidential campaign.[4].
Personnel
Advisory Board
The 21st Century Democrats Advisory Board, as of May 2013 consisted of ;[5]
Staff
The following work for the organization:[6]
2008
As at Dec. 21, 2008, the following worked for the group:[8]
Training Participants
The following have participated in the campaign training sessions that the group holds:[9]
Endorsed Candidates
The following candidates have received endorsement from 21st Century Democrats. The position listed after their name denotes the position they were campaigning for; not their currently held position:[10][11][12][13][14][15][16]
2020
2018
2016
2013 & 2014
2012
2010
2009
2008
2007
2006
2005
2004
2003
2002
2001
2000
1999
1998
References