Transport Workers Union
From KeyWiki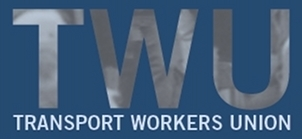 The Transport Workers International Union of America is an AFL-CIO union founded in 1934 and representing 130,000 transit workers in divisions, including Railroad, Gaming, Airline and Transist, Utility, University and Service.
James C. Little is the current President, Joseph C. Gordon is the Secretary-Treasurer and Harry Lombardo is the Executive Vice President.[1]
According to its website, the TWU was "the first union to endorse Illinois Sen. Barack Obama for the presidency.[2]
External links
References