Sherrod Brown
From KeyWiki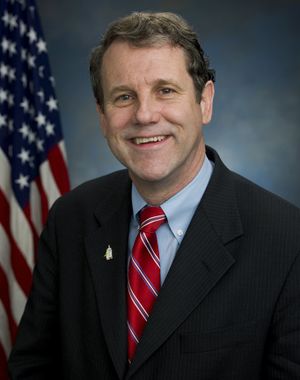 Sherrod Brown is a Democratic member of the United States Senate, representing Ohio. Previously, he was a member of the House from 1993 to 2006, representing Ohio's 13th district. He has served Ohio's Secretary of State, as a member of the Ohio General Assembly, and has taught in Ohio's public schools and at The Ohio State University. [1]
In the early 1990s, Brown taught democracy and government in Poland as that nation was making the transition from communism to democracy.[2]
Brown is married to Pulitzer-prize winning columnist Connie Schultz. They live in Avon, Ohio, and have three daughters, a son, and a grandson.[3]
Senate
Brown is just the sixth Ohio Senator in history to serve on the powerful Senate Appropriations Committee where he works to ensure that Ohio receives its fair share of federal resources and investments. He also serves on the Senate Banking Committee, where he played an instrumental role in passing the historic Wall Street reform law, and is Chairman of its Financial Institutions and Consumer Protection Subcommittee. From his position on the Senate Veterans Affairs Committee, Brown is a staunch supporter of providing comprehensive benefits and body armor to our nation's service members, even as an early and outspoken opponent of the Iraq War.
Brown is also the first Ohio Senator in 40 years to serve on the Senate Agriculture, Nutrition, and Forestry Committee, where he has been instrumental in strengthening the farm safety net and addressing childhood hunger.
Described as "Congress' leading proponent of American manufacturing," Brown is working with the Obama Administration on the creation of a national manufacturing policy that would invest in manufacturing innovation, strengthen our component supply chain, connect workers with emerging industries, and align our trade policies to promote our national interests.
And as a long-time advocate for fair trade, Senator Brown is working on trade policies that promote our workers and manufacturers while creating jobs and expanding markets for businesses through an aggressive export promotion strategy.[4]
Anti NAFTA rally
In November 1993 Jobs with Justice and Cleveland Women Against NAFTA organized an anti NAFTA rally in the Sheet Metal Workers Local 13 Hall in Cleveland. Congresswoman Marcy Kaptur gave a "ringing indictment" of NAFTA, and called for intense last minute lobbying to ensure its defeat. "Keep the pressure on" she said "we can win this one".
Reps Sherrod Brown and Eric Fingerhut were also present, and added their voices for the defeat of NAFTA.
Other speakers included Susan Spat from the Canadian Auto Workers, Berta Lujon, president of Mexico's Authentic Federation of Workers and Virginia Aveni of the Ohio Environmental Council.[5]
Support from communist Rick Nagin
In 1990, the office of Ohio Secretary of State Sherrod Brown gave a certificate of recognition to Rick Nagin, chairman of the Ohio Communist Party USA. Nagin collected the award in Columbus for registering more than 2,000 voters during his losing campaign for Cleveland City Council[6]
In 2006, Rick Nagin served on the staff of AFL-CIO Labor 2006 campaign for Sherrod Brown and Ted Strickland.[7]
Rick Nagin, speaking to a meeting June 25 of the Communist Party USA's national committee, in New York, said the labor movement and other progressive forces are using a ballot referendum to raise Ohio's minimum wage to reach out to voters in rural and southern Ohio, a bastion of the Republican Party. The referendum could prove decisive in Rep. Sherrod Brown's drive to oust Republican Sen. Michael DeWine, Nagin said.[8]
Column reprinted in communist paper
Sherrod Brown wrote a commentary on medicare privatization for the St. Louis Post-Dispatch Dec. 11, 2003. It was reprinted by permission of the author, in the Communist Party USA's People's World of December 19, 2003.
Congressional Progressive Caucus
In 1998 Sherrod Brown Democrat was listed as a member of the Congressional Progressive Caucus.[9]
Take Back America Conferences
Sherrod Brown was on the list of 153 speakers at the 2006 Take Back America conference, which was organized by the Institute for Policy Studies, and Democratic Socialists of America dominated Campaign for America's Future.[10]
He was back in 2007.
America's Future Now Conferences
Sherrod Brown was on the list of speakers at the 2009 America's Future Now conference, which was organized by the Institute for Policy Studies, and Democratic Socialists of America dominated Campaign for America's Future.[11]
DSA support in Senate race
Ohio Democratic Socialists of America members campaigned for Brown in his successful 2006 Senate race[12].
Former Representative, now Senator Sherrod Brown is the most visible symbol of this change...A longtime critic of "free trade" agreements, frequently characterized as far left and out ofthe mainstream, Brown handily defeated the relatively moderate but free-trade proponent Mike DeWine.
Trade was also an issue in the narrow loss of Mary Jo Kilroy to Deborah Pryce. Local DSAers worked in both the Brown and Kilroy campaigns.
"Trade Act of 2008"
The "Trade Act of 2008" (HR 6180) was introduced in the U.S. House of Representatives by Representative Mike Michaud of Maine in early June.
It has gathered 63 cosponsors, including Illinois Representatives Danny Davis, Phil Hare, Jesse Jackson, Jr., Daniel Lipinski, Jan Schakowsky. In the Senate, the legislation (S 3083) was introduced by Senator Sherrod Brown of Ohio and gathered 4 cosponsors.[13]
Ohio Conference on Fair Trade support
In June 2008, the Ohio Conference on Fair Trade commended Sen. Sherrod Brown and five members of Ohio's congressional delegation for co-sponsoring the groundbreaking Trade Reform, Accountability, Development and Employment (TRADE) Act, introduced by Sen. Brown and Rep. Mike Michaud yesterday in Washington D.C.
Representatives Marcy Kaptur, Dennis Kucinich, Tim Ryan, Betty Sutton and Charlie Wilson were among over fifty original House and Senate co-sponsors joining labor, environmental, family farm and faith groups in support of new consensus legislation which offers a positive vision for future U.S. trade policy.
"Fair and level global trade is long overdue and Ohio's workers and communities have paid a steep price," says Tim Burga, Ohio AFL-CIO Chief of Staff and OCFT member. The state's labor federation, representing over one million workers, praised Senator Brown's initiative. "Sen. Brown has taken the reins to address the economic meltdown that turning over our foreign trade rights to corporate profiteers has caused."
"This bill breaks new ground on the enforcement of labor rights, environmental protection, food and product safety, procurement, safeguards against surges of imports, trade remedies against unfair trade practices and the ability for countries to regulate foreign investment," said Bruce Raynor, President of UNITE HERE.
"When you find yourself in a hole, stop digging!" says Joe Logan, past President of both OCFT and the Ohio Farmers Union.
"Our ill-conceived trade policy has placed the American economy in great jeopardy." National Farmers Union President Tom Buis said.
Ben Burkett, President of the National Family Farm Coalition added: "(The TRADE Act) is clear that fair trade begins with farmers being able to earn fair prices reflecting cost of production, fair treatment of farm labor, and limitations against unfair dumping practices.
The TRADE Act also triggers a review of all existing trade agreements, and provides a process to renegotiate them. "Long overdue, this comprehensive approach allows us to reassess the failed trade model that has damaged workers and the environment, and jeopardized food security and public health," says OCFT President Simone Morgen, representing Columbus Jobs with Justice. "We have the opportunity for a new beginning that can spread the benefits of fair trade to the widest possible number of people. This is change we can really believe in!"[14]
PDA support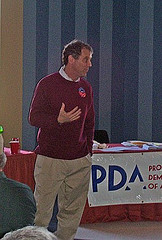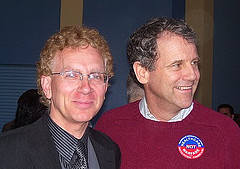 Tim Carpenter claimed that Progressive Democrats of America had chalked up several achievements in its short life, successfully promoting initiatives by PDA board members John Conyers and James McGovern.
PDA was the driving force in the passage of resolutions opposing the war in Iraq by eight state Democratic Party meetings. The organization also was instrumental in the passage of resolutions in 10 states calling for the impeachment of President Bush.
PDA is often referred to by Congressional Progressive Caucus Executive Director Bill Goold as the CPC's field operation, because PDA has built relationships with members of Congress by delivering grassroots support for their initiatives – from Rep. John Conyers' investigation of the 2004 Ohio voting fraud to Rep. Jim McGovern's bill to cut off funding for the war in Iraq, a current priority effort.
The organization worked hard for Marcy Winograd against Jane Harman and for other "progressive " Democrats including Donna Edwards, Christine Cegelis, Jerry McNerney, Tony Trupiano, John Hall, Jeff Latas, Gabby Giffords and Herb Paine.
In the United States Senate primary races PDA unsuccessfully backed Jonathan Tasini against Hillary Clinton in New York, In Ohio, PDA backed successful candidate Sherrod Brown. In Connecticut, PDA campaigned to replace pro Iraq War Senator Joe Lieberman with Ned Lamont.[15]
Jobs With Justice
On April 21, 2009, Heidi Hartmann spoke alongside Steve Husson, Arlene Holt-Baker, Barbara Ehrenreich, Ai-Jen Poo, Kim Gandy, Johanna Moon, Sherrod Brown at the DC Lobby Day for members of the Workers Rights Board of Jobs with Justice - Employee Free Choice Act.[16]
Health Care for America Now rally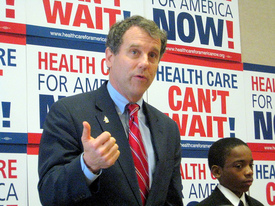 Repeatedly chanting "Yes, We Can," some 600 labor, retiree and community activists loudly voiced determination to win health care reform this year at a rally April 17, in Cleveland Heights sponsored by Health Care for America Now.
The crowd filling the sanctuary of Forest Hills Presbyterian Church cheered Sen. Sherrod Brown as he outlined plans for a "public option" in legislation expected to be introduced soon in Congress. Brown is seen as the lead Senator in the fight in Congress for health care reform.
"I would love to see a single payer system," Brown said, referring to a national health care program without private insurance companies, "but that is not possible right now." What is possible, he said, is a public option that, in effect, regulates the insurance companies and that "will keep the private plans a lot more honest."
This is possible, Brown said, because "the days when the drug companies and insurance companies write health care legislation are over. The conservative era is over. We now have the opportunity for a national health care reform."
The U.S., Brown said, has entered a "new progressive era" similar to the New Deal of the 1930's and the Great Society of the 1960's. "The government is on the side of middle class people," he said, and high on the agenda is an overhaul of the failed health care system.
Brian Rothenberg, executive director of Progress Ohio, said the event was probably the largest of 50 similar actions held around the country during the Easter Congressional recess.[17]
"Kill the Bill" rally
In Mid March 2011, at the bandstand in Tappan Square, over 100 members of Oberlin College and the Lorain County community gathered outside in the rain to rally against Senate Bill 5, which would "eliminate all of Ohio public employees' right to collectively bargain for adequate benefits, fair wages and safe working conditions" . Governor John Kasich and Republicans in the Ohio House and Senate had introduced the bill.
Beginning at 5 p.m. and moderated by Professor of Politics and East Asian Studies Marc Blecher, the rally featured speakers from the College and the Lorain County community, including statements by Senator Sherrod Brown and Lorain County Representative Marcy Kaptur.
"This is a bigger issue than just unions versus governors — it's a fight for the middle class and a way of life," Senator Sherrod Brown said in a statement read by Beth Thames, Brown's deputy state director. "You can blame bad trade deals, irresponsible fiscal policies for Ohio's financial crisis, but you can not blame public workers for the mess we're in."
Other speakers included Oberlin College faculty member Chris Howell, Executive Board of the Oberlin Ohio Education Association member Janet Garrett, Sub-District Director Pat Gallagher of the United Steelworkers of America, Vice President Ron Rimbert of the Oberlin NAACP, President Angie Martinez of United Auto Workers, Reverend Steve Hammond of Peace Community Church in Oberlin, and Bruce Bostick of the United Steelworkers of America Retirees organization.[18]
Supported by Council for a Livable World
The Council for a Livable World, founded in 1962 by long-time socialist activist and alleged Soviet agent, Leo Szilard, is a non-profit advocacy organization that seeks to "reduce the danger of nuclear weapons and increase national security", primarily through supporting progressive, congressional candidates who support their policies. The Council supported Sherrod Brown in his successful Senate run as candidate for Ohio.[19] He has also been previously supported by the Council.[20]
Council of Canadians connection
In late June 2011, Stuart Trew, Trade campaigner for the radical Council of Canadians spent two days in Washington, D.C. for meetings with U.S. allies and other organizations on the Beyond the Border perimeter deal. He was there with John Foster representing Common Frontiers. Together they met with the Institute for Policy Studies, Center for Economic Policy Research, Hudson Institute, AFL-CIO, a staffer in Congresswoman Marcy Kaptur's office, Friends of the Earth (U.S.), the Robert F. Kennedy Center for Justice and Human Rights, and the Global Trade Watch team at Public Citizen. Separately, John Foster met with the Can-Am Business Council, Canadian embassy staff and a staffer in Senator Sherrod Brown's office. Trew met with the American Civil Liberties Union and Privacy International - U.S.[21]
21st Century Democrats support
21st Century Democrats is a Political Action Committee that has stood for Progressive causes for over 20 years. Founded in 1986 by Institute for Policy Studies affiliate, Iowa Senator Tom Harkin, Democratic Socialists of America affiliates, former Texas Agriculture Secretary Jim Hightower, and former Illinois Congressman Lane Evans. Its three main goals are to help elect progressive candidates, train young people about grassroots organizing, and lastly, to continue to support our elected officials after Election Day "through our comprehensive progressive network".
Carol Moseley Braun, a former US Senator from Illinois, and long time Communist Party USA affiliate, serves on the organization's Advisory Board. Long time Board chair was Democratic Socialists of America member Jim Scheibel, a former Mayor of Saint Paul, Minnesota.
The mission of 21st Century Democrats is to build a "farm team" of progressive populists who will be the future leaders of the Democratic Party.
In each election cycle, we endorse a diverse array of candidates who exemplify our values and show unusual promise to advance our progressive goals. We invest in some of the most competitive races as well as in some of the most challenging – those in which the candidates are outstanding but the traditional Democratic supporters are most reticent. We back candidates in primaries as well as general election races, and we focus the bulk of our resources on electing challengers and protecting vulnerable incumbents.[22]
Sherrod Brown was one of 12 key progressives endorsed by 21st Century Democrats in the 2012 election cycle.
A longtime ally, 21st Century Democrats provided Brown active support in his Senate election in 2006. One of our first endorsees, we first helped this true progressive win his House seat in 1992.
Anti "speculator" bill
in April 2012 Ben Cardin joined a group of his Senate colleagues in sponsoring a bill, S. 2222, which "will give federal regulators immediate authority to invoke emergency powers to rein in speculators who are responsible for rapidly rising gasoline prices".
There is broad agreement among energy experts and economists that speculators are one of the causes for the rapidly rising price of gas. Domestic oil production has risen to its highest level in a decade, oil supplies are greater today than they were three years ago and demand for oil in the United States is lower today than it was in 1997. Yet gas prices continue to soar.
There is something wrong with this equation. There is no logical reason why gas prices should continue to rise if oil supplies are up and demand is down.
The American Trucking Association, Delta Airlines, the Petroleum Marketers Association of America, the Federal Reserve Bank of St. Louis, and other experts all say excessive oil speculation in the futures markets significantly increases crude oil and gasoline prices. A Feb. 27, 2012 article in Forbes Magazine cited a recent report by the investment bank Goldman Sachs pointing out that excessive oil speculation adds 56 cents to the price of a gallon of gas.
This "speculators" bill would set a 14-day deadline for the Commodity Futures Trading Commission (CFTC) to take emergency steps to stop excessive speculation by Wall Street traders in the crude oil, gasoline and other energy futures markets. Also co-sponsoring the measure were: U.S. Senators Bernie Sanders (I-VT), Richard Blumenthal (D-CT), Sherrod Brown (D-OH), Al Franken (D-MN), Amy Klobuchar (D-MN) and Bill Nelson (D-FL).[24]
BIT briefing
In 2009, critics of U.S. trade policy, who had already helped to stall three pending trade deals, were taking aim at a lower-profile piece of the trade regime -- bilateral investment treaties.
The treaties, which are distinct from trade deals, are designed to protect American companies' investor rights in countries where the United States does not already have a commercial relationship. The agreements also guard the rights of companies in those countries when they invest in the United States.
Negotiated by the Office of the U.S. Trade Representative (USTR) and the State Department, the treaties are a key element of U.S. trade relationships abroad and are important to American corporations doing business overseas.
But they generally receive less attention -- and less legislative scrutiny -- than free-trade agreements. Trade pacts require approval by both the House and the Senate, but the bilateral investment treaties, known as BITs, require only Senate ratification.
Labor and environmental advocates -- who argue that U.S. efforts to open markets have sent jobs overseas, reduced worker rights and circumvented environmental standards -- were trying to draw greater attention to the treaties on the Senate side.
"Obviously, this is part of a larger debate," Sarah Anderson, director of the global economy project at the Institute for Policy Studies, said at a December, Washington DC briefing on BITs.
The briefing was sponsored by Sherrod Brown, D-Ohio, a labor ally who is one of the Senate's staunchest opponents of recent trade agreements. Groups including the AFL-CIO, Sierra Club, United Steelworkers of America, Center for International Environmental Law, Earthjustice, Global Development and Environment Institute, Tufts University, Institute for Policy Studies, International Association of Machinists and Aerospace Workers, organized the briefing.
With little progress being made in global trade talks due to disputes between developed and developing countries -- and trade agreements with Colombia, South Korea and Panama stalled in Congress -- Anderson argued that the U.S. investment treaty framework should be a pressing matter of debate. "If you're looking for where the action is . . . the BITs is really where it's at," she said.[25]
The briefing "U.S. Investment Treaties and the Public Interest", was held Thursday, December 10, 2:30 – 4 pm Russell Senate Office Building, Room 385, 1st and C Streets, NE.
Speakers were;
High IPS rating
In 2012 "Congressional Report Card for the 99 Percent" , the Institute for Policy Studies examined 40 different legislation actions in the House and Senate—votes and legislation introduced—to ascertain the real allegiances of sitting members of Congress. These include votes to extend the Bush tax cuts for the wealthy, levy a Wall Street speculation tax, invest in infrastructure, and protect workers and student financial aid.
The Report Card also graded politicians for their commitment to reducing inequality and boosting the 99 percent. The report's "Honor Roll" gave an A-plus grade to 5 members of the U.S. Senate, including Senators Sherrod Brown (D-OH), Dick Durbin (D-IL), Al Franken (D-MN), Bernie Sanders (VT-I), and Sheldon Whitehouse (D-RI).[27]
IPS donors
Lynn Raskin, a Washington D.C. realtor, and her husband, Marcus Raskin, a cofounder of the Institute for Policy Studies, contributed to progressive candidates in several tight congressional races during the 2012 election cycle. They donated to Rep. Tammy Baldwin (D-Wisc.), Rep. John Conyers (D-Mich.), and Elizabeth Warren, the Democrat running for Senate in Massachusetts. They've also given money to Sen. Sherrod Brown (D-Ohio).[28]
Committees
Agriculture, Nutrition & Forestry Committee
Subcommittee on Energy, Science & Technology
Subcommittee on Production, Income Protection & Price Support
Subcommittee on Hunger, Nutrition and Family Farms
Banking, Housing & Urban Affairs Committee
Subcommittee on Economic Policy
Subcommittee on Housing, Transportation and Community Development
Subcommittee on Securities, Insurance, and Investment
Select Committee on Ethics
Health, Education, Labor & Pensions (H.E.L.P.)
Subcommittee on Children and Families
Subcommittee on Employment & Workplace Safety
Veterans' Affairs Committee[29]
Staff
The following have worked as staff members for Sherrod Brown:[30]
External links
References