Sara Flounders
From KeyWiki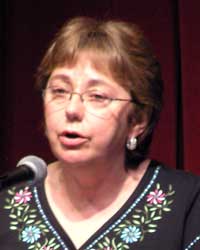 Sara Flounders worked for the International Action Center.
Supporting Aristide
On April 7 2004 in the Whitman Theatre at Brooklyn College. A multinational crowd of 2,000, mainly people from Haiti and the English-speaking Caribbean, packed the hall to hear a program entitled "An Evening with Friends of Haiti: The Truth Behind the Haiti Coup."
A broad range of speakers and cultural performers ignited the stage for three-and-a-half hours to express heartfelt anti-imperialist solidarity with the besieged Caribbean country. Haiti has once again suffered a horrific atrocity with the U.S.-orchestrated kidnapping of its democratically elected president, Jean-Bertrand Aristide, on Feb. 29.
The rally was co-chaired by Kim Ives and Karine Jean-Pierre from Haiti Support Network (HSN), with Pat Chin and Sara Flounders from the Workers World Party controlled International Action Center.
Other speakers included Alina Sixto, Family Lavalas New York/Tri-State Area; Rep. Major Owens of Brooklyn; Mario Dupuy, Aristide's state secretary of communication; Don Rojas, Amy Goodman and Bernard White, WBAI-Pacifica Radio; Ray LaForest, Haitian labor organizer, District Council 1707; Brian Concannon, human-rights attorney; Brooklyn College student Starr Bernard; Serge Lilavois, Support Committee for PPN; Los Angeles anti-police brutality activist Michael Zinzun; Dominican activist Marc Torres; and Haitian performers Marguerite Laurent and Phantoms[1].
Workers World Party
In 2006 Sara Flounders was a member of the Secretariat of the Workers World Party[2].
Anti War rally
Hundreds of activists braved the cold for a march and rally that began at Times Square in New York City on Feb. 17, 2007.
Speakers included Berna Ellorin, BAYAN-USA; Mary Lou Al-Awda, Palestine Right of Return Coalition; Mary Klopart, Grannies for Peace; Ellie Ommani, American-Iranian Friendship Committee; Comrade Shahid, Pakistani USA Freedom Forum; Mia Cruz, FIST; Fallou Gueye, Union of African Workers-Senegalese; Jesse Heiwa, Rainbow Solidarity for the Cuban Five; WayQuay, Leonard Peltier Defense Committee; Jonathan Brown, World Can't Wait; TONC representatives Larry Holmes, Brenda Stokely, Sara Flounders, Sharon Black and Dustin Langley.
Other speakers included Councilperson Charles Barron, who recently introduced a local resolution against the war funding, Chris Silvera, chair of the Teamsters National Black Caucus and representatives from Millions for Mumia and Fanmi Lavalas.[3]
Solidarity with Sept. 24 FBI Raid Activists
The Committee to Stop FBI Repression lists International Action Center as one of the organizations that has issued a statement of solidarity in support of the activists raided in the September 24, 2010 FBI Raids. Sara Flounders authored the statement.[4]
Meeting with Mahmoud Ahmadinejad
On September 21, 2010, Sara Flounders attended a meeting at a midtown hotel with President of Iran, Mahmoud Ahmadinejad, and approximately 130 members of the U.S. "peace and social justice movements", as well as "major figures in the Black activist community." Sara Flounders was also among those who made opening remarks at the meeting.[5]
Sara Flounders of the International Action Center spoke of the work of the peace movement in the United States and called for respectful dialogue in the US and international bodies rather than military actions. [6]
More than 100 activists and journalists from a variety of organizations, religious groups and media outlets attended a gathering with Iranian President Mahmoud Ahmadinejad at the Warwick Hotel here Sept. 21. The leader of the Islamic Republic of Iran was in the city to attend the annual United Nations General Assembly.
These prominent leaders of grassroots social justice and human rights movements within the U.S. consciously rejected a well-funded campaign to demonize Iran and whip up a pro-war climate. Ahmadinejad's visit had been preceded by incendiary billboards, ads in buses and newspapers, hostile media coverage and demonstrations against Iran, much of it funded by the CIA-connected U.S. Agency for International Development and private corporations.
After an Iranian-style dinner, the gathering moved to a conference room where representatives from various organizations spoke on the plight of people inside the United States. The displacement of African Americans in the aftermath of Hurricane Katrina, the burgeoning prison-industrial complex, conditions facing political prisoners, the crisis in U.S.-Iranian relations and the overall economic crisis dominated the discussion.
Among the individuals and organizations in attendance were Cynthia McKinney, a former U.S. House of Representatives member from Georgia and the Green Party's presidential candidate in 2008; poet and activist Amiri Baraka; MOVE Minister of Information Ramona Africa; International Action Center co-director Sara Flounders; Ardeshir Ommani and Eleanor Ommani, co-founders of the American-Iranian Friendship Committee; former U.S. Attorney General Ramsey Clark; Million Worker March Movement organizer Brenda Stokely; Shafeah M'Balia of Black Workers for Justice; Phil Wilayto of Virginia Defenders for Freedom, Justice and Equality; Larry Holmes of Bail Out the People Movement; Don DeBar of WBAIx.org; Ryme Katkhouda of the People's Media Center; Michael McPhearson of United for Peace and Justice; and Rev. Graylan Hagler.
After listening for an hour and a half to 22 different speakers, President Ahmadinejad addressed the guests for approximately 45 minutes. He touched on the international struggle for peace and justice, saying that "trying to build peace is the most important and comprehensive struggle that mankind can have."
He added, "Those who are opposed to justice are a few, a minority."[7]
References