Rick Nagin
From KeyWiki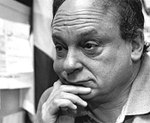 Rick Nagin, born circa 1941, is a prominent Ohio activist and member of the Communist Party USA. Nagin is Ohio correspondent for the Peoples World, has written for the paper and its predecessors since 1970. He has lived for 21 years in the Archwood-Denison Brooklyn Centre neighborhood[1].
Nagin joined the Communist Party USA circa 1970, inspired by Gus Hall[2].
Nagin is a member of the Newspaper Guild, Communications Workers of America, he is a delegate to the North Shore AFL-CIO and serves on its political coordinators committee. He also represents the Peoples World on the steering committee of Cleveland Jobs with Justice.
Education
AFL-CIO labor candidates school, Harvard College BA, Rockefeller Univ. Ph.D[3]
Davila campaign
Nagin worked in the campaign of Ed Davila, the first Hispanic to run for Ohio State Representative.[4]
Council activism
Ward 14 Councilmanic Assistant for over seven years. Nagin helped elect Cleveland's first Hispanic city councilman, Nelson Citron and served as his executive assistant for over seven years.
Communist Party USA
Rick Nagin is a Labor and Politics Reporter for the People's World[5].
Ethnic activism
Rick Nagin speaks Spanish and has traveled in Puerto Rico and Latin America. He as worked closely with Hispanic social clubs and agencies and NAACP Voter Fund[6].
Nagin was a member of the San Lorenzo Club and helped found the Cleveland chapter of the Labor Council for Latin American Advancement (LCLAA) affiliated with the AFL-CIO[7].
Labor activism
Rick Nagin is a delegate to Cleveland AFL-CIO from Communications Workers of America, he is active in efforts for health care, living wages, and union rights.
He serves on the Cleveland Jobs with Justice Steering Committee[8].
Supported Communist Party call
In May 1992 the Communist Party USA newspaper Peoples Weekly World published a May Day supplement which included a call to "support our continuing struggle for justice and dignity"
Endorsers of the call included Rick Nagin, Cleveland, Ohio.[9]
Supporting Brown and Strickland
In 2006, Nagin was on the staff of AFL-CIO Labor 2006 campaign for Sherrod Brown and Ted Strickland[10]
Working with Dennis Kucinich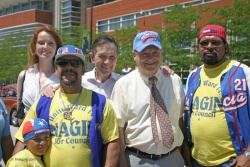 Nagin helped Congressman Kucinich set up a Steel Summit that "succeeded in saving the Cleveland steel mill, preserving the union contract and saving the jobs of thousands of area workers".[11]
Nagin had been a key organizer for Dennis Kucinich's campaigns for Congress and president and for the 2004 John Kerry presidential campaign.[12]
Rick Nagin was Labor Coordinator for Dennis Kucinich's 2008 primary campaign[13].
Dennis Kucinich, (center rear), endorsed Rick Nagin (second from right) in his 2009 City Council race[14].
I've known Rick Nagin for more than 30 years. He's honest, hard-working and conscientious. The people of Ward 14 have a chance to elect a Councilman who will be totally dedicated to them. What more can you ask for?
I'm proud to join with the AFL-CIO in supporting Rick Nagin
Dennis Kucinich, Congressman, 10th District
Supporting Barack Obama
Rick Nagin was a fulltime volunteer in the AFL-CIO Labor 2008 campaign for Barack Obama[15].
Opposing Israeli Policy in Gaza
In January 2009 Rick Nagin signed a statement circulated by the Magnes Zionist Blog, opposing Israeli policy in Gaza:[16]
As human beings, we are shocked and appalled at the mass destruction unleashed by the State of Israel against the people of Gaza in its military operation, following years of Israeli occupation, siege, and deprivation.
As progressives, we reject the same justifications for the carnage that we heard ad nauseam from the supporters of the Second Iraq War: the so-called "war on terror," the "clash of civilizations," the "need to re-establish deterrence" – all of which served to justify a misguided and unnecessary war, with disastrous consequences for America and Iraq.
Council run
During Nagin's 2009 run for a seat on the Cleveland City Council, his Communist Party USA membership again became an issue[17].
A former chairman of the state Communist Party has come closer than ever to taking a city council seat after years of trying for public office.
Registered Democrat Rick Nagin finished a strong second in this month's primary race in Council Ward 14. He faces a Nov. 3 nonpartisan general election runoff against the top vote-getter, Brian Cummins.
Nagin, 68, failed in three previous bids for a council seat. He resists being labeled a communist, saying Monday the word was demonized by 60 years of Cold War propaganda designed to prepare people for war and intimidate those with liberal ideas.
It's an epithet in this country," he said, "like using the N-word."
Nagin, who joined the Communist Party in 1970, has written for the People's Weekly World newspaper, which describes itself as having a "special relationship with the Communist Party USA," as recently as May.
He said the Communist Party USA has an honorable and distinguished history of working for economic, civil and democratic rights. But he suggested the party needs a new name, perhaps the New Socialist Party.
In the city council campaign, he said the issues are much more local — safety, vacant houses, jobs, programs for young people, block clubs.
"My philosophical outlook is to stand up for working people," he said. "If elected, I would work not only very hard for my constituents but be a voice for organized labor."
Nagin was unsuccessful, but received 45 percent of the vote.
Peoples World personnel
As at December 2010, personnel of the Communist Party USA paper, Peoples World, ;[18]
Editorial Board
Bureau Chiefs and National Contibutors, Juan Lopez (N. Calif.), Rossanna Cambron (S. Calif.), Joelle Fishman (Conn.), John Bachtell (Ill.), John Rummel (Mich.), Tony Pecinovsky (Mo.), Dan Margolis (N.Y.), Rick Nagin (Ohio), Libero Della Piana, Scott Marshall, Elena Mora, Emile Schepers, Jarvis Tyner, Sam Webb
Democrat
In 2012 Rick Nagin was the Democratic Leader in Cleveland Ward 14 and serves on the County Democratic Party Executive Committee.
References