Richard Fimbres
From KeyWiki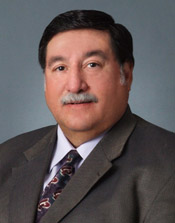 Richard Fimbres is a Tuscon City Council member.
Background
Fimbres is a lifelong resident of Ward 5 and Tucson, graduate of St. Ambrose and Tucson High Schools and a 20-year veteran of the Pima County sheriff's Department. He is a Vietnam-era veteran of the United States Army having served as a military policeman, patrol and narcotics dog handler.
In 2002, Fimbres was appointed as Director of the Arizona Governor's Office of Highway Safety (GOHS) which is the focal point for highway safety issues in Arizona. GOHS provides leadership by developing, promoting, and coordinating programs; influencing public and private policy; and increasing public awareness of highway safety.
When then Governor-elect Janet Napolitano made the announcement of Fimbres (Dec. 12, 2002), she stated, "With his solid law enforcement background, Richard is uniquely positioned to bring a renewed focus to highway safety issues as our state's population continues to increase and the challenges of keeping Arizona safe as the highways grow". As the Director of GOHS, Arizona has led the nation in seat belt usage in 2004, and in 2007 Arizona saw an 18% reduction in highway fatalities. Fimbres served in the post for six-and-a-half years.
Richard Fimbres also served as a Governing Board Member for Pima County Community College, having been appointed in 1997, and being reelected to two, six-year terms in 1998 and 2004. In 2009, Richard was one of the first charter inductees into the Pima Community College Hall of Fame.
Fimbres is a graduate of Pima Community College, The University of Arizona, and Northern Arizona University. He is the proud father of Richard Michael and Joseph Terrance and has been married for 31 years to his wife Mary.[1]
Awards
In 2000 Richard Fimbres was chosen as one of Pima County's most influential individuals by the Tucson Citizen Newspaper.
In 2001 Richard Fimbres received Valle del Sol's Exemplary Leadership Award and was the National Man of the Year for the League of United Latin American Citizens.
In 2002, the Tucson Metropolitan Chamber of Commerce named Fimbres as its Man of the Year. Also that year Fimbres was entered into the Congressional Record on two different occasions by Arizona Congressman Ed Pastor.
In July, 2004 Mr. Fimbres received the Ohtli Recognition from the Mexican Government. This recognition is given to those who, like Mr. Fimbres, have dedicated most of their personal and professional life to obtain the well being and prosperity of the Mexican communities abroad.
Richard Fimbres received the NOBLE Law Enforcement Award in 2007 and the following year, 2008, Fimbres had the honor of being inducted into the Tucson High Badgers Hall of Fame.[2]
Fimbres had the honor of driving in the Presidential motorcade for President Bill Clinton and Vice-President Al Gore.
League of United Latin American Citizens
Richard Fimbres has served as a national officer for the League of United Latin American Citizens .
In September 2009, thanks to the efforts of Richard Fimbres and LULAC, the Community Food Bank of Southern Arizona received more than 15 tons of chicken products, donated by Tyson Foods. The Pima County Board of Supervisors recognized Fimbres for his 18-month effort to secure this donation from Tyson. This was only a part of Richard's work with the Community Food Bank, throughout 2009, he has made it an integral part of his efforts as a then candidate and will continue to do so as the Ward 5 Councilmember, raising awareness of the Community Food Bank and the importance of everyone helping them to feed those in need.[3]
Eva Carrillo Dong reception with communists
On Wednesday, 15 September 2010, a reception in support of Eva Carrillo Dong was held Rigo's Mexican Restaurant 2527 South 4th Avenue Tucson, AZ.
Key attendess included Salvador Barajas, Sunnyside School Board Member Magdalena Barajas, Rolande Baker, Joe Bernick, Mary Carmen Donaldson, Hon. Dan Eckstrom, County Supervisor Richard Elias, Tucson City Council Member Richard Fimbres, TUSD Board Member Adelita Grijalva, James Hannley, Rigoberto Lopez, Raul Nido, Laura Portillo, Manuel E. Portillo, Tucson City Council Member Regina Romero, Albert Siqueiros, Janet L. Valencia and Steve Valencia. Baker, Bernick, Hannley and both Valencias were all affiliated with the Arizona District Communist Party USA.[4]
References