Rahm Emanuel
From KeyWiki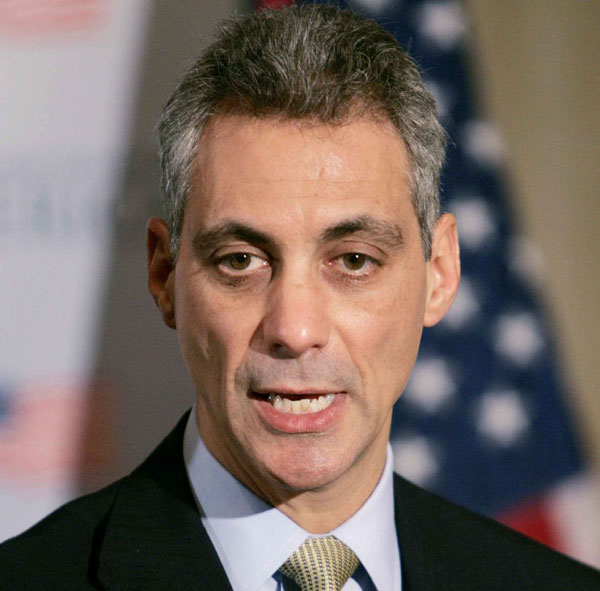 Rahm Israel Emanuel is the current White House Chief of Staff to President Barack Obama. Previously, he served as Democratic member of the United States House of Representatives, representing Illinois's 5th congressional district from 2003 until his resignation in 2009. He resigned to take up his current position in the Obama Administration.
Chicago Mayoral Candidacy
On September 30, 2010, it was announced that Emanuel would be leaving his post as White House Chief of Staff to run for Mayor of Chicago following the retirement of Richard Daley. He was replaced as White House Chief of Staff by Pete Rouse on October 2, 2010.
Planned Parenthood
Emanuel received $1000 in lobbying funds from Planned Parenthood in 2008.
Controversies
The Monica Lewinsky Investigation
Emanuel earned his reputation as a ruthless political combatant by fiercely defending President Bill Clinton in the Monica Lewinsky investigation.[1]
Alleged Violation of the Hatch Act
In 2010 Emanuel teamed with his then-Deputy Chief of Staff Jim Messina to allegedly interfere with Senate elections in Pennsylvania and Colorado by offering federal appointments to Rep. Joe Sestak and Andrew Romanoff. Sestak and Romanoff were not Obama's favored candidates, so Emanuel and Messina apparently attempted to unlawfully persuade them to abandon their campaigns.[1]
A June 15, 2010 Judicial Watch complaint to the U.S. Office of Special Counsel stated,[2]
"White House Chief of Staff Rahm Emanuel and Deputy Chief of Staff Jim Messina, on behalf of the Obama Administration, have both used their position and influence as highly placed federal employees to affect the outcome of federal elections in direct violation of the Hatch Act, which states that an employee may not 'use his official authority or influence for the purpose of interfering with or affecting the result of an election.'"
The Rod Blagojevich Scandal
According to sworn testimony during the "Blago" trial, Emanuel served as Obama's chief negotiator with the Rod Blagojevich team as the former Illinois Governor attempted to illegally sell Obama's former Senate seat to the highest bidder. Unfortunately, the federal prosecutor cut short the case against Blagojevich and Emanuel and other Obama insiders were never called to testify. Emanuel subsequently left his position at the White House.[1]
External links
References