Melanie Shouse
From KeyWiki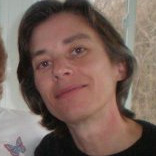 Melanie Shouse, died January 30, 2010 age 41, was a Missouri activist.
Background
Melanie Shouse was born in Indiana, but grew up in Corpus Christi, Texas, graduating from high school in Plano, Texas. After graduating in 1989 with honors from Texas A&M University with a bachelor of science in zoology, she headed for San Francisco. Ms. Shouse and Steve Hart published Sleepers Awake, a bi-annual magazine advocating political awareness.
She and Hart came to the St. Louis area from San Francisco in 1996 to help care for Hart's father. Shortly after arriving in Olivette, the two formed their specialty food business, Sweet Meat Stix, selling beef kabobs from humanely raised beef at local festivals. In 2004, they spent everything they had and more, $30,000, to renovate a former Domino's facility and open a permanent store in St. Ann.
Friends of the Peoples Weekly World
The Communist Party USA's Peoples Weekly World 1997 May Day Supplement listed several St. Louis Friends of the Peoples Weekly World. they were Lew Moye, Melanie Shouse, Jay Ozier, Zenobia Thompson, E. E. W. Clay, Luther Mitchell, Susan Davis, Jim Wilkerson, John Pappademos, Nafisa Kabir, William Davis.
According to the Peoples World, February 4, 2010;[1]
In addition to advocating affordable health care for everyone, she was an activist for clean energy, economic reform and public transportation. Additionally, she was a long-time supporter of the People's Weekly World, the predecessor of the People's World...
Illness
In 2005, Shouse went to the Siteman Cancer Center and was diagnosed with terminal breast cancer.
"The delay in treatment and diagnosis was the result of my inadequate medical coverage," Ms. Shouse said matter-of-factly.
After starting her third round of chemotherapy, Ms. Shouse's insurance company, WellPoint, an independent licensee of the Blue Cross and Blue Shield Association, informed her that it would not continue to cover her latest treatment. It was, Ms. Shouse said, "A case of monopoly bureaucrats coming between a patient and her doctor."
Medicare and Medicaid, which Ms. Shouse called great public programs, began paying half of the cost of her treatments. But Ms. Shouse was disappointed that in receive services, she had to be deemed completely disabled. It was another reason she championed health-care reform.
She became increasingly vocal, jumping even deeper into the health-care fray when her care – or lack thereof – became controversial.
"It was typical Melanie," Hart said. "She would speak to anyone who would listen about health-care reform."
In a speech at the Rally for the Future of Health Care under the Arch in November, 2010, Ms. Shouse proudly stood where President Obama had stood just a year earlier and called for passage of the Affordable Health Care for Americans Act, which, she said, would "mark a milestone in the long march toward full equality and true democracy for America, of a magnitude equal to passage of Social Security, worker's rights and civil rights."
She also spoke to individuals, like U.S. Rep. Rosa DeLauro, D-Conn., a vocal proponent of health-care reform legislation and a long-term survivor of ovarian cancer. Rep. DeLauro intervened with WellPoint on Ms. Shouse's behalf, continuing her efforts to get treatments approved for Ms. Shouse through February 2010.
Activism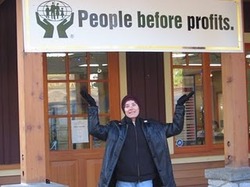 "When Ms. Shouse joined our organization, she brought a wide breadth of knowledge about so many things," said Barbara Finch, founder and president of Women's Voices Raised for Social Justice. "But mostly she added inspiration."
In addition to being active with St. Louis Jobs with Justice and Women's Voices, Ms. Shouse was a member of the Breast Cancer Research Working Group at Washington University/Siteman Cancer Center, Washington University's Institutional Review Board for clinical trials, the Missouri Health Care for All Coalition and the Komen St. Louis Research Advocate Committee. She was a graduate of Project LEAD (National Breast Cancer Coalition) and she received a patient advocate scholarship (Alamo Breast Cancer Foundation) to the 2007 San Antonio Breast Cancer Symposium.
"She felt passionately about working people and that corporations shouldn't be allowed to run over them," said Amy Smoucha, an organizer for St. Louis Area Jobs with Justice. "She really understood how her story was America's story and she was very effective in telling that story. We are renewed in winning the health-care battle in her honor."
She was pursuing a Master's Degree in Non-Profit Management at the University of Missouri-St. Louis.
Relationship to Obama
On February 4, 2010 President Obama, speaking at a Democratic National Committee fundraising event, mentioned Melanie Shouse. This is what he said:[2]
I got a letter — I got a note today from one of my staff — they forwarded it to me — from a woman in St. Louis who had been part of our campaign, very active, who had passed away from breast cancer. She didn't have insurance. She couldn't afford it, so she had put off having the kind of exams that she needed. And she had fought a tough battle for four years. All through the campaign she was fighting it, but finally she succumbed to it. And she insisted she's going to be buried in an Obama t-shirt.
But think about this: She was fighting that whole time not just to get me elected, not even to get herself health insurance, but because she understood that there were others coming behind her who were going to find themselves in the same situation and she didn't want somebody else going through that same thing. How can I say to her, "You know what? We're giving up"? How can I say to her family, "This is too hard"? How can Democrats on the Hill say, "This is politically too risky"? How can Republicans on the Hill say, "We're better off just blocking anything from happening"?
According to blogger Momocrats;[3]
Melanie started a Barack Obama campaign volunteer group in my part of St. Louis County before there was an Obama campaign office here. She did it on her own, because the official state campaign administration was too slow. She did it because she thought Barack Obama was our country's best hope for achieving real health insurance reform.
While Missouri for Obama was still trying to line up a reliable team of field organizers and figure out how to install internet at extra phone lines at the local union hall, Melanie Shouse was holding pro-Obama meetings in living rooms and parks and coffee shops and teaching her friends and neighbors how to register people to vote. After years of hacking through medical insurance red tape, Melanie wasn't one to wait around for someone else to get organized...
After Obama won the election, Melanie kept fighting. She had accounts on Organizing for America, Change.org, The Huffington Post, and Facebook that she used to share information about health insurance problems, refute falsehoods about health care reform legislation, promote health care reform rallies and pass on petitions and lobby legislators. She volunteered for the local chapter of MoveOn.org, speaking at vigils and rallies, confident and inspiring in front of large crowds, always showing up, no matter how sick she felt or how tired she was.
The President, and the Democrats in Congress, must not forget that they did not win the 2008 election.
People like Melanie Shouse won that election. And they deserve nothing less than for the government they elected to fight tooth and nail for what people like Melanie are owed — the better American future they envisioned for us all.
Brian Wahby, the head of the city of St. Louis Democratic Party, was on hand for the president's speech.
"It was really poignant and the highest honor for Melanie, having the president mention her and use her fight as a clarion call for health-care reform," Wahby said. "I think it will help us redouble our efforts to move this bill and this policy forward."
Steve Hart, the partner Ms. Shouse met on a dreary day on the Greyhound picket lines in San Francisco 20 years ago, said he found the mention of her in the president's speech "heartwarming".
"I welled up when I heard it," Hart said.
Ms. Shouse was one of the president's earliest and fiercest campaign supporters. She was at his swearing-in ceremony when he became a U.S. senator from Illinois; she was in Springfield, Ill., when he declared for president, and she immediately formed North County for Obama. When he was elected in November 2008, she was in Grant Park in Chicago for the victory speech. In January 2009, she headed to Washington for the inauguration.
Ms. Shouse was cremated, as requested, in her "North County for Obama" sweatshirt, and her ashes scattered at the confluence of the Mississippi and Illinois rivers.[4]
References