Mark Dayton
From KeyWiki
Mark B. Dayton is the Governor of Minnesota.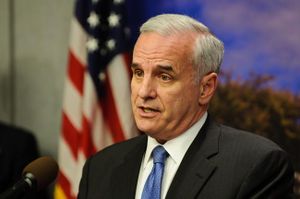 Background
Mark Dayton was born in Minneapolis and raised in a house in Long Lake, where his father still lives today. He has two grown sons, Eric Dayton and Andrew Dayton, and currently lives in Minneapolis.
Education
Dayton attended Long Lake Elementary School and Blake School in Hopkins. He graduated, cum laude, from Yale University, in 1969.
The Teachers, Inc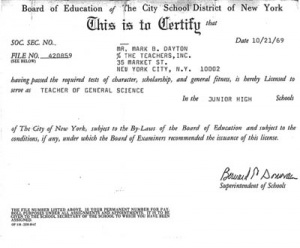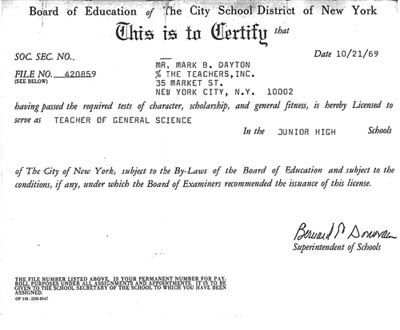 After Yale Dayton worked in New York for The Teachers, Inc.
After college, Dayton taught 9th grade general science for two years in a New York City public school.[1]
It was the toughest job I've ever had! My conscience was seared by the terrible injustice that my students had so little, while I had been given so much; and I decided that I would devote my life to improving social equality and economic opportunity for all Americans.
In 1970 Dayton worked at the Charles Sumner Junior High.
Boston
Dayton worked as Social Services agency in Boston from 1971-1975 as a "streetworker."
Radicalism - "Enemies List"
Mark Dayton has long aligned himself with radical causes.[2]
I have always fought hard for the causes I believed in, whether they were popular at the time or not. I strongly opposed the Vietnam War, for which I was the only Minnesotan named to then-President Nixon's "Enemies List." I was one of only 23 Senators to vote against the 2002 Iraq War Resolution, along with Minnesota's great Senator Paul Wellstone.
Meeting Gorbachev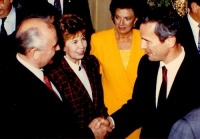 Mark Dayton met with Mikhail Gorbachev and Raisa Gorbachev during a 1980s visit to Minnesota.
DSA supportin 2000
In 2000 Minnesota Democratic Socialists of America decided to focus all of its efforts as a group the next two years on reelecting Senator Paul Wellstone, who "is closest to DSA's ideology. Although divided on Gore vs. Nader, they are 100% united behind Wellstone. Wellstone is being targeted by the Republicans and Bush administration for defeat."
The Twin Cities Local also started a Social Democratic Action caucus in the Democratic Farmer/Labor Party. SDA canvassed regularly for Mark Dayton and Al Gore.[3]
Public office
Dayton was a U.S. Senator from Minnesota from 2001 to 2007. he was a member of the Democratic-Farmer-Labor Party.
He has served as Commissioner of the Minnesota Departments of Economic Development and of Energy and Economic Development, and as State Auditor.[4]
Opposed Iraq War
Six of the eight U.S. Senators from the four upper Midwest states voted against the resolution to authorize force against Iraq, all of them Democrats or progressive Democrats: Mark Dayton and Paul Wellstone (Minn.), Russ Feingold (Wis.), Dick Durbin (Ill.), and Carl Levin and Debbie Stabenow (Mich.).
Sen. Wellstone, the only member of the Senate voting "Nay" who was facing election that fall, died in a plane crash just prior to the 2002 election; his seat was taken by Republican Norm Coleman. But Iowa Sen. Tom Harkin, a Democrat, joined the war resistance a year later by voting against the $87 billion supplemental appropriation for the Iraq War.[5]
Attended Event Honoring Rev. Sun Myung Moon
On March 23, 2004, a congressional reception was held in the Dirksen Senate Office Building, Washington, D.C., honoring Korean-born businessman and religious leader, the Rev. Sun Myung Moon. Moon, 85, has been controversial for years. Renowned for officiating at mass weddings, he received an 18-month prison sentence in 1982 for tax fraud and conspiracy to obstruct justice. In a 1997 sermon, he likened homosexuals to "dirty dung-eating dogs."[6] Democrats Sen. Mark Dayton of Minnesota, Rep. Danny K. Davis of Illinois, Rep. Sanford D. Bishop, Jr. of Georgia; and Republicans Rep. Roscoe G. Bartlett of Maryland, Rep. Christopher B. Cannon of Utah, and Rep. Curt Weldon of Pennsylvania – received "Ambassadors for Peace" awards at the ceremony. There were reportedly 81 members of Congress total at the event.[7]
China trips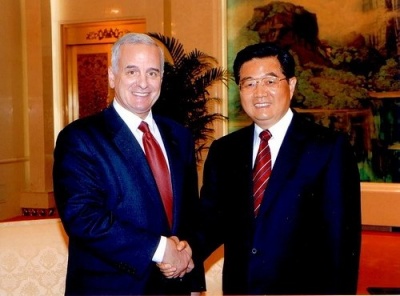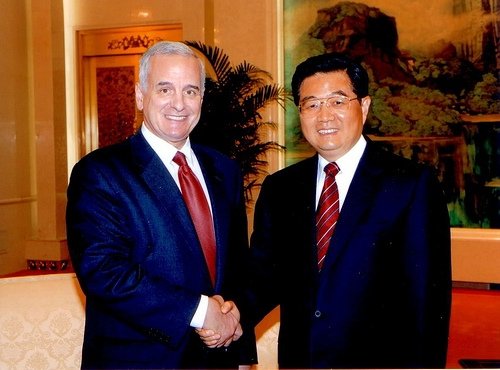 August 03, 2005 United States senator Mark Dayton, met with Sheng Huaren, Vice-Chairman and Secretary-General of the 10th NPC Standing Committee.[8]
A delegation of the U.S. Senate arrived in Beijing August 7 2006 to hold the third meeting with the National People's Congress (NPC), China's legislative body.
Information from the NPC source showed, issues of China-U.S. relations, Taiwan, China's peaceful development, bilateral trade and other regional and international issues would be on the agenda of the meeting.
The issues with the global concern such as energy, bird flu, anti-terror campaign and the Olympic Games will be also discussed by the Chinese and U.S. parliamentary members, the source added.
Chinese president Hu Jintao and Chinese top legislator Wu Bangguo held talks with the delegation respectively in Beijing , covering the issues of bilateral relations and other regional and international issues of common concern, according to the NPC information.
The U.S. delegation, invited by Wu Bangguo, chairman of the NPC Standing Committee, was led by Ted Stevens, president pro tempore of the U.S. Senate, and Senator Daniel Inouye. Other delegation members include Senator Thad Cochran, Senator Arlen Specter, Senator Patty Murray, Senator Mark Dayton, Senator Lamar Alexander, Senator Norm Coleman, and Senator Richard Burr.
The NPC and the U.S. Senate set up a regular meeting mechanism in 2004, which made the Chinese legislative body the fifth partner of such exchange mechanism with the U.S. Senate. The other four are the counterparts from Britain, Canada, Mexico and the North Atlantic Treaty Organization (NATO). Under the framework of the mechanism, the two sides held two rounds of meetings in Beijing and Washington D.C. respectively.
The NPC statistics showed that, in the year of 2005 alone, over20 delegations with more than 100 U.S. senators and congressmen paid official visits to China.[9]
Wellstone relationship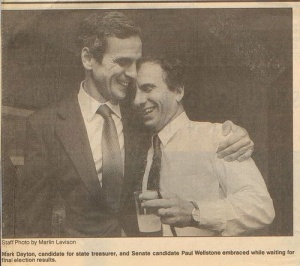 Wellstone Action
In 2009 Mark Dayton was listed as a member of the Advisory Board[10] of Wellstone Action, a Minnesota based organization based on the political legacy[11] of that state's late 'progressive" Senator Paul Wellstone.
Wellstone Action and Wellstone Action Fund combine to form a national center for training and leadership development for the progressive movement. Founded in January 2003, Wellstone Action's mission is to honor the legacy of Paul and Sheila Wellstone by continuing their work through training, educating, mobilizing and organizing a vast network of progressive individuals and organizations.
Support from communist Mark Froemke
In October 2009 Communist Party USA member Mark Froemke was the Fargo Moorehead organizer for a 10 Days of Labor Action campaign for Minnesota gubernatorial candidate Mark Dayton.[12]
The time is now. We have an opportunity to build a Better Minnesota by electing Mark Dayton as Governor and all our other labor-endorsed candidates. But, we need your help. That's why on Saturday, October 23, we're kicking off 10 Days of Labor Action.
Breakfast for Dayton
During the 2010 elections, Mark Froemke helped to organize a breakfast meeting for gubernatorial candidate Mark Dayton.[13]
Anyone who has ever worked a campaign knows that the days start early and end very late. Today was no exception. Dana Anderson, our campaign manager and of course gubernatorial candidate Mark Dayton, and I hit the road at 7:30 am for a week of talking to voters, working families and business owners – all of which are vital to helping our economy recover.
A special thank you to Mark Froemke for helping to organize a breakfast with members of Bakery, Confectionery, Tobacco Workers and Grain Millers Local 167G. We had a great conversation, and we really appreciate Mark's help in putting this event together.
Soros fund raiser
Mark Dayton said on December 2, 2010 that former President Bill Clinton will headline a fundraiser in New York City on December 13th to help Dayton pay for the recount of votes in the as yet undecided Minnesota Governor's race.. Dayton said the event will be held at the home of financier George Soros. Dayton also said he's is trying to schedule a fundraiser for December 15th that will be hosted by Senate Majority Leader Harry Reid, Sen. Amy Klobuchar and others. Dayton says that fundraiser will go to his campaign. Dayton's recount director says Dayton raised more than $1 million to date for the campaign's recount efforts.
Dayton says he believes he's leading Republican Tom Emmer by about 9,000 votes after three days of counting ballots. He says he's confident he'll be the winner of the race once the recount is over. [14]
Staff
The following have worked as staff members for Mark Dayton:[15]
References