Marcy Kaptur
From KeyWiki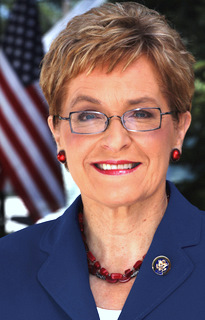 Marcy Kaptur is a Democratic member of the United States House of Representatives, representing the 9th district of Ohio.
Background
Congresswoman Kaptur, of Polish-American heritage with humble, working class roots, mirrors the bootstrap nature of her district. Her family operated a small grocery where her mother worked after serving on the original organizing committee of an auto trade union at the Champion Spark Plug Company.
Congresswoman Kaptur became the first member of her family to attend college, receiving a scholarship for her undergraduate work. Trained as a city and regional planner, she practiced 15 years in Toledo and throughout the country. Appointed as an urban advisor to the Carter White House, she helped maneuver 17 housing and neighborhood revitalization bills through the Congress during those years.
Kaptur is a native of Toledo, Ohio, a member of Little Flower Roman Catholic Church, and a graduate of St. Ursula Academy. She earned a Bachelor of Arts in history from the University of Wisconsin (1968) and a master's in urban planning from the University of Michigan.[1]
Congress
While pursuing a doctorate in urban planning and development finance at the Massachusetts Institute of Technology, the local Democratic Party recruited her to run for the U.S. House seat in 1982. Kaptur had been a well-known party activist and volunteer since age 13. Although she was outspent by a 3-to-1 margin, she parlayed her deep roots in the blue-collar neighborhoods of Toledo and the rural areas of the district to pull the national upset of 1982.
Congresswoman Kaptur fought vigorously to win a seat on the House Appropriations Committee . She has risen in seniority and now serves as the senior Democratic woman on the committee.
She has secured appointments to three important subcommittees: Defense, Agriculture, the leading industry in her state; and Transportation/Housing and Urban Development (HUD).
Congresswoman Kaptur was also appointed by party leadership to serve on the prestigious House Budget Committee for the 112th Congress.
Kaptur is the first Democratic woman to serve on the Defense subcommittee. During her legislative career, she has also served on the Banking and Veterans Affairs Committees. [2]
Congressional Progressive Caucus
In 1998 Marcy Kaptur Democrat was listed as a member of the Congressional Progressive Caucus.[3]
As of February 20 2009 Marcy Kaptur was listed as a member of the Congressional Progressive Caucus.[4]
Anti NAFTA rally
In November 1993 Jobs with Justice and Cleveland Women Against NAFTA organized an anti NAFTA rally in the Sheet Metal Workers Local 13 Hall in Cleveland. Congresswoman Marcy Kaptur gave a "ringing indictment" of NAFTA, and called for intense last minute lobbying to ensure its defeat. "Keep the pressure on" she said "we can win this one".
Reps Sherrod Brown and Eric Fingerhut were also present, and added their voices for the defeat of NAFTA.
Other speakers included Susan Spat from the Canadian Auto Workers, Berta Lujon, president of Mexico's Authentic Federation of Workers and Virginia Aveni of the Ohio Environmental Council.[5]
Anti NAFTA Bill
In 1995 Marcy Kaptur, Peter DeFazio, Nydia Velasquez, Gene Taylor and Bernie Sanders co-sponsored a Bill, to force the US to withdraw from NAFTA within 90 days. The bill was unsuccessful. [6]
"Progressive" Cabinet "nominee"
In September 2008, Chicago based socialist journal In These Times asked its editors and writers to suggest their top progressive choices for a potential Obama Cabinet.[7]
We asked that contributors weigh ideological and political considerations, with an eye toward recommending people who have both progressive credentials and at least an arguable chance at being appointed in an Obama White House.
This group of people would represent at once the most progressive, aggressive and practical Cabinet in contemporary history. Of course, it is by no means a definitive list. It is merely one proposal aimed at starting a longer discussion about the very concept of a progressive Cabinet—and why it will be important to a new administration, especially if that administration is serious about change.
David Sirota suggested Marcy Kaptur for US Trade Representative:
Polls show the public overwhelmingly opposes America's NAFTA-style trade policies, and Obama has committed to reforming those policies as president. Part of doing that means naming a fair-trade voice as his lead trade negotiator — and no voice for trade reform has been more dogged than Rep. Marcy Kaptur's (D-Ohio).
A 13-term House member, Kaptur serves on the Appropriations Committee — one of Congress' most powerful panels. As Toledo's representative, she has seen firsthand the devastation that comes with unfair trade pacts, and has led the fight against every major lobbyist-written deal that has come through Congress — from NAFTA to China PNTR to CAFTA.
That personal connection to the trade issue would serve Kaptur well in international negotiations where compromise too often means selling out the American worker. Similarly, Kaptur's longtime experience in the House would be critical in powering fair-trade deals through what remains a corporate-dominated Congress.
Presidents of both parties have treated the trade representative position as an ambassadorship to a banana republic, appointing go-along-to-get-along hacks — such as former Clinton campaign chairman Mickey Kantor — who use the department as a taxpayer-funded training program for their post-government career in the corporate whorehouse.
Kaptur would be far different.
Capitalism: A Love Story
In 2009, Marcy Kaptur appeared in Michael Moore's film Capitalism: A Love Story.[8]
Supported Lifting the Gaza Blockade
On Jan. 27, 2010, U.S. Representatives Keith Ellison and Jim McDermott led 52 other members of Congress in signing a letter addressed to President Barack Obama, calling for him to use diplomatic pressure to resolve the blockade affecting Gaza. Marcy Kaptur was one of the signatories of the letter. [9] The entire letter together with a complete list of signatories can be read by clicking here.
Detroit rally
Over 10,000 Detroiters marched down Washington Boulevard from the UAW-Ford National Programs Center to Grand Circus Park on Saturday, August 28th 2010, to demand "jobs, peace, and justice". The march was organized by United Auto Workers (UAW) President Bob King and Operation PUSH founder and director Reverend Jesse Jackson. It commemorated the 47th anniversary of Dr. Martin Luther King's March on Washington.
The dais at Grand Circus Park was "teeming with dignitaries—politicians, clergy of every denomination, and union leaders". Among the elected officials present were Representatives John Conyers, Jr., John Dingell, Maxine Waters, Marcy Kaptur and Senator Debbie Stabenow. Michigan Democratic Party gubernatorial nominee Virg Bernero briefly addressed the audience and committed himself to placing the interests of Main Street over those of Wall Street. Among the union leaders who spoke were UAW President Bob King, newly-elected President of the Service Employees International Union Mary Kay Henry, Farm Laborers Organizing Committee President Baldemar Velasquez, and American Federation of State, County, and Municipal Employees Council 25 President Al Garrett.[10]
CPC "Good jobs" tour
On June 27, 2011, Detroit was the second stop of the Congressional Progressive Caucus's "Good Jobs" tour. Reps. Hansen Clarke and John Conyers, D-Mich., joined with Keith Ellison, D-Minn., Marcy Kaptur, D-Ohio, and the Rev. Jesse Jackson listening to the "stories and thinking of the people".
In their brief remarks, the leaders issued a call to redirect money from wars, Wall Street and the rich to a rebuilding of America.
Jackson said war spending is "breaking our cities." He was seconded by Clarke who said the money we're spending in Afghanistan is ours, "it should come back to us."
Kaptor said we need to tax the financial giants asking, "Why can't we tax hedge funds like we do the corner bakery?"
Ellison emphasized that unity is required to win, saying being angry will not bring jobs but banding together, speaking together, and fighting together can. "We will use our strength in numbers to fight corporate greed," he said.
Conyers said we are "getting ready" to re-elect President Obama but we need the President to get behind job creating legislation like the Humphrey Hawkins jobs bill he has introduced.
"We are going to Washington to tell him we want him to lead in the fight for jobs. We will tell him we are ready to help," said Conyers.[11]
Staff
The following are past and present staff:[12]
External links
References