Main Page
From KeyWiki
Unlocking the covert side of U.S. and Global politics.

KeyWiki

has

106,194

articles and counting.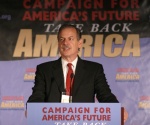 Robert Borosage is easily one of America's most dangerous radicals.
He is a member of the Board of Trustees of the ultra-left Institute for Policy Studies. He is also the President of the Institute for America's Future and the Secretary-Treasurer of Campaign for America's Future.
He writes widely on political, economic, and national security issues for publications including the New York Times, the Washington Post, the Los Angeles Times, the Philadelphia Inquirer, The Nation and The American Prospect magazine.
Borosage is a frequent commentator on television and radio, including Fox Morning News, RadioNation, National Public Radio, C-SPAN and Pacifica Radio. He teaches on presidential power and national security as an adjunct professor at American University's Washington School of Law.
Borosage is acting chair for the American Progressive Caucus Policy Foundation, which is a major conduit of socialist policies from the Institute for Policy Studies, into the US Congress via the Congressional Progressive Caucus.
On April 10, 1982, an IPS-sponsored group, including Borosage, visiting Moscow for a week of meetings with high-level Soviet officials responsible for disseminating disinformation and propaganda for U.S. consumption. The IPS group identified only two of the Communist Party of the Soviet Union Central Committee officials they met - Georgi A. Arbatov, head of the Institute of the USA and Canada, a "think-tank" that provides research and analysis and also cultivates and develops contacts with Americans at the direction of the KGB and the International Department of the CPSU Central Committee; and Vadim V. Zagladin, first deputy chief of the International Department.
Robert Borosage has served as an issues advisor to progressive political campaigns, including those of Senators Carol Moseley Braun, Barbara Boxer and Paul Wellstone. In 1988, he was Senior Issues Advisor to the presidential campaign of Reverend Jesse Jackson.
.(
more...
)
Browse the knowledge base
Learn more about highly influential left organizations and people...
KeyWiki Research
Please suggest people, groups or other subjects on which research would be beneficial.
The Team
at KeyWiki are also available to engage in commissioned research. Please
contact us
for more information.
Recent Posts from the New Zeal Blog

Provide information, documents, inside knowledge...
We welcome tip-offs from ex-socialists as well as those still working inside the system. This inside knowledge is valuable in exposing the covert side of politics.
To anonymously provide information or share knowledge, please
click here
.
Connect with KeyWiki
You can follow us on
Twitter
, join us on
Facebook
, watch videos on our
Youtube page
and read our
blog
. You can also connect with the Keywiki community at the
Forum
.
Suggest corrections: If you believe information on a page is incorrect, you can suggest a correction by clicking the discussion tab at the top of that page, or contacting the Editor.
Please contribute to KeyWiki's valuable research...