Main Page
From KeyWiki
Unlocking the covert side of U.S. and Global politics.

KeyWiki

has

106,194

articles and counting.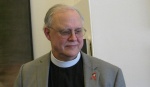 Chicago based activist Tim Yeager , serves as Chairperson of the Religion Commission of the Communist Party USA, the body charged with organizing the Party's work and propaganda, inside country's religious communities. Other members of the Party's Religious Commission include Northern California Catholic activist activist Hank Millstein, Chicago educationalist Pat Flagg, and former Baltimore hospital chaplain, and convicted student loan fraudster, Rev. Pierre L. Williams.
A union lawyer in his day job, Yeager serves on the Standing Commission on Anglican and International Peace with Justice Concerns, and the Advocacy Center of The Episcopal Church, in Illinois.
Tim Yeager is a member of Grace Church in Oak Park, Illinois, where he serves as assistant organist. He is the Chair of the Peace & Justice Committee of the Diocese of Chicago.
Yeager is the Financial Secretary/Treasurer of the National Organization of Legal Services Workers, United Autoworkers Local Union 2320, which represents nearly 4,000 lawyers, support staff, social workers and other employees working in legal and human services agencies across the country.
"Jesus called upon his people to be bold for justice," Yeager told the Communist party's People's World. "He says the same thing that Karl Marx says at the end of the Communist Manifesto: fear not, stand up, move into this new era, be free, you have nothing to lose but your chains.".(
more...
)
Browse the knowledge base
Learn more about highly influential left organizations and people...
KeyWiki Research
Please suggest people, groups or other subjects on which research would be beneficial.
The Team
at KeyWiki are also available to engage in commissioned research. Please
contact us
for more information.
Recent Posts from the New Zeal Blog

Provide information, documents, inside knowledge...
We welcome tip-offs from ex-socialists as well as those still working inside the system. This inside knowledge is valuable in exposing the covert side of politics.
To anonymously provide information or share knowledge, please
click here
.
Connect with KeyWiki
You can follow us on
Twitter
, join us on
Facebook
, watch videos on our
Youtube page
and read our
blog
. You can also connect with the Keywiki community at the
Forum
.
Suggest corrections: If you believe information on a page is incorrect, you can suggest a correction by clicking the discussion tab at the top of that page, or contacting the Editor.
Please contribute to KeyWiki's valuable research...