Los Angeles Democratic Socialists of America
From KeyWiki
Los Angeles Democratic Socialists of America
Membership boost
In 1990/91 DSA gained over 150 new members in the last six months in the Los Angeles metropolitan area, bringing the LA membership to over 500.[1]
Ganz meeting
On March 17, circa 1990 Los Angeles Democratic Socialists of America and the Socialist Community School organized a meeting at the os Angeles Workmen's Circle with Marshall Ganz, Director of the Organizing Institute.
Ganz was described as in an advertising leaflet as;
Come and engage in a lively discussion about the future of the democratic party and the strategy for progressive activists working within the Party.
Forthman talk
Professor Will Forthman spoke to the Valley DSA January 28, 1991, on the War in the Middle East. His talk was followed by a film on CIA activity in the earlyfifties when the CIA helped overthrowthe Iranian government of Mohammed Mossadegh.[2]
DSA Council support
In 1991 the Los Angeles Democratic Socialists of America local supported two winning candidates for the Los Angeles City Council — Mark Ridley-Thomas and Ruth Galanter.[3]
Backing Jackie
In 1993 Los Angeles DSA was active with endorsements and campaign work in Los Angeles City Council races. The local was especially supportive of the candidacy of Jackie Goldberg, a progressive, openly gay former school board member.[4]
Olney meeting
On September 18, 1993 Peter Olney of the Service Employees International Union Local 399 addressed the local's fall membership meeting, on defending immigrant workers.[5]
Socialists organize to "challenge for power" in Los Angeles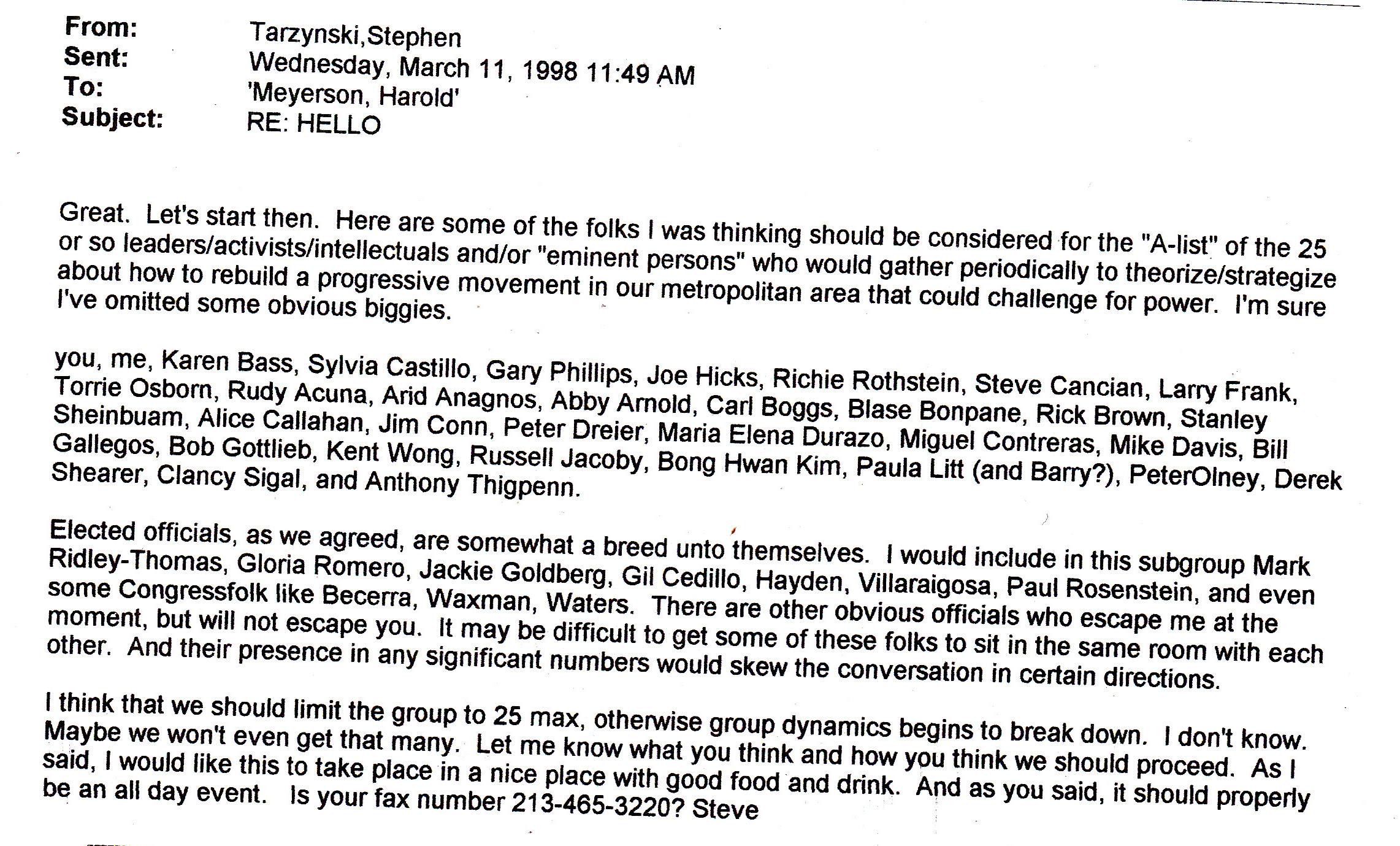 On March 11, 1998, Los Angeles Democratic Socialists of America leader Steve Tarzynski wrote an email to another Los Angeles DSA leader Harold Meyerson.
Tarzynski listed 25 people he thought should be on an "A-list" of "25 or so leaders/activists/intellectuals and/or "eminent persons" who would gather periodically to theorize/strategize about how to rebuild a progressive movement in our metropolitan area that could challenge for power."
Tarzynski listed himself, Harold Meyerson, Karen Bass, Sylvia Castillo, Gary Phillips, Joe Hicks, Richard Rothstein, Steve Cancian, Larry Frank, Torie Osborn, Rudy Acuna, Aris Anagnos, Abby Arnold, Carl Boggs, Blase Bonpane, Rick Brown, Stanley Sheinbaum, Alice Callahan, Jim Conn, Peter Dreier, Maria Elena Durazo, Miguel Contreras, Mike Davis, Bill Gallegos, Bob Gottlieb, Kent Wong, Russell Jacoby, Bong Hwan Kim, Paula Litt (and Barry Litt, with a question mark), Peter Olney, Derek Shearer, Clancy Sigal and Anthony Thigpenn.
Included in a suggested elected officials sub-group were Mark Ridley-Thomas, Gloria Romero, Jackie Goldberg, Gil Cedillo, Tom Hayden, Antonio Villaraigosa, Paul Rosenstein and Congressmen Xavier Becerra, Henry Waxman and Maxine Waters.
Tarzynski went on to write "I think we should limit the group to 25 max, otherwise group dynamics begins to break down....As i said, I would like this to take place in a nice place with good food and drink...it should properly be an all day event."
New beginning
In 2010 Democratic Socialists of America set out to re-launch its Los Angeles local, dormant since the late 1990's. A kick-off public meeting aiming to renew socialist activism took place on July 25th at the Workmen's Circle building in West Los Angeles.
Jack Rothman was asked by national DSA to be the volunteer local organizer. With 300 dues-paying members in the area, and with the "dreadful, downwardly spiraling politics in California these days, it's high time for an organized democratic socialist presence on the Los Angeles scene."
San Diego Democratic Socialists of America "has given priceless assistance to their Los Angeles big sister in getting organized". Virginia Franco and Herb Shore, members of DSA's National Political Committee and its Local Development Committee who live in San Diego, sparked the Los Angeles start-up through phone calls, visits, and advice.
"Our kick-off meeting was a splendid event. 65 people – more than any of us expected – turned out. We had to put out more chairs, twice". Peter Dreier, distinguished writer, scholar, and activist from Occidental College delivered the keynote address.
Dreier, who was on the original DSA National Executive Board, held the audience in rapt attention on the topic of "The Inside/Outside Strategy" – which has guided DSA's political thrust since the days of Michael Harrington. We had the good fortune of a second key address by National Director Frank Llewellyn, who trekked down (and back) from the Netroots Nation Conference in Las Vegas to participate in our event. He sketched a picture of the DSA national program for the audience, including its newly issued Social and Economic Bill of Rights.
25 people volunteered to join a committee to organize next steps.[6]
Film series
"The local's birth was hard work," says Chair Carol Newton, "but an ambitious effort was made to give it real meaning by writing a thoughtful statement of purpose for the bylaws, one that will inspire our efforts in the future."
While working on local development, the Los Angelenos DSAers presented a film series, moderated by Jack Rothman, Professor Emeritus, UCLA School of Public Affairs. After they screened "Harlan County, USA," directed by Barbara Kopple, about organizing a coal miners' union in the 1930s, Kyle Arnone of the UCLA Institute for Research on Labor and Employment led a discussion for 18 attendees. Next was "The Corporation,"with a discussion led by Professor Howard Sherman, a progressive economist and former head of the economics department at UC Riverside. Last up was "Howard Zinn:You Can't Be Neutral on a Moving Train." John Marciano,a professor emeritus at Cortland State University who led the discussion, had worked directly with Howard Zinn and is noted for his teaching of historian and activist Zinn's book The People's History of the United States.[7]
References