Karen Bass
From KeyWiki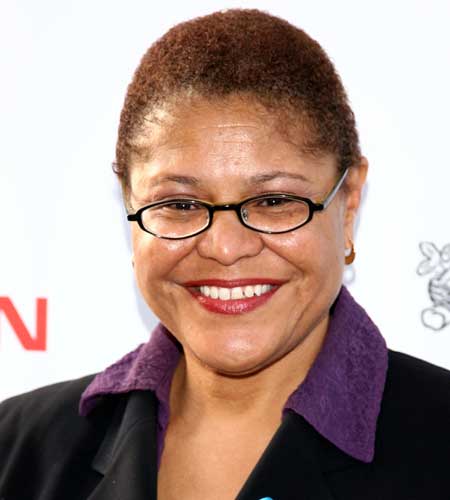 Hon. Karen Bass is the socialist affiliated U.S. Representative for California's 33rd congressional district, winning election in November 2010. She replaced retiring rep. Diane Watson. She has been selected by Democratic Leader Nancy Pelosi to serve on the prestigious Steering and Policy Committee which sets the policy direction of the Democratic Caucus. Democratic Whip Steny Hoyer of Maryland, appointed Bass to serve as an Assistant Whip.
Bass, who had one daughter, Emilia Bass-Lechuga, son-in law Michael Wright and four step children.[1]
Early life
Bass grew up with three brothers in the Venice/Fairfax area of Los Angeles. She is the only daughter of DeWitt Bass and Wilhelmina Bass. Bass graduated from Hamilton High School, Cal State Dominguez Hills, and the University of Southern California School of Medicine Physician Assistant Program.
Bass also worked for nearly a decade as a Physician Assistant and served as a Clinical Instructor at the USC Keck School of Medicine Physician Assistant Program.[2]
Activism
Before her life in office, Karen Bass started her political organizing as a middle school student when she signed up to be a precinct captain for Robert Kennedy in 1968. In 1990, Bass founded and ran Community Coalition, a community-based social justice organization in South Los Angeles to empower residents to get involved in making a difference. In addition to her 14 years as Executive Director for Community Coalition, Bass has a long history as an activist, creating change on both a local and international level.[3]
The daughter of a mail carrier, and a product of public schools, Bass began organizing as a teenager. In college, she was active in the antiwar movement. While working as a nurse and a physicians assistant, and raising her daughter, she continued her political activism as a volunteer.
As many of its factories closed in the 1980s, South LA was hit hard by the loss of decent-paying blue-collar jobs. Unemployment and hopelessness created a vacuum, filled in part by the crack cocaine epidemic and the increasing role of gangs as a way for young people to gain status and income. The community experienced a spiral of drug dealing, violent crime, prostitution and crack houses. Bass's job in the emergency room at LA County's USC Hospital--the nation's largest trauma center--gave her a close-up view of how the epidemic was destroying the lives of many young men, women and children and undermining the social fabric of inner city neighborhoods. In 1990, she founded Community Coalition to find a humane alternative to the "war on drugs"--one of the nation's first grassroots organizations to deal with this problem,
"I wanted to see if I could shift the policy agenda away from law enforcement toward a public health and economic response," she explained. "I thought it was a health and economic issue."[4]
Community Coalition
Under Bass's leadership, the Community Coalition took on other pressing issues, always reaching out to other community groups, churches, labor unions, social service agencies, employers and elected officials to enlarge the circle of collaborative partners. After the 1992 riots, Bass also worked to encourage local foundations, the United Way, businesses and community leaders to invest in grassroots organizing to strengthen community-based groups. As a result, Los Angeles is now ground-zero for successful community organizing around economic and social justice issues.
As a strong executive director, Bass left the Community Coalition on a solid financial footing and with a new generation of community leaders that she'd trained to run the organization. During her tenure, the group's budget increase from slightly over $300,000 to about $3 million, secured from government agencies and more than fifteen private foundations. In her last year, the Community Coalition had about thirty staff members. [5]
California Assembly
A colorful mosaic of activist groups--among them LA Voice, the Coalition for Economic Survival, Los Angeles Community Action Network, One LA, the Los Angeles Alliance for a New Economy, ACORN, the Southern California Association for NonProfit Housing, East Los Angeles Community Coalition, POWER (People Organized for Westside Renewal), Koreatown Immigrant Workers Alliance, Communities for a Better Environment, SAJE (Strategic Actions for a Just Economy), Esperanza Community Housing, the Coalition for Humane Immigrant Rights, Coalition LA, South Asian Network, Progressive Jewish Alliance and AGENDA--have forged effective coalitions across racial, economic and geographic boundaries that have improved housing, education, environmental and economic conditions in LA, a city of 4 million people.
One of the byproducts of this growing network has been the election of many LA grassroots activists to public office in City Hall, the state legislature and Congress. Bass had long worked to catapult other community leaders into public office. After years of resisting, Bass was persuaded by a diverse group of supporters to run for the state Assembly. After thirteen years leading the Community Coalition, she was elected in 2004 to represent an economically varied and ethnically polyglot district that has significant numbers of African-Americans, Latinos, Jews, Koreans and Ethiopians. Once she arrived in Sacramento, she was quickly recruited to serve as majority whip, then majority floor leader and was elevated to Speaker by her colleagues in 2008. [6]
A lifelong resident of Los Angeles, Bass was elected to the CA State legislature in 2005 to represent Culver City, West Los Angeles, Westwood, Cheviot Hills, Leimert Park, Baldwin Hills, Windsor Hills, Ladera Heights, the Crenshaw District, Little Ethiopia and portions of Korea Town and South Los Angeles and the United State Congress representing Culver City, Hollywood, Ladera Heights, Silverlake, Los Feliz, Jefferson Park and Windsor Hills.
Karen Bass made history when the California Assembly elected her to be its 67th Speaker, catapulting her to become the first African American woman in the country to serve in this powerful state legislative role.
While Speaker, Bass delivered change and results to her constituents in Los Angeles and the people of California by jumpstarting infrastructure projects to create new jobs in the state. Bass has also championed efforts to provide quality healthcare to Californians and expand opportunities for California's youth.
Under Bass' leadership the Assembly fast-tracked federal economic stimulus legislation that aided Californians who have been affected by the national economic crisis as well as jumpstarted billions of dollars of infrastructure projects.
Former Speaker Bass has proudly authored legislation that expands Healthy Families Insurance coverage to prevent children from going without health care. Bass's legislation also included bills to reform schools and improve conditions and services for youth. Bass has successfully passed legislation that reduces dropouts by expanding multiple pathways in high school to prepare students for college, career and civic responsibility. Another piece of legislation Bass authored provided LA Unified School District with access to over $600 million in additional school funds.[7]
West Coast Socialist Scholars Conference 1993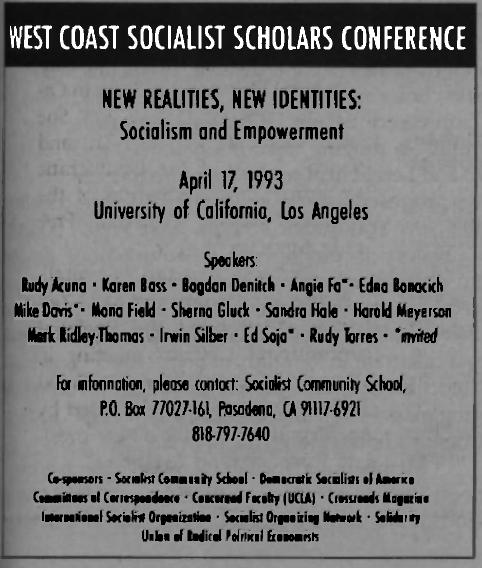 The West Coast Socialist Scholars Conference 1993, "New Realities, New Identities ; Socialism and Empowerment" was held April 17, 1993 University of California, Los Angeles.[8]
Speakers included;
Co-sponsors were Socialist Community School - Democratic Socialists of America - Committees of Correspondence - Concerned Faculty (UCLA) - CrossRoads Magazine - International Socialist Organization - Socialist Organizing Network - Solidarity - Union for Radical Political Economics[9]
Socialists organize to "challenge for power" in Los Angeles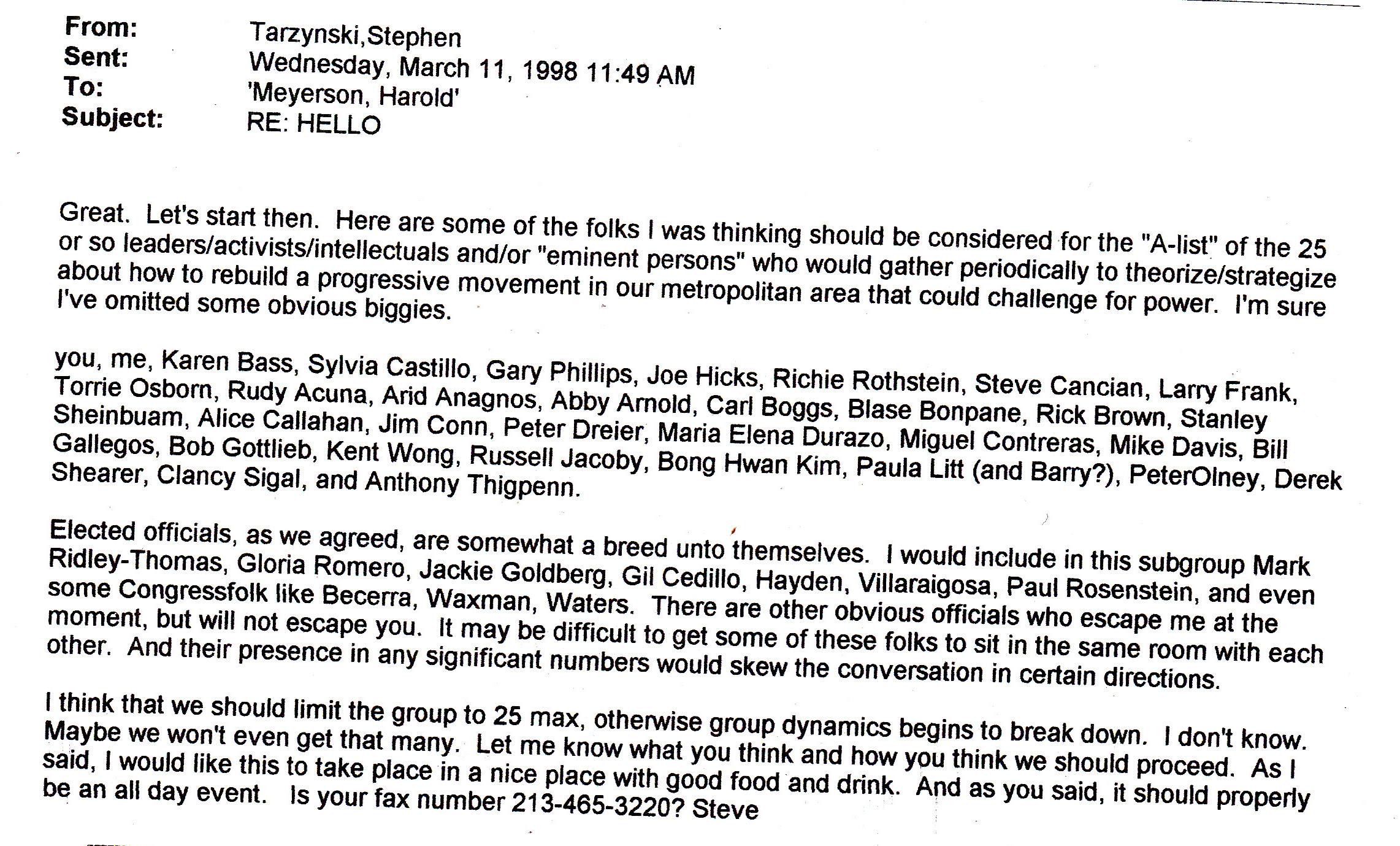 On March 11, 1998, Los Angeles Democratic Socialists of America leader Steve Tarzynski wrote an email to another Los Angeles DSA leader Harold Meyerson.
Tarzynski listed 25 people he thought should be on an "A-list" of "25 or so leaders/activists/intellectuals and/or "eminent persons" who would gather periodically to theorize/strategize about how to rebuild a progressive movement in our metropolitan area that could challenge for power."
Tarzynski listed himself, Harold Meyerson, Karen Bass, Sylvia Castillo, Gary Phillips, Joe Hicks, Richard Rothstein, Steve Cancian, Larry Frank, Torie Osborn, Rudy Acuna, Aris Anagnos, Abby Arnold, Carl Boggs, Blase Bonpane, Rick Brown, Stanley Sheinbaum, Alice Callahan, Jim Conn, Peter Dreier, Maria Elena Durazo, Miguel Contreras, Mike Davis, Bill Gallegos, Bob Gottlieb, Kent Wong, Russell Jacoby, Bong Hwan Kim, Paula Litt (and Barry Litt, with a question mark), Peter Olney, Derek Shearer, Clancy Sigal and Anthony Thigpenn.
Included in a suggested elected officials sub-group were Mark Ridley-Thomas, Gloria Romero, Jackie Goldberg, Gil Cedillo, Tom Hayden, Antonio Villaraigosa, Paul Rosenstein and Congressmen Xavier Becerra, Henry Waxman and Maxine Waters.
Tarzynski went on to write "I think we should limit the group to 25 max, otherwise group dynamics begins to break down....As i said, I would like this to take place in a nice place with good food and drink...it should properly be an all day event."
Progressive Los Angeles Network
Circa 2002 , Karen Bass , Community Coalition, served on the Advisory board of the Democratic Socialists of America dominated Progressive Los Angeles Network.[10]
Woolsey/Sheinbaum fund raiser
Congresswoman Lynn Woolsey, the first Member of Congress to call on the President to bring our troops home, was be in Los Angeles on Saturday February 4th 2006, for a 'very exciting but critical fundraiser against the most well-known, well-financed challenger she's ever faced". woolsey was facing a primary challenge from a termed-out Assemblyman Joe Nation, a moderate Democrat who has been critical of her stand on the war and on bringing home our troops. He is raising money from people who have given money to Tom DeLay and Bush-Cheney and his legislative district covers 60+% of Congresswoman Woolsey's district. Congresswoman Woolsey is a "champion of equal rights, civil liberties, protecting the environment and fighting for single payer healthcare. Congresswoman Woolsey must be re-elected by the same victory margin she has had in the past to send a message to progressives everywhere that's it IS OK to be courageous, and to not back down on issues that matter."
The Host Committee for this fundraiser includes:
Ben Affleck; Ed Asner; Warren Beatty; Jodie Evans; James Cromwell; Matt Damon; Tom Hayden; Wendy Herzog; Mimi Kennedy; Norman Lear; Stephen Rohde; Susie Shannon; Stanley Sheinbaum & Betty Sheinbaum; Lorraine Sheinberg; Kathy Spillar; Gloria A. Totten; Peg Yorkin; Senator Barbara Boxer; Congressman Joe Baca; Congressman Xavier Becerra; Congresswoman Lois Capps; Congresswoman Jane Harman; Congresswoman Juanita Millender-McDonald; Congresswoman Grace Napolitano; Congresswoman; Lucille Roybal-Allard; Congresswoman Linda Sanchez; Congresswoman Loretta Sanchez; Congressman Adam Schiff; Congresswoman Hilda Solis; Congresswoman Maxine Waters; Congresswoman Diane Watson; Senator Sheila Kuehl and Assemblywoman Karen Bass.
The fundraiser was at the Stanley & Betty Sheinbaum residence in Brentwood. Both Sheinbaums have been members of Democratic Socialists of America.[11]
Supporting Sandre Swanson
In 2006, Karen Bass, Majority Whip California State Assembly, was one of many prominent Northern California leftists to serve on State Assembly hopeful Sandre Swanson's Honorary Campaign Committee.[12]
46th Annual ACLU Garden Party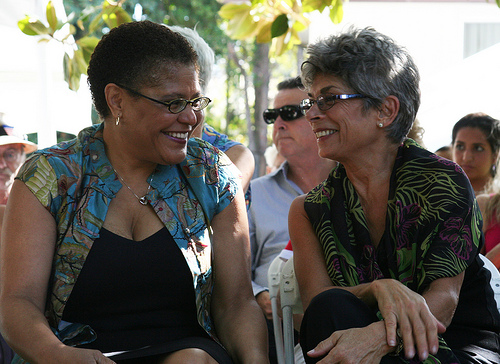 Sunday, September 20, 2009, at the home of Stanley Sheinbaum & Betty Sheinbaum Southern California ACLU held its 46th annual Garden Party.
Paying Tribute To These Champions of Civil Liberties:[13]
Stanley K. Sheinbaum Award - Ed Asner
Legislator of the Year Award - Karen Bass, Speaker of the California Assembly
Activist of the Year Award - Laura Chick, California Inspector General
Chapter Activist of the Year Award David V. DuFault, Desert Chapter
Chapter of the Year Award Pasadena-Foothill Chapter
Liberty Hill Foundation
As at 2009, Karen Bass, Speaker of the House, California State Assembly, was on the Board of Directors of the Liberty Hill Foundation, a Los Angeles based organization seeking to advance movements for social change through a combination of grants, leadership training and alliance-building.[14]
Congressional Progressive Caucus
In 2011 Karen Bass was a new member of the Congressional Progressive Caucus.[15]
Budget cuts protest
Mayor Antonio Villaraigosa was among the scheduled speakers at a downtown rally march 23, 2011, to protest proposed federal budget cuts, which organizers claim would hurt the city and county governments and attempts by small businesses to avoid layoffs.
Reps. Maxine Waters, Lucille Roybal-Allard, Karen Bass, Laura Richardson and Judy Chu, Councilman Richard Alarcon, actors Tim Robbins and James Cromwell and actress Mimi Kennedy were among the other scheduled speakers for the rally at the Edward Roybal Federal Building, set to begin at 2:30 p.m.[16]
Staff
2008, Ms. Liliana Perez, Statewide Liaison to the LGBT Communities, Office of the Speaker of the CA Assembly Karen Bass (Los Angeles, CA).
Endorsing Torie Osborn
In 2012 Torie Osborn, was a candidate for California's new vacant 50th Assembly District.[17]
Endorsements
Eric Garcetti, LA City Council President
Painters and Allied Trades District Council 36
Bill Gallegos, Executive Director, Communities for a Better Environment
Julia Brownley, CA State Assemblywoman
Sheila James Kuehl, Former CA State Senator
Karen Bass, Congresswoman
Antonio R. Villaraigosa, Los Angeles Mayor
Tim Allison, Statewide Chair, Environmental Caucus, CA Democratic Party
Bruce C. Corwin, Chairman and Chief Executive Officer, Metropolitan Theatres Corporation
References