Joseph Yanielli
From KeyWiki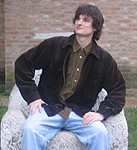 Joseph Yanielli
Education
Before coming a graduate student at Yale, Yanielli studied American History at Wesleyan University and comparative fascism and utopian literature at the University of Oxford. His BA thesis examined grassroots anti-slavery activism and the intense, often violent, reaction it aroused in the North prior to the Civil War. His yale research focused on the origins of the abolitionist movement, slavery, politics and violence[1].
YCL connection
In Joe Yanielli was a supporter of the Young Communist League USA[2];
Because of its focus on broad-based coalitions and its ability to draw people together across a wide spectrum of issues, the growth of the Young Communist League will be crucial for preventing the Right's "new McCarthyism.? Progressive groups must unite around a clear organizational mission – something conservative activists realized long ago. But we cannot do it alone. Studies show that the majority of students today consider themselves neither conservative nor progressive. Both sides have ignored this "centrist? population – but they must be mobilized. We need to build strong YCL clubs in our areas to organize and educate young people around issues that impact them everyday...
References