Jorge Mujica
From KeyWiki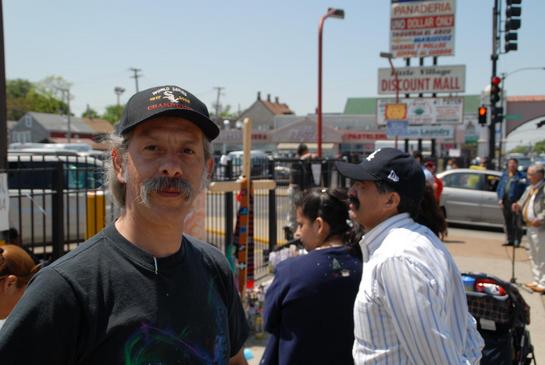 Jorge Mujica murias is a Chicago activist. He is one of the top leaders of Chicago's Immigration and March 10 Movement.
Committees of Correspondence connection
In 1994 Jorge Mujica, Chicago, was listed on a "Membership, Subscription and Mailing List" for the Chicago Committees of Correspondence, an offshoot of the Communist Party USA[1]
2006 Chicago PWW banquet
Grupo Yubá, a group of Puerto Rican percussionists, singers and dancers who issued the first CD of "bomba" and "plena" music in Chicago, drew listeners into a spontaneous dance during the Chicago People's Weekly World banquetDec. 3. 2006.
In an upbeat mood, more than 140 labor, community, peace and justice activists gathered at the Parthenon Restaurant to celebrate the November election victory and honor several groups for their outstanding work during 2006.
Every year the PWW banquet gives awards in honor of Chris Hani, South African Communist Party leader, and Rudy Lozano, revered leader of the Mexican American community. Both were brutally assassinated standing up for justice.
Five awards were presented this year. Among the recipients were Health Care Employees Acting at Resurrection Together (HEART), a group of Resurrection hospital workers organizing the hospital chain with AFSCME; and Chicago ADAPT, Americans Disabled for Accessible Public Transit, a group that pioneered the fight to make Chicago's buses accessible to the disabled. ADAPT recently helped lead a sit-in at the Tennessee governor's office over Medicaid cuts devastating to the disabled community.
Elvira Arellano of La Familia Latina Unida, who has taken sanctuary in a church to avoid deportation, was another honoree. Arellano represents 3 million families in danger of being split up by the Bush policies. Unable to leave the church, she sent a video greeting. Emma Lozano, president of the immigrant rights group Pueblo Sin Fronteras, and Arellano's son Saul accepted on her behalf.
Also honored was the March 10th Movement, organizers of the first gigantic immigrant rights rally in 2006 in Chicago. It helped spark rallies nationwide, including 1 million who marched on May Day in Chicago. Accepting were Jose Artemio Arreola, SEIU Local 73 executive board member, and journalist/activist Jorge Mujica, who observed, "Immigration is indeed a difficult problem. Here is an event with a Puerto Rican group playing African-inspired music, singing in Spanish, in a Greek restaurant, in a city founded by someone [Du Sable] born in Haiti."[2]
Free Mumia Abu-Jamal
In 2008 Jorge Mujica, Coordinator of March 10th Movement, Berwyn, IL signed a statement circulated by the Partisan Defense Committee calling for the release of convicted "cop-killer" Mumia Abu-Jamal.[3]
Picketing with DSAers
On Saturday morning, December 12,2009 members of Chicago Democratic Socialists of America, Greater Oak Park Democratic Socialists of America, Oak Park Coalition for Truth & Justice, 3rd Unitarian, Unity Temple got together for a spell on the Congress Hotel picket line. About 18 people turned out to supplement the strikers' line, including 7 DSA members. Jorge Mujica, candidate for the Democratic nomination for Representative from the 3rd Congressional District, was also on the picket line. DSA members Michael Baker and Tom Broderick organized the turnout.[4]
References