John Kerry
From KeyWiki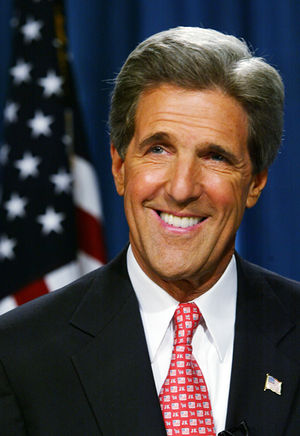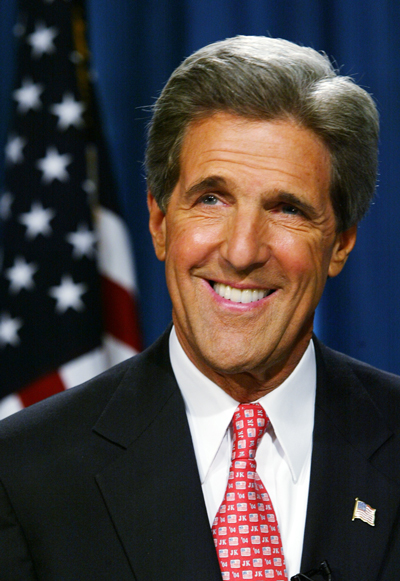 John Kerry is a Democratic member of the United States Senate, representing Massachusetts. He is married to Teresa Heinz.
Early life
John Kerry was born on December 11, 1943 in Denver, Colorado. After graduating from Yale University, Kerry enlisted in the U.S. Navy. In time, he was serving on a gunboat in the Mekong Delta in Vietnam. He received a Silver Star, Bronze Star, and three Purple Hearts. After his discharge from the Navy, Kerry began to publicly question the policies behind American military involvement in Vietnam. This lead him to become a spokesman for the anti-Vietnam War group, Vietnam Veterans Against the War. Later, after leaving the VVAW, Kerry founded the organization Vietnam Veterans of America.[1]
Vietnam Veterans Against the War/Operation RAW
During the Labor Day weekend of September 4-7, 1970, Operation RAW ("Rapid American Withdrawal") took place. It was a three day protest march from Morristown, NJ, to Valley Forge State Park by over 200 veterans. It was sponsored by Vietnam Veterans Against the War. They were joined by members of Nurses for Peace and other peace groups. Dressed in combat fatigues and carrying toy weapons, the march was designed to dramatize a Vietnam-type search and destroy mission to the Middle America they passed through. Upon entering each town along the march, sweeps were made, prisoners taken and interrogated, property seized and homes cleared with the assistance of previously planted "guerrilla theater" actors portraying civilians. The 86 mile long march culminated in a four hour rally at Valley Forge that over 1,500 people attended. The honorary commander during this event was retired Army Brigadier General Hugh B. Hester. Sponsors included Senators George McGovern and Edmund Muskie, Rep. John Conyers, Paul O'Dwyer, Mark Lane, and Donald Sutherland. Scheduled speakers were John Kerry, Joe Kennedy, Rev. James Bevel, Mark Lane, Jane Fonda, and Sutherland. Congressman Allard Lowenstein, Mike Lerner, and Army First Lt. Louis Font also spoke.[2]

Gen. Hugh B. Hester (USA, ret), was the highest ranking American soldiers to have consistently supported the Communist Party USA and its various fronts, including the Soviet-connected New World Review magazine and the National Council of American-Soviet Friendship, identified by both Congress, the CIA and the FBI as a KGB operation[3]. Hester apparently "married" into the CPUSA orbit (CITATION NEEDED).
The original FBI testimony on Soviet fronts in the U.S. appeared in the House Permanent Select Committee on Intelligence hearings of July 13 & 14, 1982, "Soviet Active Measures", esp. p. 204 re the NCASF.
Assassination plot rejected
On March 19 2004 Senator John Kerry of Massachusetts retreated from his earlier steadfast denials that he attended a meeting of Vietnam Veterans Against the War at which a plan to assassinate U.S. Senators was debated.
The reversal came as new evidence, including reports from FBI informants, emerged that contradicted Mr. Kerry's previous statements about the gathering, which was held in Kansas City, Mo. in November 1971.
"If there are valid FBI surveillance reports from credible sources that place some of those disagreements in Kansas City, we accept that historical footnote in the account of his work to end the difficult and divisive war," the statement said.
It did not address the murder plot, though as recently as Wednesday a top aide to Mr. Kerry said that the Massachusetts senator and presumptive Democratic presidential nominee was "absolutely certain" he was not present when the assassination plan, known as the "Phoenix Project," was discussed.
The New York Sun first reported that other anti-war activists placed Mr. Kerry at the Kansas City meeting. A total of six people said publicly that they remember seeing Mr. Kerry there. Participants say the plot was voted down, and several say they remember Mr. Kerry speaking and voting against it.
A historian and expert on activism against the Vietnam War, Gerald Nicosia, provided the Sun with minutes of the meeting.
Mr. Nicosia also read quotes from FBI surveillance documents he obtained under the Freedom of Information Act as he was preparing his 2001 book, "Home to War."
"My evidence is incontrovertible.He was there," Mr. Nicosia said in an interview yesterday. "There's no way that five or six agents saw his ghost there," said the historian, who lives in Marin County, north of San Francisco.
Mr. Nicosia said that the records show Mr. Kerry resigned from the group on the third day of the meeting, following discussion of the assassination plan and an argument between Mr. Kerry and another VVAW national coordinator, Al Hubbard.
Reading from an FBI informant report, Mr. Nicosia said, "John Kerry at a national Vietnam Veterans Against the War meeting appeared and announced to those present that he resigned for personal reasons but said he would be able to speak for VVAW" at future events.Another document "describes a conversation actually a confrontation between John Kerry and Hubbard that was taking place on one of the days of that meeting," Mr. Nicosia added.
Mr. Nicosia said it is clear that Mr. Kerry and the others resigned because of the extreme actions the group was considering.
"It's kind of unmistakable to see a pattern. All four of them were out the door, bingo, the morning after" the socalled Phoenix plot was discussed, the author said.
The minutes, prepared at the group's national office in New York, recount the actions taken by Vietnam Veterans Against the War's "emergency steering committee" during the four-day meeting, which ran from November 12 to 15, 1971. The minutes indicate that at the end of the day on Saturday, November 13, discussion turned to "national actions and other things." The meeting is reported to have adjourned at 10 p.m. and resumed at 11 a.m. Sunday. The document goes on to say that the group passed a motion to hold a "national action… in 3 to 5 different sites."The next entry in the minutes is, "John Kerry, Scott Moore, Mike Oliver and Skip Roberts resigned as national coordinators."[4]
Quotes About John Kerry by Other Vietnam Veterans
Obituary story of former AF POW Kevin McManus, Washington Post, Patricia Sullivan, "Kevin McManus, 65; Vietnam War POW", p. C7. McManus was quoted as saying the following about John Kerry:
"John Kerry is probably the first man in 200 years of American history to make Benedict Arnold look good." McManus said this in a film entitled "Stolen Honor" according to the obit story.
Political career
In 1982, after working as a prosecutor in Middlesex County, Massachusetts, John Kerry ran for, and was elected Lieutenant Governor of Massachusetts. John Kerry ran for Senate in 1984. Kerry was elected, then re-elected in 1990, 1996, and 2002. Early in 2004, John Kerry emerged as the Democrtic Party's leading candidate to run against incumbent president George Bush in the November 2004 presidential election.[5]
Institute for Policy Studies connections
John Keryy has long been close to the Institute for Policy Studies.
Nicaragua visit
When the $14 million aid package for the contras came up in spring 1985, Congress initially voted it down. Many congressmen said that, besides the PACCA report, reports of human rights violations had influenced them. . .Just forty-eight hours before the vote, Sens. Tom Harkin (D-Iowa) and John Kerry (D-Mass.) traveled to Nicaragua. Their celebrated meetings with Sandinista junta leaders, which captured the headlines and helped sway Congress, were arranged by Peter Kornbluh, a fellow at Institute for Policy Studies. Within a week the Sandinista president, Daniel Ortega, flew to Moscow and secured $200 million in Soviet aid. Shocked and embarrassed, Congress reversed gears and granted $27 million in humanitarian aid to the contras. [6]
Promoting IPS propaganda
IPS often acts as the ideological center and hub of activism of the autonomous groups in the [pro-Sandinista "CISPES"] Latin network. For instance. . .in early 1985 IPS brought together various players in the Latin network to compile "the Reagan record of deceit and illegality on Central America." "In Contempt of Congress" was a mishmash of contradictory data and not particularly persuasive. But then it was not intended to persuade, but to confuse and sow distrust of the Reagan administration. As with the PACCA report, it got wide circulation in Congress. Sen. Tom Harkin (D-Iowa) offered his praise for it and Sen. John Kerry (D-Mass.) called it "essential reading for every American who remembers Vietnam or Watergate." [7]
IPS aide
In the 1980s Senator Kerry hired a former fellow of the radical "think tank" Institute for Policy Studies, Gareth Porter, as a legislative aide.
Porter is a self-styled expert on Southeast Asia, notable for being one of those defending the bloody Pol Pot regime in Cambodia long after the evidence of its genocide of its own people had become overwhelming.[8]
Take Back America Conferences
John Kerry was on the list of 129 speakers at the 2003 Take Back America conference, which was organized by the Institute for Policy Studies, and Democratic Socialists of America dominated Campaign for America's Future.[9]
He was back in 2006.
Supporting "Veteran's fast for life"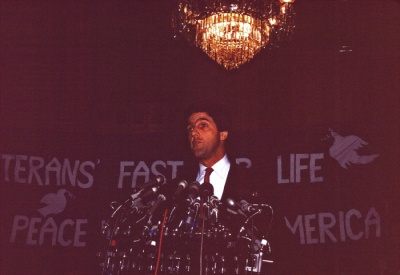 On September 1st, 1986, four veterans began a water-only "fast for life" on the Capitol steps in Washington, D.C. They wanted to to draw attention to, and to protest, President Reagan's "illegal and extraordinarily vicious wars against the poor of Nicaragua, El Salvador, and Guatemala."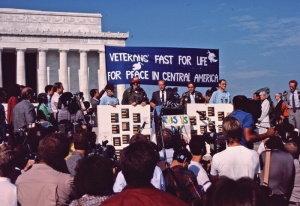 The veterans were;
The veterans believed that the President's explicit policy of directing the contra terrorists in Nicaragua to commit wanton murder and destruction, enabled by appropriations passed by a majority of members of the U.S. Senate and House of Representatives, amounted to grotesque, unconscionable violent behavior in violation of both U.S. Constitutional and international law, and the egregious breach of the human rights of virtually all Nicaraguan citizens. The veterans believed that the President was clearly vulnerable to Constitutional impeachment, and that all members of the Senate and House of Representatives should have been subjected to criminal prosecution under international law as well, whether they were re-elected or not.
On October 7 several U.S Congressmen and Senators spoke at a press conference in support of the faster's cause. They included Senator Charles Mathias (R-MD), Claiborne Pell (D-RI), Don Edwards (D-CA), Senator Ted Kennedy (D-MA), Leon Panetta (D-CA), Senator Tom Harkin (D-Iowa), Senator John Kerry (D-MA), David Bonior (D-MI), Lane Evans (D-Illinois), Senator Patrick Leahy (D-VT).[10]
Opposed aid to El Salvador
On February 6, 1990, Senators Edward Kennedy and John Kerry introduced a Bill to cut off all aid to El Salvador just a few days after EI Salvador's President Cristiani had come to Washington to discuss the need for such support.
This bill was backed by four other Democratic Senators: Barbara Mikulski of Maryland, Paul Simon of Illinois, Alan Cranston of California and Brock Adams of Washington state.
The Senators and Congressmen who vote against providing aid to the government of El Salvador were effectively handicapping the democratically-elected government in that area and paralleling the Communist line of the time.[11]
The Communist Party USA newspaper, the People's Daily World of January 30, 1990 stated:
Last weekend's meeting of the Communist Party, USA resolved to Mobilize to build the March 24 demonstration in Washington, D.C. demanding an end to military aid to El Salvador and intervention in Central America.
Democratic Socialists of America connection
John Kerry has long been close to Democratic Socialists of America.
Hearing on Economic Insecurity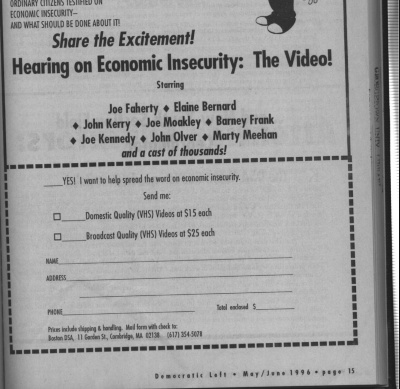 Boston Democratic Socialists of America organized the January 1996 Boston Hearing on Economic Insecurity. Participants included Joe Faherty, DSA member Elaine Bernard, John Kerry, Joe Moakley, Barney Frank, Joe Kennedy, John Olver, Marty Meehan.[12]
Felix Arroyo connection
On August 18 2001, Boston Democratic Socialists of America Summer conference voted to endorse Denise Provost and Kevin Tarpley for re-election to Somerville's Board of Aldermen and Felix Arroyo for an At- Large seat on the Boston City Council.[13]
Long-time progressive activist Felix Arroyo was raised in Puerto Rican public housing; his father was a police detective, his garment seamstress mother an ILGWU member.
Past President of the Boston School Committee and current critic of the MCAS test, Felix Arroyo was a policy advisor to both Mayor Ray Flynn and Senator John Kerry, and an active opponent of U.S. Central American policy in the 1980s. He is endorsed by the SEIU State Council, Boston NOW, CPPAX, Mel King, Boston City Councilor and DSA member Chuck Turner and State Rep. Shirley Owens-Hicks.[14]
Relationship to Boston DSA
John Kerry appears to have a relationship with the Boston local of Democratic Socialists of America. In 2002 Boston DSA held their 24th annual Debs-Thomas-Bernstein awards.
Kerry sent greetings to the 25th annual dinner in 2002-as did Massachussetts Congressman James McGovern and Mike Capuano.[15]
Thanks to everyone who helped make this evening a success, including Barbara Ackermann of MASS-CARE, Jim St. George of TEAM, and longtime DSAers Fran and Jake Schlitt for their eloquent introductions... and Congressmen Mike Capuano and Jim McGovern, Senator John Kerry, and last year's awardee Dessima Williams, who sent greetings.
DSA support '04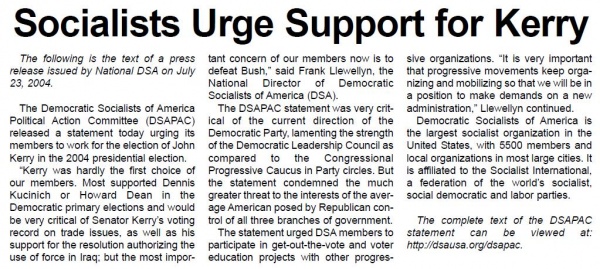 In 2004, Democratic Socialists of America urged their members to support Democratic Presidential candidate John Kerry (even though they preferred Howard Dean or Dennis Kucinich), in order to defeat Republican candidate George Bush.
A Democratic Socialists of America press release to this effect was reproduced in the Boston Democratic Socialists of America newsletter, The Yankee Radical, September 2004, page 3.[16]
Local DSA support
As members of the Commonwealth Coalition, a "statewide alliance of unions, civil rights, environmental and community groups", Boston Democratic Socialists of America helped publicize the campaigns of "many winning progressive candidates for the state legislature, largely through our newsletter The Yankee Radica.[17]
We also supported joined with Neighbor to Neighbor in swing state phone banking for the Kerry campaign. And we've tried to make the argument to our friends in the Green Party that, given current election law, third parties of the left mainly help Republicans, while Democratic Party primaries present better avenues for progressive insurgency.
Fair Elections Now Act
In 2010 Senator Maria Cantwell signed on as a Senate co-sponsor of the Fair Elections Now Act (FENA), S.752 - joining Senator Dick Durbin (original sponsor) and other Senate colleagues for a total of nine.
In the Senate, others were Sens. Barbara Boxer, Chris Dodd, Russ Feingold, Kirsten Gillibrand, Tom Harkin, John Kerry, and Arlen Specter. [18]
Soros funding
By 2008, Barack Obama was one of only a handful of candidates to get a personal contribution from George Soros. The others include Senate Minority Leader Tom Daschle (D-S.D.), Sens. Barbara Boxer (D-Calif.), Hillary Rodham Clinton (D-N.Y.), Bob Graham (D-Fla.), John Kerry (D-Mass.), Patrick Leahy (D-Vt.), U.S. Rep. Tom Lantos, and former Vermont governor Howard Dean.[19]
Supported by Council for a Livable World
The Council for a Livable World, founded in 1962 by long-time socialist activist and alleged Soviet agent, Leo Szilard, is a non-profit advocacy organization that seeks to "reduce the danger of nuclear weapons and increase national security", primarily through supporting progressive, congressional candidates who support their policies. The Council supported John Kerry in his successful Senate run as candidate for Massachusetts.[20]
Staff
The following are past and present staff:[21]
External links
References