Epifanio San Juan, Jr.
From KeyWiki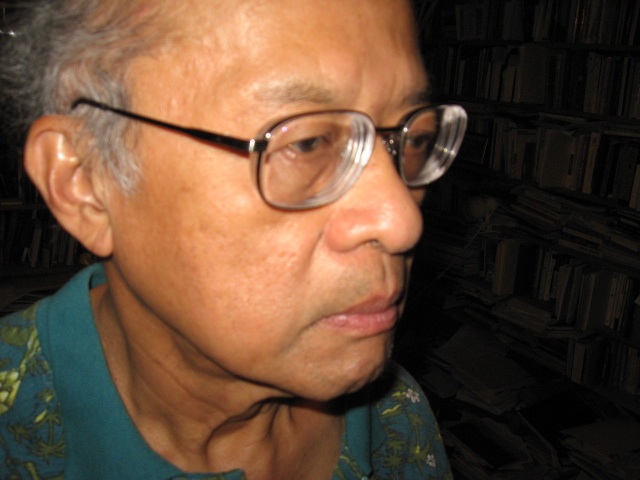 Epifanio (Sonny) San Juan, Jr. described himself in 2007 as a "longtime member" of the Committees of Correspondence[1].
He is the husband of Delia Aguilar.
Education
San Juan was a magna cum laude humanities graduate of the University of the Philippines in 1958, who went on to a Ph.D. in Harvard University in 1965. From there he's traveled the university world teaching English, Comparative Literature, Ethnic Studies, American Studies and Cultural Studies in the U.S., Europe, the Philippines and Taiwan.
Academic career
San Juan has taught at the University of California at Davis, University of Connecticut at Storrs, Brooklyn College of the City University of New York, University of the Philippines, Ateneo de Manila, Bowling Green State University, Wesleyan University, the Universities of Leuven and Antwerp and the National Tsing Hua University, Republic of China (Taiwan).
Washington State University
In 2001 Dr. Epifanio San Juan Jr. announced his resignation as head of Comparative American Cultures Department at Washington State University. When San Juan was at Washington State University, Pullman from 1998 to 2001, he published cutting-edge essays in Cultural Studies and Ethnic Studies as executive editor of the Working Papers Series. In his international advisory board were personages like the high-profile black feminist Angela Davis[2].
Gramsci Symposium
The College of Arts and Letters at Michigan State University hosted "Gramsci Now: Cultural and Political Theory," an international symposium to mark the 70th anniversary of the death of Antonio Gramsci, November 9-11, 2007 in East Lansing, Michigan, USA.
Presenters were: Stanley Aronowitz, Joseph Buttigieg, Kate Crehan, Roberto Dainotto, Michael Denning, Benedetto Fontana, Stephen Gill, Marcia Landy, Guido Liguori, Frank Rosengarten, David Ruccio, Epifanio San Juan[3].
Harvard fellowship
The W.E.B. Du Bois Institute for African and African American Research at Harvard University recently announced the award of a prestigious fellowship to E. San Juan, Jr., a Filipino scholar and writer, for Spring 2009.
Currently based in the United States, San Juan recently taught a graduate seminar in the Department of English, University of the Philippines in Diliman, Quezon City. Balikbayang Sinta: An E. San Juan Reader, a collection of writings dating back to the sixties, was also launched by the Ateneo de Manila University Press last March 12[4].
As keynote speaker at an earlier conference of West Visayan writers at the University of San Agustin, Iloilo on February 14-15, San Juan stressed the inter-textual linkage of the nationalist imagination with human rights in the context of massive extra-judicial killings, abductions and human-rights violations in the Arroyo regime. His book of poems, Salud Algabre at Iba Pang Tula was also launched by the University of San Agustin Press under the supervision of Prof. John Iremil Teodoro, director of the Fray Luis de Leon Creative Writing Center.
Emeritus professor
San Juan is emeritus professor of English and Comparative Literature in several American universities. Before teaching at U.P. Diliman this year, he was Fulbright professor of American Studies at the Katholieke Universiteit Leuven, Belgium and fellow of the Rockefeller Study Center at Bellagio, Italy. He also taught at the University of Trento, Italy and Tamkang University, Taiwan.
His recent scholarly books are Racism and Cultural Studie (Duke U Press), Working through the Contradictions (Bucknell U Press), In the Wake of Terror: Class, Race, Nation and Ethnicity in the Postmodern World (Lexington), and U.S. Imperialism and Revolution in the Philippines (Palgrave Macmillan)[5].
Radical affiliations
San Juan also directs the Philippines Cultural Studies Center in Connecticut and is a member of PEN American Chapter and the Committees of Correspondence for Democracy and Socialism[6].
Nature, Society and Thought
In the late 2000s, Epifanio San Juan was an assistant editor of University of Minnesota based Marxist journal Nature, Society and Thought[7];.
References