Emma Lozano
From KeyWiki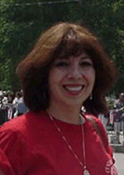 Emma Lozano is married to Walter Coleman. She is the sister of the late Rudy Lozano.
Activism
Emma Lozano got her start in organizing in the 1970s with Chicago's independent Latino political movement. She founded Centro Sin Fronteras in 1987 to defend the rights of undocumented Mexican immigrants. At the same time, Pueblo Sin Fronteras began organizing neighborhood residents, using hunger strikes and demonstrations to win construction of the city's first community-based bilingual school. Ever since, Sin Fronteras has played a leading role on issues ranging from school reform to legalization of the undocumented to getting the U.S. Navy out of the Vieques, Puerto Rico[1].
Committees of Correspondence connection
In 1994 Emma Lozano, Chicago, was listed on a "Membership, Subscription and Mailing List" for the Chicago Committees of Correspondence, an offshoot of the Communist Party USA[2]
Richard Criley Memorial
In 2000, Emma Lozano served on the welcoming committee for the Chicago Memorial Service for Richard Criley, a long-time activist with the Communist Party USA and a leader of the Chicago Committee to Defend the Bill of Rights.[3]
References
↑ Chicago CoC "Membership, Subscription and Mailing List" 10.14.94
↑ Memoriam Service Program, 2000