Elizabeth Warren
From KeyWiki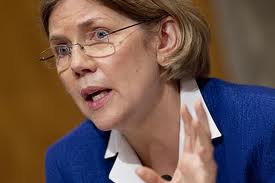 Elizabeth Warren was a Leo Gottlieb Professor of Law at Harvard Law School and part of the Risk Policy Working Group at the The Tobin Project.[1]
She has written eight books and more than a hundred scholarly articles dealing with credit and economic stress. Her latest two books, "The Two-Income Trap" and "All Your Worth," were both on national bestseller lists. She has been principal investigator on empirical studies funded by the National Science Foundation and more than a dozen private foundations. Warren was the Chief Adviser to the National Bankruptcy Review Commission, and she was appointed as the first academic member of the Federal Judicial Education Committee. She has recently served as part of the five-member Congressional Oversight Panel created to oversee the implementation of the Emergency Economic Stabilization Act.[2]
Warren was elected to the U.S. Senate on November 6, 2012.[3]
Personal life
Warren is married to Bruce Mann, a legal historian and law professor also at Harvard Law School. She has a daughter, Amelia Warren Tyagi, with whom she has coauthored two books and several articles, and a son, Alexander Warren.
"Progressive" Cabinet "nominee"
In September 2008, Chicago based socialist journal In These Times asked its editors and writers to suggest their top progressive choices for a potential Obama Cabinet.[4]
We asked that contributors weigh ideological and political considerations, with an eye toward recommending people who have both progressive credentials and at least an arguable chance at being appointed in an Obama White House.
This group of people would represent at once the most progressive, aggressive and practical Cabinet in contemporary history. Of course, it is by no means a definitive list. It is merely one proposal aimed at starting a longer discussion about the very concept of a progressive Cabinet—and why it will be important to a new administration, especially if that administration is serious about change.
David Sirota suggested Elizabeth Warren for Secretary of the Treasury:
If treasury secretaries have legacies, the two with the most memorable in the last 16 years are Clinton Treasury Secretary Bob Rubin and recent Bush Treasury Secretary Henry Paulson. At different points in their careers, both men championed extremist free-trade policies, had a hand in the deregulatory policies that led to corporate meltdowns; contributed to boom-bust cycles; and spent time heading investment banking behemoth Goldman Sachs. Perhaps the latest financial meltdown will break Goldman Sachs' death grip — and maybe, just maybe, Elizabeth Warren will be the first woman to head this key department.
A renowned Harvard Law professor, Warren may seem an unconventional choice for a position typically held by a business titan. But a presidency whose economic prospects will pivot on cleaning up conservatives' laissez-faire wreckage could use a tough-minded regulator at the helm of the government apparatus responsible for collecting taxes and policing Wall Street. Warren fits that description perfectly as one of the nation's leading experts on the laws and regulations that the treasury department is supposed to enforce, but too often doesn't.
Having made national headlines as a bestselling author and a leader in the fight against the lobbyist-written Bankruptcy Bill of 2005, Warren would set a new tone for a treasury department that has often been a bought-and-paid-for appendage of Corporate America.
Capitalism: A Love Story
In 2009, Elizabeth Warren appeared in Michael Moore's film Capitalism: A Love Story.[5]
Consumer Financial Protection Bureau possibility
In 2010, Americans for Financial Reform circulated an online petition asking President Barack Obama to appoint Elizabeth Warren to head the new Consumer Financial Protection Bureau , and a rap song urging same—―Got A New Sheriff‖ by the Main Street Brigade, also appeared.[6]
Demos 10th anniversary honor
On Tuesday, May 11th, 2010, Demos, a national, non-partisan public policy organization, honored TARP Oversight Committee Chair Elizabeth Warren, PBS Host Tavis Smiley and AFL-CIO Secretary-Treasurer Elizabeth Shuler at its 10th anniversary celebration in New York City.[7]
Stephen Heintz, President of the Rockefeller Brothers Fund, was also an honoree.[8]
Demos support
Miles Rapoport, President of the "nonpartisan research and advocacy organization Demos", issued the following statement July 20, 2010 on the upcoming nomination of the inaugural director of the Consumer Financial Protection Bureau (CFPB):[9]
"Our country is at a critical turning point. By enacting the Dodd-Frank Wall Street Reform and Consumer Protection Act, Congress has declared the end of the era of deregulation and delinquent government oversight that enabled the financial sector to reap oversized profit at the expense of American households and investors, ultimately caving our weakened economy in on itself. The centerpiece of this landmark legislation is the creation of the Consumer Financial Protection Bureau, a first-of-its-kind federal agency whose sole mission is to shield the credit and savings of everyday Americans from unfair and deceptive lending practices. However, the fledgling Bureau will only be as strong as its director is effective. We can think of no more qualified public leader than Elizabeth Warren.
"Professor Warren understands that, on issues of consumer financial protection, nothing less than the future of the American middle class is at stake. Her book 'The Two-Income Trap: Why Middle-Class Parents are Going Broke' revealed how the weight of ever-more-costly debt is preventing millions of hard-working families from achieving the American Dream. As Chair of the Congressional Oversight Panel monitoring the Treasury's conduct of the bank bailout, Warren has demonstrated a keen ability to cut through the political bramble to uncover whether the TARP program is operating in the best interests of the American taxpayer. In making the case for the establishment of the CFPB--a notion originated by Professor Warren herself--she has become known as a passionate advocate for regular Americans.
"Moreover, Professor Warren is not opposed to business; she is opposed to the unsustainable business models that have endangered our nation. The Great Recession should be ample evidence that reckless, anti-consumer lending is bad for business. American businesses will benefit from a Warren appointment, knowing that there will be a regulatory force in Washington putting the engine of our economy--the American consumer--first. Employers will thrive--and hire--when families can buy new products instead of losing a third of their paychecks servicing unproductive, high-interest debt. Professor Warren understands how the markets have failed on both Wall Street and Main Street; this makes her uniquely prepared to teach American business a fundamental lesson: sound regulation helps markets function better.
"The President should nominate, and the Senate should confirm, Elizabeth Warren as Director of the Consumer Financial Protection Bureau. The appointment of, and a vote for, Professor Warren will be a vote for America's middle class."
Senate run
On September 14, 2011 Warren declared that she intended to run for the Democratic Party's nomination to oppose Scott Brown for the United States Senate in Massachusetts.[10] She defeated Brown in the November 6, 2012 election.[11]
Coalition for Social Justice 17th Banquet and Awards Ceremony
The Coalition for Social Justice 17th Annual banquet, was held Thursday, May 17, 2012, at the Venus de Milo, 75 Grand Army Highway (Rte. 6), Swansea, MA 02777.
Keynote speaker was Elizabeth Warren, Candidate for U.S. Senate[12]
AFL-CIO "Teach-In"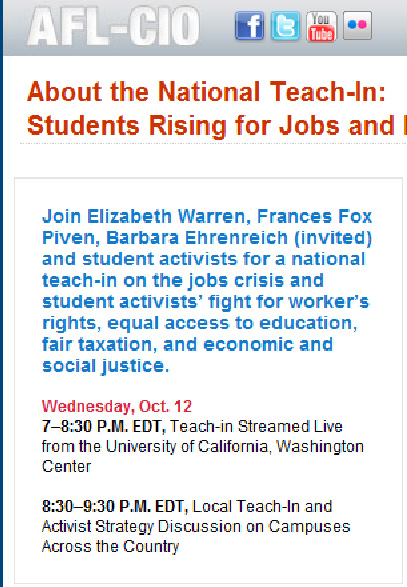 Massachusetts Senate hopeful Elizabeth Warren was scheduled to appear in an AFL-CIO sponsored "National Teach-In", October 12, 2011. with two leading members of Democratic Socialists of America.
The AFL-CIO urged activists to join "Elizabeth Warren, Frances Fox Piven, Barbara Ehrenreich (invited) and student activists for a national teach-in on the jobs crisis and student activists' fight for worker's rights, equal access to education, fair taxation, and economic and social justice."
According to the AFL-CIO press release;
America wants to work, and a new movement of students and young people is growing to demand that our leaders get to work creating good jobs. As part of that movement, we are organizing a National Teach-In at the University of California Washington Center on Oct. 12 that will be webcast live across the country. Frances Fox Piven, other featured speakers and student activists will discuss the roots of the jobs crisis and how unions, students and community groups are fighting back to defend the core values of our country. You can join by organizing a teach-in on your campus that tunes into the live webcast and then continues to discuss local and state issues and campaigns. The National Teach-In is part of a nationwide campaign that week to impress upon our political leaders and corporate power-brokers: Now is the time for big, bold action to put America back to work, retain good jobs and rebuild the U.S. economy.
The teach-in will examine the disaster caused by corporate control of our economic and political system. Americans are working harder than ever today while earning less – as corporate profits soar. The big banks are stripping away the wealth of consumers, homeowners, students and young workers. Meanwhile, our infrastructure erodes and corporations offshore millions of jobs overseas – while hoarding more than $1.3 trillion in cash that could be used to create jobs. Schools, day care centers, senior citizen facilities, health clinics, parks and firehouses are starved for funds so corporations and the wealthy can get billions of dollars in tax break…
Unions, student organizations and community groups are fighting back against these abuses of corporate power and the efforts of the right wing to reduce wages, maintain tax breaks for the wealthy and eliminate social safety net programs. In Wisconsin, students and workers joined together to protect the rights of public-sector workers to bargain collectively. In August 2011, more than 700 corporate accountability events – rallies, town hall meetings and demonstrations at congressional offices – were held in 48 states to tell political leaders to stop protecting tax breaks for the wealthy and focus on putting America back to work….
We are on the cusp of a new social movement to resist and roll back the corporate domination of political and economic systems by the banks, big corporations and Wall Street profiteers. Please join the National Teach-In: Students Rising for Jobs and Economic Justice to be part of this movement.
21st Century Democrats support
21st Century Democrats is a Political Action Committee that has stood for Progressive causes for over 20 years. Founded in 1986 by Institute for Policy Studies affiliate, Iowa Senator Tom Harkin, Democratic Socialists of America affiliates, former Texas Agriculture Secretary Jim Hightower, and former Illinois Congressman Lane Evans. Its three main goals are to help elect progressive candidates, train young people about grassroots organizing, and lastly, to continue to support our elected officials after Election Day "through our comprehensive progressive network".
Carol Moseley Braun, a former US Senator from Illinois, and long time Communist Party USA affiliate, serves on the organization's Advisory Board. Long time Board chair was Democratic Socialists of America member Jim Scheibel, a former Mayor of Saint Paul, Minnesota.
The mission of 21st Century Democrats is to build a "farm team" of progressive populists who will be the future leaders of the Democratic Party.
In each election cycle, we endorse a diverse array of candidates who exemplify our values and show unusual promise to advance our progressive goals. We invest in some of the most competitive races as well as in some of the most challenging – those in which the candidates are outstanding but the traditional Democratic supporters are most reticent. We back candidates in primaries as well as general election races, and we focus the bulk of our resources on electing challengers and protecting vulnerable incumbents.[13]
Warren was one of 12 key progressives endorsed by 21st Century Democrats in the 2012 election cycle.[14]
Progressive Democrats of America endorsement
In 2012, Elizabeth Warren, was one of 14 leftist Congressional and Senate candidates endorsed by Progressive Democrats of America, an organization dominated by members or affiliates of Democratic Socialists of America and the Institute for Policy Studies.
Elizabeth Warren...was one of the nine victorious congressional candidates backed by PDA, which favors an 'inside-outside' strategy for change.[15]
IPS donors
Lynn Raskin, a Washington D.C. realtor, and her husband, Marcus Raskin, a cofounder of the Institute for Policy Studies, contributed to progressive candidates in several tight congressional races during the 2012 election cycle. They donated to Rep. Tammy Baldwin (D-Wisc.), Rep. John Conyers (D-Mich.), and Elizabeth Warren, the Democrat running for Senate in Massachusetts. They've also given money to Sen. Sherrod Brown (D-Ohio).[16]
Filibuster reform
The Communications Workers of America is to make filibuster reform a top cause and they're trying to bring the rest of the union movement along. The union reiterated that goal in post-election comments.
"The 2012 election makes the reform even more paramount," it said. "Seven Democratic senators-elect - Tammy Baldwin (Wis.), Martin Heinrich (N.M.), Heidi Heitkamp (N.D.), Mazie Hirono (Hawaii), Tim Kaine (Va.), Chris Murphy (Conn.) and Elizabeth Warren (Mass.) - have all already pledged to Sen. Jeff Merkley, D-Ore., to support rules reform. And Maine's Independent candidate, former Gov. Angus King won on a platform included filibuster reform as a major campaign issue.
"The American people want their elected officials to debate and address the major issues of our time and to move past obstruction for obstruction's sake," added CWA Legislative Director Shane Larson.[17]
External links
References