Bill Fletcher, Jr.
From KeyWiki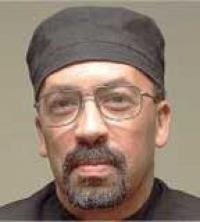 William (Bill) Gerald Fletcher, Jr. is a leading U.S. Marxist and Barack Obama supporter.
Background
Bill Fletcher, Jr. was born in 1954 in New York City. Motivated by the civil rights movement Fletcher became an activist at age 13, "dabbling" in the Black Panther Party and organizing rallies and events. While a student at Mount Vernon High School he helped form the Black Student Alliance and was active in student politics. He earned his high school diploma in 1972[1].
Bill Fletcher, Jr. is Executive Editor of BlackCommentator.com and a leading member[2]of Democratic Socialists of America.
Fletcher was a co-founder of the Center for Labor Renewal and is and the immediate past president of TransAfrica Forum. He is the co-author of Solidarity Divided, which analyzes the crisis in organized labor in the US.
Boston activism
At Harvard, Fletcher became interested in the labor movement. Upon earning his B.A. degree in government in 1976, he spent the next three years working as a welder at a Massachusetts shipbuilding company. After receiving hands on experience as a laborer, Fletcher worked as an organizer for the Boston Jobs Coalition and a paralegal at Greater Boston Legal Services[3].
DC activism
In 1986, Fletcher relocated to Washington, D.C. to serve as an organizer for District-65 United Auto Workers. He then went on to become the organizational secretary and administrative director for the National Postal Mail Handlers Union. From 1991 until 1996, Fletcher held a number of positions with the Service Employees International Union including director of education and assistant to the president. In 1996, he joined the AFL-CIO serving as education director and the assistant to President John Sweeney. After leaving the AFL-CIO in 2001, Fletcher joined the George Meany Center for Labor Studies, where he was responsible for developing relationships with foreign labor centers. In 2002, Fletcher accepted the position of president and CEO of TransAfrica Forum, a non-profit organization dedicated to educating the general public on U.S. foreign policy as it affects Africa and the Diaspora in the Caribbean and Latin America[4].
Forward Motion/Freedom Road Socialist Organization
In 1990 Bill Fletcher, Jr. was an associate editor of the socialist magazine Forward Motion and a member of the Freedom Road Socialist Organization.[5]
Malcolm X conference
A conference, Malcolm X: Radical Tradition and a Legacy of Struggle was held in New York City, November 14 1990.
The "Black Liberation and Social Revolution: U.S.A. Perspectives" panel consisted of;
Chairperson:
Panel:
CrossRoads
In the mid 1990s Bill Fletcher jr was[6]a contributing editor to Oakland based Institute for Social and Economic Studies- sponsor of CrossRoads magazine, which sought to promote dialogue and building new alliances among progressives and leftists... and to bring diverse Marxist and socialist traditions to bear while exploring new strategies and directions for the progressive political movements.
New Party builder
New Party News Fall 1994 listed over 100 New Party activists-"some of the community leaders, organizers, retirees,, scholars, artists, parents, students, doctors, writers and other activists who are building the NP" the list included Bill Fletcher Jr, labor educator.
Socialist Scholars 1997
The Democratic Socialists of America sponsored 1997 Socialist Scholars Conference was held March 28- 30 at the Borough of Manhattan Community College in New York[7].
Workshops included Manning Marable, Joy James, Maulana Karenga, Bill Sales, and Bill Fletcher, Jr. on the state of African-American intellectuals;
Black Radical Congress
In 1996, five veteran activists and scholars - Abdul Alkalimat, Bill Fletcher, Jr., Manning Marable, Leith Mullings, and Barbara Ransby - initiated a round of discussions among themselves regarding the political and social state of affairs facing African Americans and other oppressed communities in the United States. Though the five brought different experiences and political frameworks to these talks, they all located themselves within the broad school of black radicalism. Those discussions would soon port to a larger pool of activists who agreed that not only did a crisis exist, but black radicals also had a responsibility to do something about it[8].
In 1998 Fletcher was a co-founder of the Black Radical Congress. Labor Activist and Writer, Washington, DC.
Center for Political Education
In 2001 Bill Fletcher, Jr. gave a talk entitled: Leftists as Union Staffers: A Dialogue. The talk was held at the San Francisco based Center for Political Education, an organization closely associated with the Committees of Correspondence for Democracy and Socialism.[9]
MDS Board member
Original members of the 2006 Movement for a Democratic Society board included[10];
Elliott Adams, Senia Barragan (Student Representative), David Barsamian, Noam Chomsky, Carl Davidson, Bernardine Dohrn, Bill Fletcher Jr, Bert Garskof, David Graeber, Tom Hayden, Gerald Horne, Mike James, Robin D G Kelley, Mike Klonsky, Ethelbert Miller, Charlene Mitchell, Michael Rossman, Mark Rudd, Howard Zinn.
On February 17, 2007, the Movement for a Democratic Society held a well attended conference[11]at New York City's New School University.
The business portion of the meeting followed with each board nominee introducing themselves to the conference. The board, a very diverse group, was voted in by acclamation... Board nominees where were not able to attend the conference were included in the appointment by acclamation. The list included Elliott Adams, Panama Vicente Alba, Tariq Ali, Stanley Aronowitz, David Barsamian, Rosalyn Baxandall, John Bracey, Jr., John Brittain, Robb Burlage, Noam Chomsky, Jayne Cortez, Carl Davidson, Angela Davis, Bernardine Dohrn, Barbara Epstein, Gustavo Esteva, Lawrence Ferlinghetti, Stephen Fleischman, Bill Fletcher Jr, Tom Hayden, Gerald Horne, Florence Howe, Mike James, Robin D G Kelley, Alice Kessler Harris, Rashid Khalidi, Mike Klonsky, Betita Martinez, Ethelbert Miller, Roxanne Dunbar-Ortiz, Barbara Ransby, Patricia Rose, Michael Rossman, Studs Terkel, Charlene Teters, Jerry Tucker, Immanuel Wallerstein, Cornel West, Leonard Weinglass and Howard Zinn.
Left Forum
Vivek Chibber, Boaventura de Sousa Santos, Bill Fletcher Jr., Frances Fox Piven and David Graeber were speakers on the closing plenary, Visions for the Future at the Left Forum. The forum was held March 9 - 11, 2007 at Cooper Union College, New York City[12]
How Class Works
At the How Class Works - 2002 Conference, panels included;
The "How Class Works - 2008" conference held at Stony Brook, New York, June 5 - 7, 2008, Center for Study of Working Class Life, proposed speakers list included: Sam Anderson, Catherine-Mercedes Brillantes Judge, Pedro Caban, Fuat Ercan, Claudia Fegan, Bill Fletcher Jr, Tami Gold, Elizabeth Hoffman, Sara Jarayaman, Stathis Kouvelakis, Sherry Linkon, Meizhu Lui, Manning Marable, Jack Metzgar, Nelson Motto, Manny Ness, Bertell Ollman, Jeff Perry, Catherine Pouzoulet, Dave Roediger, Andrew Ross, John Russo, Vinny Tirelli, Michelle Tokarczyk, Richard Trumka and Joe Wilson.
Conference organiser was Michael Zweig Director, Center for Study of Working Class Life, Department of Economics State University of New York ,Stony Brook, NY[14].
Association for Union Democracy
In 2008 Bill Fletcher was listed on the Advisory Board[15] for the Association for Union Democracy.
Progressives for Obama
In early 2008 Barbara Ehrenreich, BIll Fletcher Jr, Danny Glover and Tom Hayden Initiated Progressives for Obama.
Open letter to Andy Stern
On May 1 2008, Bill Fletcher, Jr., Co-founder, Center for Labor Renewal & Executive and Editor of www.Blackcommentator.com signed an open letter to SEIU president Andy Stern in protest at SEIU move to force its local United Healthcare Workers into trusteeship.
"We are writing to express our deep concern about SEIU's threatened trusteeship over its third largest local, United Healthcare Workers (UHW). We believe that there must always be room within organized labor for legitimate and principled dissent, if our movement is to survive and grow. Putting UHW under trusteeship would send a very troubling message and be viewed, by many, as a sign that internal democracy is not valued or tolerated within SEIU. In our view, this would have negative consequences for the workers directly affected, the SEIU itself, and the labor movement as a whole. We strongly urge you to avoid such a tragedy."
Solidarity Divided
The book "Solidarity Divided: The Crisis in Organized Labor and a New Path Toward Social Justice" (University of California Press, 2008), was co-authored by Bill Fletcher, Jr. and Fernando Gapasin. The authors, were a longtime union organizer and quondam top assistant to the AFL-CIO's John Sweeney, and a Central Labor Council president and labor educator.[16]
Committees of Correspondence conference
At the 6th National Convention of the Committees of Correspondence for Democracy and Socialism (CCDS) at San Francisco's Whitcomb Hotel July 23-26 2009 a panel[17]featured responses to a "Democracy Charter" written by Jack O'Dell. Bill Fletcher Jr, editor of Black Commentator, Michael Eisenscher of US Labor Against the War, Jacqueline Cabasso from Western States Legal Foundation, Frank del Campo from the Labor Council for Latin American Advancement and Steve Williams of POWER (People Organized to Win Employment Rights)addressed the "charter. Bill Fletcher, Jr. cast the Charter as a political and social guide for mass struggle.
Center for Labor Renewal
In 2009 Bill Fletcher Jr was listed as an endorser of the Center for Labor Renewal[18].
Black Commentator
As of 2009 Bill Fletcher was listed on the Editorial Board for the Black Commentator.[19]
Institute for Policy Studies
Fletcher is a senior scholar[20]with the Institute for Policy Studies.
Conversations on the Vineyard
Conversations on the Vineyard was founded by Charles Pinderhughes, a sociologist and veteran social activist. Also on the executive board are Dr. Komozi Woodard, author and Professor of History at Sarah Lawrence College, Claude Mbella, webmaster and business consultant, and Bill Fletcher, Jr., longtime labor and international activist, and the former President and chief executive officer of TransAfrica Forum.
Conversations on the Vineyard is a series of seminars held in a relaxed and friendly atmosphere, fostering self-development and bringing together progressive individuals to discuss new ideas and proposals for moving the progressive agenda forward. A major component will be gatherings of progressive intellectuals and activists especially interested in advancing the struggle for change for people of African descent.[21]
Letter to Obama
In March 2009 dozens of 'human rights groups' and activists in the United States, signed a statement urging President Barack Obama to rethink his decision to boycott the United Nations-sponsored anti-racism conference.
As you know, the Durban Review Conference is one of the most important international platforms for discussing the elimination of racism, racial discrimination, xenophobia and related intolerances. Given the brutal history of slavery and Jim Crow in the United States, your Administration has much to contribute to this discussion. A boycott would be inconsistent with your policy of engagement with the international community…
Individual signers of the statement included Bill Fletcher, Jr.[22]
"Real World Labor"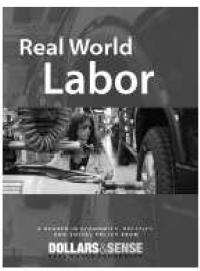 In August 2009 Dollars & Sense, produced an anthology entitled "Real World Labor", edited by Immanuel Ness, Amy Offner and Chris Sturr and the Dollars & Sense Collective.
Contributors included David Bacon, Kim Bobo, Aviva Chomsky, Steve Early, Bill Fletcher, Jr., Staughton Lynd, Arthur MacEwan, John Miller, Frances Fox Piven, Robert Pollin, Jane Slaughter.[23]
2010 Detroit DSA Douglass-Debs Dinner/"right wing" warning
Over 200 people attended Detroit DSA's eleventh annual Frederick Douglass-Eugene V. Debs Dinner at UAW Local 600 in Dearborn on May 8th, 2010. Local 600 was the home local of the hunger marchers of the 1930s and is adjacent to the site of the "Battle of the Overpass" which launched Walter Reuther into national prominence.
Bill Fletcher, Jr., the Director of Field Services and Education for the American Federation of Government Employees , delivered the keynote address. His topic was "Right-Wing Populism." Fletcher warned that progressives ignore the threat of right-wing populism at their own peril. He traced the history of this phenomenon from the Andrew Jackson administration . He mentioned the "Birthers," the "Oathers," and the Tea Party movement as manifestations of right-wing populism. He challenged the Left to confront right-wing populism and expose the fatuousness of their ideas. Failure to do so may be self-defeating as some of the ideas of the right-wing populists (e.g., conspiracy theories, condemnation of political and media elites) could prove seductive to a portion of our base.[24]
Iraq: The Legacy of the 7-Year U.S. Occupation
On Sunday, August 29th 2010. at Busboys and Poets, 5th and K Sts. NW, Washington, D.C., an event "Iraq: The Legacy of the 7-Year U.S. Occupation" was held;
Is the U.S. military really leaving Iraq or just rebranding? What is the toll of seven years of occupation on Iraqis, U.S. soldiers and our economies? What is the status of Iraqi refugees around the world? Is it still possible to hold accountable those who dragged us into the war or committed crimes such as torture? What role did Congress and the media play in facilitating the invasion/occupation? We'll also look at the role of the peace movement -- its strengths and weaknesses -- and draw key lessons to make our work for peace, including in Afghanistan, more effective.
Speakers/performers included:
Congresswoman Donna Edwards
Kymone Tecumseh Freeman, playwright, performer, reading Letters from Iraq
Head-Roc, hip-hop artist
Manal Omar, author
Bill Fletcher, Jr., labor leader, scholar
Andy Shallal, Iraqi artist, owner Busboys and Poets
David Swanson, author
Felicia Eaves, activist
The event was sponsored by: CODEPINK, Peace Action, Institute for Policy Studies, Fellowship of Reconciliation, Global Exchange, Just Foreign Policy, Veterans for Peace, Iraq Veterans Against the War, Military Families Speak Out, Progressive Democrats of America (PDA), U.S. Labor Against the War, ANSWER, World Can't Wait, Voices for Creative Nonviolence, War is a Crime, Rivera Project, Washington Peace Center.[25]
References