Bernie Sanders
From KeyWiki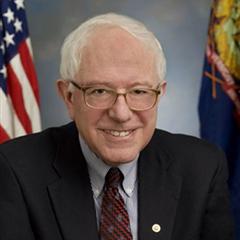 Bernie (Bernard) Sanders is an openly socialist Independent member of the United States Senate, representing Vermont. Sen. Sanders was born in 1941 in Brooklyn, New York. He is the son of Jewish Polish immigrants. He was elected to the U.S. Senate in 2006 after serving 16 years in the United States House of Representatives. He is married to Jane O'Meara Sanders.[1]
. He graduated from the University of Chicago with a B.A. in political science in 1964. Then he moved to Vermont, where he worked as a carpenter, filmmaker, writer and researcher, among other jobs, before starting his political career.
Early life
Born in Brooklyn, Bernie Sanders was the younger of two sons in a modest-income family. After graduation from the University of Chicago[2]in 1964, he moved to Vermont, where he worked as a carpenter, filmmaker, writer and researcher, among other jobs, before starting his political career. Early in his career, Sanders was director of the American People's Historical Society. Elected Mayor of Burlington by 10 votes in 1981, he served four terms. Before his 1990 election as Vermont's at-large member in Congress, Sanders lectured at the John F. Kennedy School of Government at Harvard and at Hamilton College in upstate New York.
Student activism
After one year at Brooklyn College, Sanders spent four years at the University of Chicago, where he joined the Young Peoples Socialist League, youth wing of the Socialist Party USA, the Congress on Racial Equality and the Student Peace Union. He also worked briefly for the communist led United Packinghouse Workers Union. At the end of his junior year Sanders worked in a mental hospital in California as part of a project for the American Friends Service Committee.[3]
Vermont activism
Sanders moved to Vermont in the mass migration of hippies and anti-Vietnam War activists in the mid-1960s. He worked as a carpenter and journalist, was married and fathered a son, Levi Sanders . In 1971, he became a candidate for the U.S. Senate for the far-left Liberty Union Party -- an alternative to the Democratic and Republican parties. Sanders picked up 2 percent of the vote.
Sanders ran as candidate for Liberty Union three more times, achieving 6 percent of the vote before finally quitting. Sanders promoting programs that included nationalizing all U.S. banks, public ownership of all utiliies, ending of compulsory education and establishing a worker-controlled government.[4]
All in the family
Bernie Sanders used campaign donations to pay his wife and stepdaughter more than $150,000 for campaign-related work since 2000, according to records filed with the Federal Election Commission.
Jane O'Meara Sanders, his second wife for the past 20 years, is president of Burlington College. They have four adult children. Jane Sanders received $91,020 between 2002 and 2004 for "consultation" and to negotiate the purchase of television ând radio time-slots for Sanders' advertisements, according to records and interviews.
Approximately $61,000 of that was "pass-through" money that was used to pay media outlets for advertising time, Jane O'Meara Sanders said in an interview.
The rest, about $30,000, she kept as payment for her services, she said. Carina Driscoll, daughter to Jane O'Meara Sanders and Bernie's stepdaughter, who had been a member of Burlington City Council, picked up $65,002 in "wages" between 2000 and 2004, campaign records show. She had been her stepfather's campaign manager in 2000, his fundraiser and office manager in 2003; she was his database manager in 2004.[5]
Soviet flag
Sanders hung the Soviet flag in the mayoral office in Burlington, in honor the city's Soviet sister city Yaroslav.[6]
Nicaragua visit
In 1985, while mayor of Burlington, Sanders celebrated the sixth anniversary of the Sandinista victory in Managua, with Daniel Ortega.[7]
I.F.Stone's endorsement letter
In October 1988, journalist I. F. Stone, a former secret Communist Party USA member and Soviet agent, wrote a letter endorsing Burlington mayor Bernie Sanders' congressional run.
Dear Friend,
I've been politically active all my life. I was a member of the Executive Committee of the Socialist Party in New Jersey, before I was old enough to vote.
Now I'd like to ask you to join me in a historic step forward in American politics. My favorite Mayor -- Bernie Sanders of Burlington, Vermont -- is running for Congress, and with our help he can win an unprecedented victory for us all.
Bernie is a unique figure in our political system. He's an unapologetic socialist who has been elected Mayor of Vermont's largest city four times. He has proved that a socialist, running as an Independent against the combined opposition of Republicans and Democrats, can be successful by speaking out for working people, the elderly and the poor.
Under Bernie's leadership, Burlington has become a vibrant, innovative city, nationally recognized for its accomplishments. The U. S. Conference of Mayors recently gave it the "Most Liveable City" award, and even the conservative U.S. News and World Report has spotlighted Bernie as one of the country's Top Twenty Mayors (December 21, 1987).
Bernie has been a leader in the struggle for peace and justice . His activism was instrumental in Vermont's strong support of the Nuclear Freeze in its town meetings in 1982. He has traveled to Nicaragua to speak out against the Reagan Administration's war, and to establish a Sister City relation between Burlington and Puerto Cabezas. More recently, he went to the Soviet Union to set up a Sister City program with Yaroslavl.
While socialism has a long and proud history in America, extending back to the utopian experiments of the early 1800s, it's been a long time since we've had a socialist voice in Congress. Not since Victor Berger of Milwaukee in the twenties , has the debate gone beyond the limits set by the conventional two-party system.
Having Bernie in Washington will widen out the limits of political discussion. He'll speak up loudly, as he has in Vermont, for real alternatives. He'll show that we need a pragmatic socialism to deal with the grave problems of our economic system.
I.F. STONE
Addressed Communist Party USA, front meeting
An ad/notice was placed in the Guardian, November 8, 1989, concerning an upcoming U.S. Peace Council national conference. The text of the notice was:
"End The Cold War Fund Human Needs" U.S. Peace Council's Tenth Anniversary National Conference - Boston, Mass., Nov. 10-12, 1989
Speakers Included:[8]
Election to Congress
In 1990 sanders was elected to Congress from Vermont, as a socialist, on a third party ticket. At the time Sanders was a leading member of the National Rainbow Coalition. He was supported by the AFL-CIO, environmentalists, anti-Apartheid activists and Democratic Party leaders.[9]
CPC founders
The Congressional Progressive Caucus was founded in 1991 by freshman Congressman Bernie Sanders. Sanders' CPC co-founders included House members Ron Dellums, Lane Evans, Tom Andrews, Peter DeFazio, and Maxine Waters.
Socialist Scholars Conference 1990
The Socialist Scholars Conference 1990, held September 6-8, at the Hotel Commodore, New York, included panels such as:[10]
The Democratic Party and Electoral Strategy for the Left
Socialist Scholars Conference 1992
Speakers at the Opening Plenary at the Tenth Annual Socialist Scholars Conference, Whose New World Order? included Bernie Sanders, Member of Congress, Vermont, Joseph S. Murphy, Political Science, CUNY Graduate Center, Dennis Rivera, President, SEIU Local 1199 Health & Hospital Workers Union and Ellen Willis, author, Beginning to See the Light. The conference was held April 24-26, 1992 at the Borough of Manhattan Community College, New York City[11]
Socialist Scholars 1997
In March 28-30 1997 Democratic Socialists of America convened their annual Socialist Scholars Conference at Borough of Manhattan Community College, New York.
The conference was themed "Radical alternatives on the eve of the millenium".
Invitees were asked to join Doug Henwood, Robert Heilbroner, Paul Sweezy, Harry Magdoff, Bill Tabb, Frances Fox Piven, Robert Fitch, Jane Slaughter and Ellen Meiksins Wood "as they debate changes in the labor movement, Marxist theory, the state of the economy, market socialism, and other areas where theory and practice meet".
Or "listen to the United States' only independent and socialist congressman", Rep. Bernie Sanders, "dialogue with" Joel Rogers of the New Party and In These Times' ....Salim Muwakkil on independent politics..[12].
Socialist biographer
In 1995 Stephen Soifer, author of , "The Socialist Mayor. Bernard Sanders in Burlington, Vermont", (Bergin and Garvey), was a member of Democratic Socialists of America .[13]
Anti NAFTA Bill
In 1995 Marcy Kaptur, Peter DeFazio, Nydia Velasquez, Gene Taylor and Bernie Sanders co-sponsored a Bill, to force the US to withdraw from NAFTA within 90 days. The bill was unsuccessful. [14]
"The Progressive Challenge: Capitol Hill Forum"
On January 9, 1997, over 600 people attended "The Progressive Challenge: Capitol Hill Forum" sponsored by the House Progressive Caucus, Democratic Socialists of America, and a host of other progressive organizations.
The primary goal of this day-long "kick-off" forum was to "identify the unifying values shared by progressives at this point in US history, to help define core elements of a forward-looking progressive agenda, and to pinpoint ways to connect that agenda with the concerns of millions of disillusioned people who lack voices in present politics and policy-making."
After a welcome by Representative Bernie Sanders, an impressive array of legislators, activists, and thinkers offered their insights. Senator Paul Wellstone, Reverend Jesse Jackson, Patricia Ireland of NOW, Richard Trumka of the AFL-CIO, Noam Chomsky, William Greider of Rolling Stone, and DSA Honorary Chair Barbara Ehrenreich were among the many who spoke.
Some emphasized the importance of the conventional, if difficult, process of progressive candidates building grassroots campaigns that treat voters with intelligence and challenge prevailing wisdom regarding what values and issues motivate ordinary Americans struggling to make ends meet-as opposed to using polls and focus groups to concoct "designer" campaigns to appeal to upscale "soccer moms." Other speakers reminded those present that great changes are made by people acting outside of the corridors of power to define justice and "political reality," and the electoral and legislative processes are not the only arenas worthy of activists' attention.[15]
Progressive Caucus SOTU Address
On Thursday, January 27 2000, from 3:30pm to 5:00pm in 2253 of RHOB, the Congressional Progressive Caucus held its 3rd Annual Congressional Progressive Caucus' State of the Union Address. This event was also sponsored by the Institute for Policy Studies' Progressive Challenge coalition whose Fairness Agenda for America is endorsed by 200 public interest groups nationally.
Caucus Chair Rep. Peter DeFazio(D-OR) stated "The Progressive Caucus Alternative State of the Union will provide a much needed reality check to politicians who would rather ignore the priorities of Americans left out of the economic boom -- priorities like access to quality health care and education, repairing crumbling schools, addressing the growing gap between the rich and poor, and creating a sustainable global economy that works for everyone, not just the corporate architects."
Anticipated speakers included: Peter DeFazio (D-OR), House Minority Whip David Bonior (D-MI), Earl Hilliard (D-AL);Dennis Kucinich (D-OH); Cynthia McKinney (D-GA);. Major Owens (D-NY)Bernie Sanders (I-VT). Tammy Baldwin (D-WI);. Maurice Hinchey (D-NY);Barbara Lee (D-CA); Jerrold Nadler (D-NY); and Lynn Woolsey(D-CA). John Cavanagh, director of the Institute for Policy Studies also made some remarks regarding public interest groups support of a progressive agenda.[16]
The Congressional Progressive Caucus, Chaired by Rep. Peter DeFazio (D-OR), consists of over a quarter of the House Democrats, one Independent and Senator Paul Wellstone. The Caucus will be releasing position papers on Health Care and Income Inequality, with reports on the Alternative Federal Budget, Social Security, Minimum Wage, Education and the Global Economy.
Back to Basics conference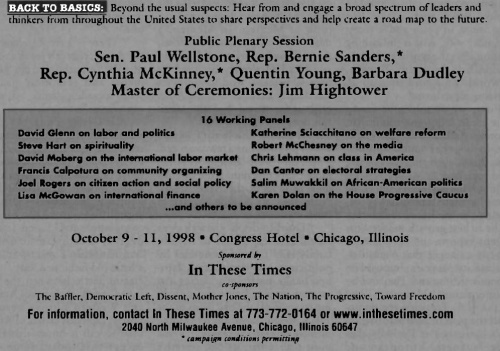 A Back to Basics conference on the future of the American Left, was held in Chicago October 9-11, 1998. Speakers included: Sen. Paul Wellstone, Rep. Bernie Sanders, Rep. Cynthia McKinney, Barbara Dudley, Quentin Young and Jim Hightower. The conference was sponsored by Sponsored by In These Times[17].
"Michael Harrington and Today's Other America"
In 1998, a new film based on late Democratic Socialists of America leader Michael Harrington was released. "Michael Harrington and Today's Other America-Corporate Power and Inequality" featured interviews with Bogdan Denitch, Congressman Bernie Sanders, Frances Fox Piven, John Kenneth Galbraith, Rush Limbaugh, Senate Ted Kennedy, Jim Chapin, Robert Kuttner, Charles Murray, Robert L. Hellbroner, Joanne Barkan, Joseph Murphy and Bob Herbert. [18]
"Jobs and Investment Bill"
On October 7, 1994, Congressional Progressive Caucus members Bernie Sanders, Maurice Hinchey, Nydia Velasquez and Major Owens, introduced the "Jobs and Investment Bill" into Congress, which would appropriate $42 billion over several years for "make work" construction and infrastructure projects.[19]
"Living Wage, Jobs for all Act"
In 1995, Nancy Pelosi, Bernie Sanders, David Bonior, Eleanor Holmes Norton, Cynthia McKinney, Maurice Hinchey, Major Owens, Nydia Velasquez, John Conyers, Bob Filner, Alcee Hastings, Lane Evans, Edolphus Towns, Jim McDermott, supported Democratic Socialists of America member rep. Ron Dellums' "Living Wage, Jobs for all Act"
Sponsored Communist Party "Jobs Bill"
H.R. 950, the Job Creation and Infrastructure Restoration Act of 1997 was introduced in the 105th Congress on March 5, 1997 by Congressman Matthew Martinez of California. It had 33 original co-sponsors, including Bernie Sanders. The primary purpose of this emergency federal jobs legislation was to provide much needed jobs at union wages to crisis ridden cities by putting the unemployed to work rebuilding our nation's infrastructure (schools, housing, hospitals, libraries, public transportation, highways, parks, environmental improvements, etc. $250 billion is authorized for emergency public works jobs over a five year period.
Congressman Martinez had previously introduced this bill in the last Congress (as HR 1591) at the the request of over 50 prominent Labor leaders who formed the Los Angeles Labor Coalition for Public Works Jobs, which is why it is often referred to as the "Martinez Public Works Jobs Bill."[20]
This is the most significant jobs legislation introduced in Congress since Franklin Delano Roosevelt's New Deal established the Works Progress Administration (WPA). This bill is the WPA-type program for today. It has strong provisions which will put hundreds of thousands of unemployed building trades workers to work as well as provide jobs for victims of plant closures, welfare recipients who are parents, youth, and the long term unemployed. The public works projects which will be established under this bill will be built in communities with the highest levels of unemployment and with the greatest needs.
The goal of the New York Coalition for Public Works Jobs is to build the movement to pass the Martinez Jobs bill as part of the National Labor Coalition for Public Works Jobs. You can help by asking your union, community organization, or local government body to to join those who have already passed resolutions to endorse the bill. Such a resolution has been introduced in the New York City Council. Calling on additional Congressional Representatives to co-sponsor the bill is very important. We will be organizing petition campaigns, visits to elected officials, and demonstrations and other actions for a public works jobs program.
The leaders of the Los Angeles Labor Coalition for Public Works Jobs and its only affiliate New York Coalition for Public Works Jobs, were all known supporters or members of the Communist Party USA.
Los Angeles , National Labor Coalition For Public Works Jobs
A New York affiliate, New York Coalition for Public Works Jobs, c/o Utility Workers Union of America Local 1-2.
Staffer's 2000 trip to Cuba
In February 2000, Sandra Caron from the office of Congressman Bernie Sanders spent six days in Havana, Cuba, for the purpose of "fact-finding, study effects of U.S. embargo". The trip cost $1,778.47 and was paid for by the Christopher Reynolds Foundation.[21]
Ties to Democratic Socialists of America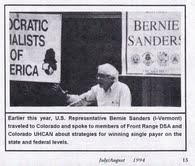 Sanders has long standing ties to Democratic Socialists of America (DSA). Sanders is a regular speaker at DSA conferences and the organization is a major fund-raiser for his campaigns.
In 1990 the Democratic Socialists of America Political Action Committee endorsed two Congressional candidates, "DSAer Democrat" Neil Abercrombie seeking to regain the House seat representing Honolulu and Vermont independent candidate Bernie Sanders.[22]
In November 1991, Sanders spoke at the Democratic Socialists of America national convention at Mundelin College, Chicago.[23]
In 1995,
DC/MD/Northern VA. Democratic Socialists of America
co-sponsored the first of DSA's national series of town meetings on economic security. This hearing was held in a church on September 27 and was scheduled to feature three members of Congress:
Neil Abercrombie
(D-HI),
Bernie Sanders
(I-VT), and
Maxine Waters
(D-CA).
[24]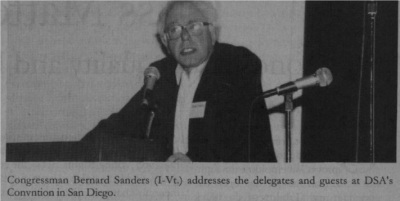 From a Spring 2000 Democratic Left editorial;[25]
Electoral tactics are only a means for DSA; the building of a powerful anti-corporate and ultimately socialist movement is the end. Where third party or non-partisan candidates represent significant social movements DSA locals have and will continue to build such organizations and support such candidates. DSA honored independent socialist Congressperson Bernie Sanders of Vermont at our last convention banquet, and we have always raised significant funds nationally for his electoral campaigns. .
In July 1996, the Democratic Socialists of America Political Action Committee endorsed Bernard Sanders, Vermont At Large, in that year's Congressional elections.[26]
In November 1999 Bernie Sanders was keynote speaker at D.S.As national convention in San Diego. hH was introduced by local congressman Bob Filner.
Take Back America Conferences
Bernie Sanders was on the list of 129 speakers at the 2005 Take Back America conference, which was organized by the Institute for Policy Studies, and Democratic Socialists of America dominated Campaign for America's Future.[27]
He was back in 2006, 2007.
Take Back the American Dream Conference 2011
Bernie Sanders was one of the 158 speakers who addressed the Take Back the American Dream Conference 2011 . The Conference was hosted by the Institute for Policy Studies, and Democratic Socialists of America dominated Campaign for America's Future, [28]
Democratic Socialists of America Atlanta conference
In November 2007, Rep. John Lewis was a special guest at the national Conference of Democratic Socialists of America held at the IBEW union hall in Atlanta, Georgia.[29]
Congressman Lewis Introduced Bernie Sanders to the conference.
The program of the first Atlanta Douglass-Debs Dinner, held at the Democratic Socialists of America conference on Friday November 9 was;[30]
Senator Bernie Sanders addressed the Convention and guests at the Atlanta local's First Annual Douglass-Debs Dinner on November 9, 2007. From his speech to the conference;[31]
I want to thank the DSA for the support that they gave me in the last campaign. And I want to thank DSA, not only for what they are doing today, but also for keeping alive what in my view is the most important vision that we as human beings can hold. It's a vision that has been passed on from generation to generation, literally for thousands of years: the vision of peace, the vision of brotherhood. Nothing new; it's in the Bible. But to remember the work, the sacrifices of people like Eugene V. Debs, Frederick Douglass, to remember Norman Thomas, Michael Harrington, and to remember a man who is buried in this city itself, one of the great Americans certainly of the 20th century, Martin Luther King Jr. And what was that vision? That radical but simple vision is solidarity. It means that all of us are in this thing called life together, that if we work together, if we share together, all of us can prosper and do well. And that when we reach out to other people, rather than to say "me, me, me," we grow as human beings. And the vision tells us that peace is better than war, that greed should not be the dominant factor in our society today, and that people can come together beyond race and creed and country of origin to create a very different world than the world in which we are living today.
DSA support in Senate campaign
DSA's 2005 National Conference in Los Angeles committed the organization to supporting Sanders' 2006 U.S. Senate race-and using it to recruit some new members along the way;[32]
From now through November 2006, the Sanders for Senate campaign in Vermont will focus national media attention on the most serious socialist electoral effort in the United States since the Debsian period. Bernie Sanders has been an articulate voice for democratic socialist politics among the 435 members of the House of Representatives and has spoken at DSA events on many occasions.
Sanders would become a much more visible national spokesperson for socialist politics if and when he serves as one of 100 members of the more powerful United States Senate.
His election is by no means assured and he will need the financial and organizational help of the broad democratic left around the country. In addition, Sanders support work provides a natural vehicle in any locality for DSA to reach out to—and potentially recruit—unaffiliated socialists and independent radicals.
Thus, this convention commits itself to:
a. The national staff and NPC developing feasible, legal, ways that DSA locals, networks, individuals, and campus groups can aid the Sanders for Senate campaign.
b. The national leadership providing guidance as to how local groups engaged in aiding the Sanders campaign can utilize such efforts to recruit for and build DSA.
In 2006 Bernie Sanders received $15,387 from the Democratic Socialists of America Political Action Committee for his campaign as Independent candidate for the Vermont seat in the U.S. Senate primary and general elections.[33]
Boston Democratic Socialists of America leader David Knuttunen and DSA National Political Committee wrote in The Yankee Radical August 2006;[34]
So it is no surprise that DSA's National Convention, in November 2005, voted to make support for Bernie Sanders a priority for the organization.
DSA's staff and leadership responded to the Convention vote by forming a Political Action Committee (the Democratic Socialists of America, Inc. PAC), which then launched a project to hold house parties across the country to raise money for the Sanders Campaign. The events are organized by DSA activist volunteers, who pay the associated costs out of their own pockets —all proceeds go directly to the Sanders Campaign. The list of house party locales reminds one of the words of "Joe Hill": "from San Diego on up to Maine..." To date, the DSA PAC campaign has resulted in events in Boston, Atlanta, Detroit, Central Ohio, Portland ME and Boulder CO. Events are being planned for San Diego, San Francisco, Sacramento, Central Indiana, Washington DC, Minneapolis/St. Paul, New York City, and Springfield MA, with a few more under discussion. Over $28,000 has been raised for the Sanders Campaign so far. DSA PAC expects that the campaign will eventually generate well over $50,000 – not bad for a tiny little organization, and a campaign run almost entirely with volunteer effort.
Even more important than the fundraising, though, in the eyes of many DSAers, is the opportunity for political education. The house parties give DSA volunteers the opportunity to expose people to DSA and political ideas that Bernie Sanders and DSA both hold.
The Democratic Socialists of America PAC raised over $50,000 nationally to support Sanders' campaign.[35]
The Institute for Food and Development Policy/Food First
Bernie Sanders is on the list of Congressional Representatives who have participated in hearings/briefings since 1998, with the very radical Institute for Food and Development Policy/Food First, founded by Frances Moore Lappe (Democratic Socialists of America, Institute for Policy Studies) and Joseph Collins (Institute for Policy Studies), authors of the book "Food First".[36]
Backed by Barack Obama and Ted Kennedy
Obama campaigning for Bernie Sanders
Barack Obama and Ted Kennedy traveled to Vermont to campaign for Bernie Sanders during the Congressman's successful 2006 U.S. Senate race.
According to Democratic Socialists of America's Democratic Left, Spring 2006, page 4;[37]
The Democratic Party is not mounting a serious challenge, although a candidate may occupy the Democratic line. A number of prominent Democrats, including Massachusetts Senator Edward Kennedy and Illinois Senator Barack Obama, already have campaigned with Sanders.
Congressional Progressive Caucus
As of February 20 2009 Bernie Sanders was listed as a member of the Congressional Progressive Caucus.[38]
Supported by Council for a Livable World
The Council for a Livable World, founded in 1962 by long-time socialist activist and alleged Soviet agent, Leo Szilard, is a non-profit advocacy organization that seeks to "reduce the danger of nuclear weapons and increase national security", primarily through supporting progressive, congressional candidates who support their policies. The Council supported Bernie Sanders in his successful Senate run as candidate for Vermont.[39]
The Progressive
Sanders has been a contributor to the liberal magazine, The Progressive.
Supporting Coalition of Immokalee Workers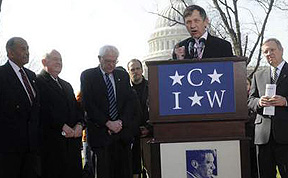 .
The Coalition of Immokalee Workers' petition drive to end sweatshop conditions in Florida's tomato fields received a warm welcome in Washington, DC. Senator Dick Durbin joined Senator Bernie Sanders, Representatives Dennis Kucinich and John Conyers, AFL-CIO President John Sweeney and representatives from dozens of human rights, religious, labor, and student organizations joined the CIW's call to end sweatshops and slavery in the fields.
Senator Sanders decried the "desperate conditions, conditions that in some cases are so extreme that even the Bush Administration has brought slavery charges," in Florida's fields, and announced that a hearing into those conditions is scheduled for April 15th.
Senator Durbin announced that a letter had been sent to "seven companies -- Wal-Mart Stores, Inc., Winn-Dixie Stores Inc., Kroger Co., Publix, Safeway Inc., US Food Service, Supervalu Inc., and Sysco Corp. -- asking them to join McDonald's and Yum Brands in the extra penny a pound program."[40]
Communist John Case, on "Sanders for President"
In response to an organized campaign to draft Sanders for a presidential run in 2012, Communist Party USA member John Case wrote on the Political Affairs blog;[41]
To use Carl Davidson's excellent slogan around which left and working class forces can mobilize-- "peace and prosperity vs war and austerity" -- this is clearly a time when we can qualitatively expand the base of support for the principles the slogan expresses. The question is: can we do this and not end up playing a Nader-like spoiler role, that concludes by electing the Right, in those campaigns, primaries, etc where our main objective is to move the political center lelftward, and strengthen the hand of center forces against the right. Of course, in those campaigns where the left coalition has winning chances, where the center is ready to be led by left forces, tactics differ.
The complexity of the US political process at this moment requires shrewd and careful AND BOLD calculations There are few, if any, politicians on the left more shrewd than Bernie Sanders. I am not convinced about Bernie's denials. I got to know him somewhat in my years as a UE rep in Vt, and later as DO for the Communist Party in N. New England. With a few arguable exceptions, he has always -- both ideologicaly and politically -- pursued a working class line. As important, he become a demonstrated master of very concrete tactics directed at isolating the right, without appearing irresponsible or reckless to center forces. He kept focused on the concretes -- especially economics, and non-corrupt governance -- that blunted repeated attempts by the right to isolate him.
He would have to run as a Democrat in the 2012 primaries, in order not to be counted as a spoiler. Unlike Nader, Bernie has never been a 'spoiler' politician. But running as a Democrat, after years of success as an Independent is something I think he would be temperamentally loath to do. Part of his success at independence is due to some very peculiar features unique to Vermont political history, that would not be practical to reproduce nationally. Nonetheless, I am sure he will be tempted.
Personally, at this point, I think a primary challenge against Obama is a mistake -- the history of such challenges is not encouraging for defeating Republicans. Obama is not a Blue Dog-er, IMHO, but rather a liberal doing what Presidents do -- not straying too far from the Center. I think we should focus our primary challenge energies against the blue dogs and in local and state campaigns where we can strengthen and galvanize our grass roots base. But I am willing to be persuaded otherwise -- only if we ourselves--the Left are grown-up enough to be as shrewd and smart and flexible as Kucinich on health care, or Sanders through most of his career.
Anti "speculator" bill
in April 2012 Ben Cardin joined a group of his Senate colleagues in sponsoring a bill, S. 2222, which "will give federal regulators immediate authority to invoke emergency powers to rein in speculators who are responsible for rapidly rising gasoline prices".
There is broad agreement among energy experts and economists that speculators are one of the causes for the rapidly rising price of gas. Domestic oil production has risen to its highest level in a decade, oil supplies are greater today than they were three years ago and demand for oil in the United States is lower today than it was in 1997. Yet gas prices continue to soar.
There is something wrong with this equation. There is no logical reason why gas prices should continue to rise if oil supplies are up and demand is down.
The American Trucking Association, Delta Airlines, the Petroleum Marketers Association of America, the Federal Reserve Bank of St. Louis, and other experts all say excessive oil speculation in the futures markets significantly increases crude oil and gasoline prices. A Feb. 27, 2012 article in Forbes Magazine cited a recent report by the investment bank Goldman Sachs pointing out that excessive oil speculation adds 56 cents to the price of a gallon of gas.
This "speculators" bill would set a 14-day deadline for the Commodity Futures Trading Commission (CFTC) to take emergency steps to stop excessive speculation by Wall Street traders in the crude oil, gasoline and other energy futures markets. Also co-sponsoring the measure were: U.S. Senators Bernie Sanders (I-VT), Richard Blumenthal (D-CT), Sherrod Brown (D-OH), Al Franken (D-MN), Amy Klobuchar (D-MN) and Bill Nelson (D-FL).[42]
FightingBobFest speaker
Bernie Sanders has been a guest speaker at Wisconsin's annual progressive Fighting Bob Fest, in 2003, 2005, 2009, 2011.[43]
San Francisco for Democracy event
San Francisco for Democracy, in association with Progressive Perspectives, proudly presented an evening with Senator Bernie Sanders Friday, February 25, 2011.
Senator Sanders is the most progressive member of the U.S. Senate. He understands that the concentration of wealth and power in the hands of a few is fundamentally incompatible with democracy -- and he acts on that understanding in ways that can inspire all of us. In his talk Bernie will be speaking about several key issues:
Co-sponsors were - Institute for Policy Studies ~ San Francisco Labor Council ~ Wellstone Democratic Renewal Club ~ San Francisco for Democracy ~ Unitarian Universalists for Peace/SF ~ Senior Action Network ~ Democracy for America/Marin ~ Harvey Milk LGBT Democratic Club ~ Progressive Democrats of America ~ Alice B. Toklas LGBT Democratic Club.[44]
Hi IPS rating
In 2012 "Congressional Report Card for the 99 Percent" , the Institute for Policy Studies examined 40 different legislation actions in the House and Senate—votes and legislation introduced—to ascertain the real allegiances of sitting members of Congress. These include votes to extend the Bush tax cuts for the wealthy, levy a Wall Street speculation tax, invest in infrastructure, and protect workers and student financial aid.
The Report Card also graded politicians for their commitment to reducing inequality and boosting the 99 percent. The report's "Honor Roll" gave an A-plus grade to 5 members of the U.S. Senate, including Senators Sherrod Brown (D-OH), Dick Durbin (D-IL), Al Franken (D-MN), Bernie Sanders (VT-I), and Sheldon Whitehouse (D-RI).[45]
Staff
The following have worked as staff members for Bernie Sanders:[46]
External links
References