Zoe Lofgren
From KeyWiki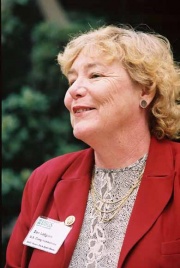 Zoe Lofgren (born Sue Lofgren on December 21, 1947, in San Mateo, California) has been a Democratic member of the United States House of Representatives since 1995, representing the 16th district of California, based in San Jose. She is married to John Marshall Collins and she has two children, Sheila and John Collins. She identifies her religion as Protestant.[1]
Early Life, Family and Education
Zoe Lofgren is a lifelong resident of the Bay Area. She attended Gunn High School in Palo Alto. Lofgren received a B.A. in Political Science from Stanford University, Stanford, California in 1970 and a J.D., cum laude, from Santa Clara University School of Law, Santa Clara, California in 1975.
Professional Career
Lofgren served as Staff Assistant to her predecessor, Congressman Don Edwards from 1970 through 1978. During this time she worked on impeachment proceedings, the Equal Rights Amendment and creation of the Don Edwards National Wildlife Refuge in the South San Francisco Bay.
She Practiced immigration law as a partner in the firm of Webber & Lofgren from 1978 through 1980. Then Lofgren taught immigration law at the University of Santa Clara School of Law from 1977 through 1980.
She served on the Santa Clara County Board of Supervisors from 1981 through 1994.
Political Career
A Bay Area native, Lofgren has been an outspoken critic of the Justice Department generally and how it handles immigration issues specifically. She represents large swaths of Silicon Valley and all of San Jose, and has become an expert on cybersecurity.
She's been a friend of House Speaker Nancy Pelosi (D-California) for more than 20 years and her experience in Congress dates back to the Nixon era. One of the California Democrat's biggest disappointments came in June 2007, when comprehensive immigration reform died in the Senate.[2]
Here is a brief history of her political career:
Zoe Lofgren left the San Jose area for a few years after graduation from Stanford to serve as a staff assistant to Congressman Don Edwards. She worked on, among other projects, the attempted impeachment of Richard Nixon while in Don Edwards' office. She was also instrumental in the creation of a Bay Area wilderness area that now bears the name of Edwards. Lofgren has also worked as executive director for Community Housing Developers.
Returning to San Jose, Lofgren worked in far left United States Representative Edwards' district office, while at the same time earning her law degree. After two years as partner at an immigration law firm in San Jose, she was elected first to a community college board, then to the Santa Clara County Board of Supervisors, where she served for 13 years. Lofgren also spent three years teaching classes on immigration law at her former law school at Santa Clara University.
In 1994, Edwards decided to retire after 32 years in Congress. Lofgren entered the Democratic primary as a decided underdog, but managed to defeat the favorite, former San Jose mayor Tom McEnery. Lofgren's victory virtually assured her of becoming only the second person to represent the district since its creation in 1963. She has been reelected six times with no substantive opposition.
Lofgren is currently the chair of the 34-member California Democratic Congressional Delegation. She serves on the Judiciary Committee and is the chair of the House Judiciary Subcommittee on Immigration, Citizenship, Refugees, Border Security and International Law.
During the 110th Congress, Lofgren worked for the development of fusion energy. She initiated a bill that would accelerate its uses as an alternative energy solution. Another piece of legislation that she recently authored has the goal of providing lower Internet access rates to schools, libraries and other public institutions.
On January 3, 1995, she was elected as a Democrat to the 104th Congress and has served in the seven succeeding Congresses since. She also currently serves as chair for the Committee on Standards of Official Conduct (111th Congress).[1]
Pelosi did Lofgren the dubious favor of appointing her chairwoman of the House Ethics Committee when Democrats retook the majority in 2009.
The ethics committee has functioned poorly in the past and suffered from intense partisan conflict. Its job is to probe the alleged misdeeds of other lawmakers, something that is very unpopular with their colleagues.
Staff Members
The following have worked as staff members for Lofgren:[3]
Committee Assignments
Committee on Homeland Security
Subcommittee on Border, Maritime and Global Counterterrorism
Committee on House Administration (Vice Chair)
Subcommittee on Elections (Chairwoman)
Committee on the Judiciary
Subcommittee on Commercial and Administrative Law
Subcommittee on Crime, Terrorism, and Homeland Security
Subcommittee on Immigration, Citizenship, Refugees, Border Security and International Law (Chairwoman)
Committee on Standards of Official Conduct (Chairwoman)
Joint Committee on the Library
Caucuses
Congressional Asian Pacific American Caucus (Associate Member)
Congressional Caucus for Women's Issues
Congressional Human Rights Caucus
House LGBT Equality Caucus
Other Leadership Positions
Chair of the California Democratic Congressional Delegation
Democratic Leadership Council
Supports Hyde Park Declaration of "Third Way" Centrism
Lofgren adopted the Hyde Park Declaration manifesto, "A New Politics for a New America":
As New Democrats, we believe in a Third Way that rejects the old left-right debate and affirms America's basic bargain: opportunity for all, responsibility from all and community of all.[4]
We believe: that government's proper role in the New Economy is to equip working Americans with new tools for economic success and security.
In expanding trade and investment because we must be a party of economic progress, not economic reaction.
That fiscal discipline is fundamental to sustained economic growth as well as responsible government.
That a progressive tax system is the only fair way to pay for government.
The Democratic Party's mission is to expand opportunity, not government.
That education must be America's great equalizer and we will not abandon our public schools or tolerate their failure.
That all Americans must have access to health insurance.
In preventing crime and punishing criminals.
In a new social compact that requires and rewards work in exchange for public assistance and that ensures that no family with a full-time worker will live in poverty.
That public policies should reinforce marriage, promote family, demand parental responsibility and discourage out-of-wedlock births.
In enhancing the role that civic entrepreneurs, voluntary groups and religious institutions play in tackling America's social ills.
In strengthening environmental protection by giving communities the flexibility to tackle new challenges that cannot be solved with top-down mandates.
Government must combat discrimination on the basis of race, creed, gender or sexual orientation; defend civil liberties; and stay out of our private lives.
That abortion should be safe, legal and rare.
In progressive internationalism -- the bold exercise of US leadership to foster peace, prosperity and democracy.
That the US must maintain a strong, technologically superior defense to protect our interests and values.
Contributions
Representative Zoe Lofgren 2009-2010
Top 20 Contributors to Campaign Cmte
Endorsements
For 2010:[5]
Record and Controversies
Honored Amy Dean
In the house of representative, Wednesday, June 4, 2003, the Santa Clara County Congressional delegation - Anna Eshoo, Mike Honda and Zoe Lofgren, read a tribute into the Congressional Record to Congressional Record to Amy Dean, Chief Executive Officer of the South Bay AFL-CIO Labor Council, who was leaving the bay Area to return to her native Chicago.
Through Amy Dean's leadership, the South Bay AFL-CIO Labor Council has been extremely successful in working for living wage contracts for city workers, affordable housing requirements in new developments, and health insurance for every child in Santa Clara County.
Amy Dean has been a tireless and passionate advocate for social justice and has helped to strengthen the labor movement, bringing dignity and hope to countless families, whether they are union or non-union workers. Amy Dean was the youngest person in the country to lead a large metropolitan labor council and the first woman to head a labor council as large as the South Bay AFL-CIO Labor Council.
She founded Working Partnerships USA, a non-profit organization dedicated to rebuilding the links between regional economic policy and community well-being. [6]
Obama"truth squad"
Barack Obama's campaign in California formed a "truth squad," announced via conference call, in January 2008, to counter the attacks that Hillary Clinton's campaign has leveled in recent weeks. On the call were squad members Bay Area Congressman George Miller, LA Congresswoman Linda Sanchez, Oakland Congresswoman Barbara Lee, and LA County Labor Federation chief Maria Elena Durazo, now a national co-chair of the Obama campaign. Also on the squad are Silicon Valley Congresswoman Zoe Lofgren, LA Congressman Adam Schiff, state Senate Majority Leader Gloria Romero, Assembly Majority Leader Karen Bass, and, San Francisco District Attorney Kamala Harris.
Miller, one of the top congressional Democrats as head of the House Democratic Policy Committee and chairman of the Education & Labor Committee, noted that the truth squad was formed to deal with a threat that may or may not exist any longer. "We don't know yet," he said. "The Clinton campaign may have learned its lesson from South Carolina," where voters mostly rejected the Clinton tactics, as exit polls make clear. Will former President Clinton, historically popular in California, be a problem for Obama in the nation's largest primary? "I think there is a rethink underway about what he is doing."[7]
Endorsed Cindy Chavez
Cindy Chavez, a former South Bay Labor Council staff director, and 1999 Communist Party USA honoree, was elected to the San Jose City Council in 1998 and in 2006, served as vice mayor. Besides the Labor Council and many labor, community, environmental and political organizations, she was endorsed by U.S. Representatives Anna Eshoo, Mike Honda and Zoe Lofgren; Los Angeles Mayor Antonio Villaraigosa; several former San Jose mayors; and seven current city councilmembers.
Though she was backed by labor and opposed by the Chamber of Commerce, Chavez emphasized bringing all segments of the community together to solve problems. As an example, she cited her leadership role on the council for the Children's Health Initiative, which brings together public and private funding to provide health coverage to most uninsured children in Santa Clara County.[8]
Abortion
Lofgren's support for taxpayer-funded abortion and partial-birth abortion earned her a 100 percent rating from NARAL Pro-Choice America. They endorse sex education and condone birth control. They are not pro-life, instead they proclaim pro-choice.[9]
Budget and Economy
Lofgren voted for all the Stimulus packages including TARP. In fact, she was highly instrumental in the passage of the Bailout Bill in 2008.[9]
Many Silicon Valley entrepreneurs and small businesses were deeply hurt by the 2008 credit freeze. Lofgren wanted to see legislation allowing homeowners in foreclosure the ability to renegotiate their mortgages.[10]
Lofgren is also pro-union and received an 87% rating from the AFL-CIO in 2003. She voted yes on instituting National Service as a new social invention in 2003 as well.
Civil Rights
Zoe Lofgren's ratings by various civil liberty organizations:[9]
Rated 87% by the ACLU, indicating a pro-civil rights voting record. (Dec 2002)
Rated 100% by the Human Rights Campaign, indicating a pro-gay-rights stance. (Dec 2006)
Rated 97% by the NAACP, indicating a pro-affirmative-action stance. (Dec 2006)
Corporations and Business
The US Chamber of Commerce gave her a 26% rating indicating an anti-business voting record. (Dec 2003)[9]
Education
Lofgren was rated 90% by the NEA, indicating pro-public education votes. (Dec 2003)[9]
Environmental Issues
Lofgren is very pro-environment and anti-drilling.[9] She also stringently supports the Kyoto Protocol. She also promotes and forwards Cap and Trade, especially when it comes to establishing greenhouse gas tradeable allowances. She received a 100% rating by the League of Conservation Voters in 2003.
Anti-Fracking legislation endorser
On March 14, 2013, Rep. Jared Polis (D-CO) and Rep. Matt Cartwright (D-PA) have introduced the Bringing Reductions to Energy's Airborne Toxic Health Effect (BREATHE) Act, and the Focused Reduction of Effluence and Stormwater runoff through Hydraulic Environmental Regulation (FRESHER) Act, in order to ensure that the hydraulic fracking industry follows the same rules that other industries do in preserving our natural resources. This legislation is focused on ensuring the safety and the health of the communities where the hydraulic fracturing, or fracking, process is already taking place.
The BREATHE Act would ensure that we close the oil and gas industry's loophole to the Clean Air Act's aggregation provision, in addition to adding hydrogen sulfide—a chemical associated with nausea, vomiting, headaches, and irritation of the eyes, nose, and throat—to the Clean Air Act's federal list of hazardous air pollutants.
The BREATHE Act has the following original co-sponsors including: Reps. Rush Holt, Jr., Raul Grijalva, John Sarbanes, James Moran, Michael Quigley, Earl Blumenauer, Gerald Connolly, Zoe Lofgren, Michael Honda, Paul Tonko, Barbara Lee, David Price, Carolyn Maloney, Michael Capuano, Mark Pocan, Jim McDermott, Eleanor Holmes Norton, Alcee Hastings, Keith Ellison, Niki Tsongas, William Keating, Adam Smith, Jim Langevin, Chellie Pingree, Judy Chu, Louise Slaughter, Jerrold Nadler, Grace Meng, Jan Schakowsky, Nita Lowey, Jared Huffman, Gary Peters and Alan Lowenthal.
The following organizations have endorsed this legislation and are actively working to garner support within Congress and throughout the country: Physicians for Social Responsibility, Natural Resources Defense Council, Earthjustice, Alliance of Nurses for Healthy Environments, Sierra Club, Earthworks, Breast Cancer Action, Clean Water Action, Environment America, Greenpeace, Nature Abounds, Oil Change International, Citizens for a Healthy Community, Citizens for Huerfano County, Clean Water Action Colorado, Erie Rising, Grassroots Energy Activist Network, Holy Terror Farm, San Luis Valley Ecosystem Council, SOS Foundation, Western Colorado Congress of Mesa County, Western Slope Conservation Center and Wilderness Workshop.[11]
Ethics
Lofgren's selection in January 2009 to chair the House Ethics Committee, was praised by congressional watchdogs who have long decried the panel's futility. She pledged to hold members to the highest possible standards, but was quickly vexed by an inherited investigation into Rep. Charles Rangel. In June 2009, Lofgren announced her committee would look into whether the congressman violated House gift rules.
Lofgren's job could be complicated further by the ongoing federal probe into a lobbying firm, PMA Group, closely linked to Rep. John Murtha. Lofgren returned $7,000 from the firm's PAC to avoid an appearance of a conflict of interest should the investigation come before her committee.[10]
Foreign Policy
Progressive Internationalism: globalize with US pre-eminence. Voted on in 2000. Lofgren is a member of the Congressional Human Rights Caucus.
Illegal Immigration
In 2001, Lofgren voted no on military border patrols to battle drugs and terrorism.[9] Lofgren is a strong supporter of illegal immigrants under the guise of comprehensive immigration reform.
Lofgren's district has the largest Hispanic population in the Bay Area and the largest concentration of Vietnamese immigrants in the U.S. She advocates employing technology to secure the country's Southern border, expedite visa processing and "regularize" the status of immigrants living "in the shadows."[10]
Immigration reform died in the Senate in 2007, but businesses in Silicon Valley pressed Lofgren and others to try and pass a few narrower reforms to make it easier to hire foreign skilled workers. Lofgren agreed to try, but said the Senate had "effectively kill[ed]" immigration reform in the 110th Congress.
Lofgren voted against building a fence along the border with Mexico in September 2006. The proposal passed the House, 283 to 138, in the 109th Congress and was signed by President George W. Bush. By 2009, however, Lofgren began to praise the fence. "The number of unlawful entries is dropping tremendously," she said. "...Professionals believe it is strongly related to how difficult it now is to make an unlawful entry."
Despite some hard line stands on monitoring the U.S.-Mexican border, Lofgren is generally known as a tough critic of a security-first immigration policy. "At this record rate of arrests, it would still take 2,943 years to deport the estimated 12 million undocumented immigrants," she said. Local district attorneys often gripe to Lofgren that they have been forced to handle major criminal cases because the Justice Department has invested too many resources in immigration prosecutions.
In 2008, Lofgren sponsored a bill that would have granted citizenship to immigrants who were members of the U.S. Armed Forces and were combat veterans. The bill died in the 110th Congress despite having 19 co-sponsors.
Despite GOP criticism, Lofgren has sought to improve medical care for immigrants detained by the Homeland Security Department. She has also sponsored a measure to shorten the delay in receiving and renewing visas.
Lofren has also clashed with Joe Arpaio, a Phoenix-area sheriff who rose to national prominence as "America's toughest sheriff" for his reputation in launching harsh immigration raids. Arpaio was the target of five lawsuits alleging misconduct, racial profiling and segregation by plaintiffs represented by the ACLU. Lofgren was one of several House Members to deliver an anti-Arpaio petition to the Justice and Homeland Security departments. "I'm concerned that...Latino members of [the] community are considered 'undocumented' until proven otherwise," Lofgren said.
The Obama administration has made immigration legislation a priority in 2010 and Lofgren is writing legislation with Sen. Charles Schumer to present to Congress. Obama may try and have this passed in a lame duck session.
Phillip Burton Awards Committee
In 2013, the Honorary Phillip Burton Awards Committee, of the Immigrant Legal Resource Center, consisted of;
Jeff Adachi, San Francisco Public Defender
The Honorable David Campos, San Francisco Board of Supervisors
The Honorable David Chiu, President of the San Francisco Board of Supervisors
Carmen Chu, San Francisco Assessor-Recorder
The Honorable Malia Cohen, San Francisco Board of Supervisors
The Honorable Anna Eshoo, US Representative for California
The Honorable Mark Farrell, San Francisco Board of Supervisors
The Honorable Dianne Feinstein, US Senator for California
The Honorable Barbara Lee, US Representative for California
The Honorable Zoe Lofgren, US Representative for California
The Honorable Eric Mar, San Francisco Board of Supervisors
The Honorable George Miller, US Representative for California
The Honorable Nancy Pelosi, Democratic Leader of the US House of Representatives
The Honorable Jackie Speier, US Representative for California
The Honorable Katy Tang, San Francisco Board of Supervisors
The Honorable Scott Wiener, San Francisco Board of Supervisors
The Honorable Norman Yee, San Francisco Board of Supervisors[12]
Phillip Burton Award
Zoe Lofgren, U.S. House of Representatives California's 16th District, was the recipient of the Phillip Burton Award, at the 2001 Phillip Burton Immigration & Civil Rights Awards, from the Immigrant Legal Resource Center, in the Bay Area.[13]
Military
Lofgren voted against the Authorization for Use of Military Force Against Iraq Resolution of 2002 that started the Iraq War.[14]
LIBERT-E Act
June 18, Rep. Justin Amash (R-MI), Chairman of the House Liberty Caucus, and Rep. John Conyers, Jr. (D-MI), the Ranking Member on the House Judiciary Committee, announced the introduction of bipartisan legislation to address National Security Agency surveillance.
H.R. 2399, the Limiting Internet and Blanket Electronic Review of Telecommunications and Email Act (LIBERT-E Act), restricts the federal government's ability under the Patriot Act to collect information on Americans who are not connected to an ongoing investigation. The bill also requires that secret Foreign Intelligence Surveillance Act (FISA) court opinions be made available to Congress and summaries of the opinions be made available to the public.
A coalition of 32 Members of Congress joined Conyers and Amash in introducing the bill. After introduction, Conyers and Amash issued the following statement:
The following Members of Congress cosponsored the legislation:
Rep. Paul Broun (R-GA) Rep. Judy Chu (D-CA) Rep. Suzan DelBene (D-WA) Rep. John Duncan (R-TN) Rep. William Enyart (D-IL) Rep. Tulsi Gabbard (D-HI) Rep. Chris Gibson (R-NY) Rep. Paul Gosar (R-AZ) Rep. Morgan Griffith (R-VA) Rep. Raúl Grijalva (D-AZ) Rep. Rush Holt, Jr. (D-NJ) Rep. Sheila Jackson-Lee (D-TX) Rep. Hank Johnson (D-GA) Rep. Walter B. Jones (R-NC) Rep. Barbara Lee (D-CA) Rep. Zoe Lofgren (D-CA) Rep. Thomas Massie (R-KY) Rep. Tom McClintock (R-CA) Rep. Jim McDermott (D-WA) Rep. James McGovern (D-MA) Rep. Mike Michaud (D-ME) Rep. Mick Mulvaney (R-SC) Rep. Jerrold Nadler (D-NY) Rep. Beto O'Rourke (D-TX) Rep. Steve Pearce (R-NM) Rep. Jared Polis (D-CO) Rep. Trey Radel (R-FL) Rep. Matt Salmon (R-AZ) Rep. Mark Sanford (R-SC) Rep. Kyrsten Sinema (D-AZ) Rep. Peter Welch (D-VT) Rep. Ted Yoho (R-FL) [15]
Fred Ross award campaign
In early 2013, mainly Democratic Socialists of America aligned activists, together with many elected officials across the United States came together to urge President Barack Obama to award posthumously the Presidential Medal of Freedom to the legendary organizer, Fred Ross, Sr.. The Saul Alinsky trained radical was the first to organize people through house meetings, a mentor to both Cesar Chavez and DSAer Dolores Huerta, and a pioneer in Latino voter outreach since 1949 when he helped elect Communist Party USA affiliate Ed Roybal as Los Angeles's first Latino council member, "Ross' influence on social change movements remains strong two decades after his death in 1992".
Congressional endorsers of the proposal included Zoe Lofgren.[16]
Second Amendment
Lofgren gets a resounding 'F' from the NRA on her second amendment stance as of 2003. Lofgren cosponsored H.R 1022 (Assault Weapons Ban Reauthorization Act of 2007) on March 15, 2007.[17]
Separation of Church and State
Lofgren scored 100% from the Americans United for Separation of Church and State.[18]
Americans United for Separation of Church and State (AU) is a religious liberty watchdog group based in Washington, D.C. Founded in 1947, the organization educates Americans about the importance of church-state separation in safeguarding religious freedom. AU is a non-partisan organization dedicated to preserving the principle put forth by Thomas Jefferson in a letter concerning church-state separation as the only way to ensure religious freedom for all Americans. They mistakenly state that the principle is a constitutional principle. It is not...
Stephen Colbert Testimony Before Congress
Lofgren invited comedian Stephen Colbert to testify before Congress on September 24, 2010, dealing with the issue of immigrant workers. Colbert diverged from his written testimony and entered a comedy routine. Mr. Colbert, when asked why he testified, stated: "I like talking about people who don't have any power and it seems like one of the least powerful people in the United States are migrant workers who come and do our work, but don't have any rights as a result. But yet, we still invite them to come here and at the same time ask them to leave. [...] Migrant workers suffer and have no rights."
Technology and Cybersecurity
Lofgren is also a force for technology issues on the Hill. She's sponsored legislation to crackdown on robo-calls, or automated phone calls frequently with a financial or political purpose and is also the go-to person when colleagues' BlackBerrys or computers break down on Capitol Hill. She's a leader on cybersecurity issues and works with the Department of Homeland Security to ensure appropriate agencies can thwart hackers. In 2008, Lofgren introduced legislation to freeze state and local taxes on wireless technology.[10]
Affiliations
Aspen Institute
The Aspen Institute recieves funding from the the John D. and Catherine T. MacArthur Foundation,[19] the Rockefeller Foundation[20] and the Christopher Reynolds Foundation, an organization which in 1995, began financially supporting work for U.S. policy with Cuba.[21] Serving on the board of the Non-profit Sector Research Fund of the Aspen Institute is Gary Delgado, a New Party builder and an endorser of the War Times initiative.[22]
Lofgren has made the following trips which were funded by the Aspen Institute:[23]
From April 5-11, 2010, Lofgren traveled in Lisbon, Portugal to attend a conference organized by the Aspen Institute's Congressional Program on "Energy Security and Climate Change: Policy Challenges for the Congress." The trip cost $10,212.90. Her son, John Collins accompanied her on the trip.
EMILY's List
During her campaigning, Lofgren has been supported by EMILY's List, a national Political Action Committee that supports pro-choice Democratic women running for congress and governor.[24]
Nancy Pelosi
Lofgren has had a 20-year friendship with fellow Californian and House Speaker Nancy Pelosi. While he was a Chicago House member, Rahm Emanuel once boasted that he was a true Pelosi loyalist even though he was not in the "George Miller/Anna Eshoo/Zoe Lofgren/John Murtha circle," of mostly Bay Area liberals.[10]
Roosevelt Institute
Lofgren sits on the National Advisory Board of the Roosevelt Institute. The namesakes of the Institute are Franklin and Eleanor Roosevelt. Historical leaders of the Progressive movement.[25]
Serving as advisors with Lofgren are:[26]
National Advisory Board
Academic Advisors
Political Advisors
Movement Advisory Board
Media Advisory Board
Bay Area Regional Advisory Board
Chicago Advisory Board
The Roosevelt Institute works closely with many progressive political and educational organizations to encourage public debate, promote sound public policy and involve students in the civic life of their communities. In addition, they are supportive of the efforts of a wide range of groups involved in similar progressive causes. Partners include:[27]
The Courage Campaign
The Courage Campaign describes Zoe Lofgren as a 'grassroots' progressive. In 2008, she endorsed their Progressive Voter Guide.[28]
Quotes
"You are not supposed to kill people who are in custody," Lofgren said after a hearing about available medical care for immigrants facing deportation. Immigration Agency to Reveal Some Death Data The Washington Post, June 5, 2008
"These bozos, they risked other people's money and they brought our economy to a very serious situation," she said. "This is a massive regulatory failure." The Issues - The Economy WhoRunsGov.com, Nov. 8, 2010
External links
References