Zach Robinson
From KeyWiki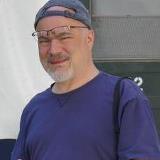 Zachary Robinson is a Greenville, North Carolina activist. He is active in the Committees of Correspondence for Democracy & Socialism, NAACP, Pitt County Coalition Against Racism, North Carolina Hear Our Public Employees Coalition, American Association of University Professors.[1]
Education
1990, Graduated from Harvard University
1983, Graduated from Massachusetts Institute of Technology (MIT)
1978, Graduated from Cleveland Heights High School[2]
CoC training school
According to Georgia Wever the first Leadership Training School ever organized by the Committees of Correspondence took place during July 1998 , at a woodland location in upstate New York. For almost a week, the 24 participants - who came from Northern California, Chicago, North Carolina, South Carolina, and the New York metropolitan area - "talked, challenged, sang, learned, swam, disagreed, feasted, danced, camped, and asked questions."
The curriculum was planned by a committee composed of Mael Apollon, Robin Busch, Leslie Cagan, Pat Fry, Bobby Greenberg, Mel Pritchard, Roque Ristorucci and Zach Robinson. In the follow-up to the Leadership Training School, the curriculum planning committee became the National Education and Literature Committee. It is co-chaired by Bob Greenberg and Mel Pritchard.
Interactive sessions were led by Timothy V. Johnson and Shirley McClain.
Living Wage Campaign
In 1998 Zach Robinson, CoC NEC member and chair of the Living Wage Committee, summarized the work that has taken place to date in his report to the NCC. He noted that the living wage campaign was created to give the CofC a political direction by focusing on a single campaign. Initial work was centered in a few local chapters, and then expanded as possible. Robinson argued that it is time to expand the focus by helping to initiate a campaign for national legislation for a living wage. The committee has already drafted a letter to be sent to other organizations outlining our concept of such legislation, combined with some details of how it could be enacted. There has been some contact with a legislative aide who will work on putting the proposal into acceptable legislative language.
Committees of Correspondence
On February 26 1994 a Midwest Regional Meeting of Committees of Correspondence was held at West Lafayette Indiana.
Participants included Zach Robinson West Lafayette Indiana.[3]
July 25 2009 Zach Robinson, Northern California, was a candidate[4]for the Committees of Correspondence National Co-ordinating Committee at CCDS national conference in San Francisco-elected.
Committees of Correspondence conference
Robinson attended[5]the 6th National Convention of the Committees of Correspondence for Democracy and Socialism (CCDS) at San Francisco's Whitcomb Hotel July 23-26 2009.
Zachary Robinson and Shafeah M'Balia reported on work in the South, and the special role played by democratic forces opposed to the right wing. They highlighted a multi-racial, grass roots people's charter movement initiated by the NAACP in North Carolina that parallels the "Democracy Charter" and mobilized thousands to march on the capital in Raleigh earlier this year.
References