William Winpisinger
Jump to navigation
Jump to search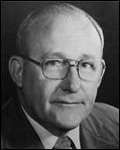 William (Wimpy) Winpisinger (1924-1997) was, at the time of his death, Democratic Socialists of America National Vice-Chair[1]and a retired President of the International Association of Machinists and Aerospace Workers (IAM).
In addition to his positions with DSA and the IAM, Winpisinger served as a member of the AFL-CIO Executive Council; a member of the Finance Committee of the Democratic National Committee; co-chair of the Collective Bargaining and Group Relations Institute; a trustee of the National Planning Association; President of the Citizen/ Labor Energy Coalition; a member of the Board of Governors of the National Space Institute; a board member of the Americans for Democratic Action; a member of the Executive Committee of the International Metalworkers Federation; and an Executive Board member of International Guiding Eyes.[2]
Career
Winpisinger began his career as an automobile mechanic, learning the trade in the Navy during World War II. He started his IAM membership in IAM Automotive Lodge 1363 and rose from shop steward to local lodge president. In 1951,he became one of the youngest members ever appointed to the IAM's national field staff.
In 1977 Winpisinger was elected President of the IAM. He gained a reputation for bluntness by calling for George Meany, the then President of the AFL-CIO, to retire, because, at 83, Winpisinger considered Meany too old conservative to lead a young workforce.
Winpisinger also served as a member of the Executive Committee of the International Metalworkers Federation.
DSOC
According to the December 29, 1979, issue of Information Digest, the "initiators" of the Democratic Socialist Organizing Committee (forerunner of Democratic Socialists of America) , formed in 1973 as a result of a split within the Socialist Party USA, largely over the issue of cooperation with communists, included Julian Bond, Heather Booth, John Conyers, Ronald Dellums, Douglas Fraser, Joyce Miller, William Winpisinger, and Jerry Wurf.
Winpisinger was also Co-Chair of the Democratic Socialist Organizing Committee (DSOC).
At the Democratic Socialist Organizing Committee 1981 conference, gay activist Harry Britt was elected Vice Chair, as were Trudy Robideau, Marjorie Phyfe and Rosemary Ruether. Others elected included Mike Rivas, Chair of DSOC's Hispanic Commission and William Winpisinger, head of the Machinists Union.[3],
Nuclear Weapons Freeze Campaign
Circa early 1980s, William Winpisinger was an endorser of a US-Soviet Nuclear Weapons Freeze petition circulated by the Nuclear Weapons Freeze Campaign, National Clearinghouse, based in St. Louis, Missouri.
SANE
As at March, 1982, the following served on the Board of Directors of SANE:[4]
Democratic Party activism
More than 1,200 people attended the Democratic Socialist Organizing Committee initiated Democratic Agenda Conference held November 16-18, 1979, at the International Inn and Metropolitan AM Church in Washington 1 DC. The conference focused on "corporate power'; as the key barrier to "economic and political democracy," concepts many Democratic Agenda participants defined as "socialism.'
The Democratic Agenda meetings attempted to develop anti-corporate alternatives" through influencing the direction of the Democratic Party during the period leading to the July 1980 Democratic National Convention in New York.
Keynote speaker William Winpisinger concluded the evening with a hotly partisan attack on President Carter,asserting, "If Carter is nominated (in 1980 there won't be a Democratic Party in 1984. Winpislnger who had endorsed Senator Edward Kennedy for the presidential nomination, charged, "Carter is a small-town hypocritical aristocrat who behind the facade of bumbling good intentions has the rigid mind of a nuclear engineer and the heart a a corporate executive. " White House plans to increase U. S. defense spending were bitterly denounced, as was the MX missile, "a monument to technological folly."[5]
In 1980, Winpisinger led a walkout of some 300 delegates from the Democratic Party Convention to protest the Convention's nomination of Jimmy Carter for President. The electronic media ignored the walkout, and Carter operatives blocked the aisles, pushing protesting delegates into seats.
Earlier at the 1980 Democratic Convention, Winpisinger had addressed a Socialist Caucus organized by the Democratic Socialist Organizing Committee. Some 100 people, including 40 delegates, came to their feet, as Winpisinger concluded the caucus. Someone shouted, "Wimpy for President". Winpisinger replied, "I'm president of the only thing I want to be president of right now. By the time I learn this job, I'll be ready to retire, and that's it altogether."
Democratic Agenda/Socialist Caucus
For groups and organizations seeking radical social change within the Democratic Party, the National Convention of 1980 had at least one historic first - formation of a Socialist Caucus of delegates. Organized by the Democratic Socialist Organizing Committee and by the Democratic Agenda which was DSOC's cadre and supporters within the Democratic Party and was based in DSOC' s New York office and at 1730 M Street, NW, Washington, DC. Some 31 delegates and alternates from twelve states and Democrats Abroad attended the Socialist Caucus.
As a preliminary to the convention's Socialist Caucus meeting, , indeed as a "building event" and as a continued show of support for Senator Edward Kennedy (D-MA), the Democratic Agenda sponsored a convention rally at New York's Town Hall. The speakers included Herman Badillo, Julian Bond, Fran Bennick, Harry Britt, Cesar Chavez, Rep. John Conyers (D-MI}, Douglas Fraser, Murray Finley, Michael Harrington, Terry Herndon, Ruth Jordan, Ruth Messinger, Eleanor Smeal, Gloria Steinem and William Winpisinger.
DSOC works within the Democratic Party, said Harrington, because of the party's relationships with organized workers, blacks, feminists, environmentalists and other "progressive groups."
The Socialist Caucus circulated a list of convention delegates who were caucus members, including;[6]
New Directions conference
In May 1986, Democratic Socialists of America "supported" a New Directions conference in the Washington DC Convention Center. Conference organizer was Jo-Ann Mort of DSA.
Initial sponsors of the event included Reps. Charles Hayes and Barney Frank, labor leaders William Winpisinger and Jack Sheinkman (ACTWU), Joyce Miller (ACTWU and CLUW) and Jack Joyce, (Bricklayers), feminist leaders Gloria Steinem and Judy Goldsmith and policy analysts Robert Kuttner, Jeff Faux and Eleanor Holmes Norton.
Peace activism
Winpisinger worked "for a sane nuclear policy for all people in advocating the conversion of arms production to peaceful purposes" and was a founder and president of the Citizen/Labor Energy Coalition.
Consumers Opposed to Inflation in the Necessities
An article posted in the September, 1979 edition of Democratic Left by Jane Midgley:[7]
[...]
[...]
[...]
[...]
Soviet front connection
Winpisinger had a connection to the Soviet front World Peace Council.
The first official World Peace Council conference[8]in the U.S. was the Dialogue on Disarmament and Detente held January 25-27, 1978, in Washington, DC.
It was sponsored by a small committee including and World Peace Council Presidium member Communist Party USA functionary and Amalgamated Meatcutters Union vice-president Abe Feinglass.
Attendees included Katherine Camp, International President of the Women's International League for Peace & Freedom, Rep. Ron Dellums, International Association of Machinists and Aerospace Workers president William Winpisinger, Edith Villastrigo, legislative director of Women Strike for Peace, Illinois State Representative Peggy Martin Smith and Connecticut State Representative Irving Stolberg.
Socialist Debs award
Every year since the mid 1960s the Indiana based Eugene V. Debs Foundation holds Eugene Debs Award Banquet in Terre Haute, to honor an approved social or labor activist. The 1980 honoree, was William Winpisinger.[9]
Collaboration with Jane Slaughter
In 1983 Winpisinger co-authored[10](with radical labor journalist Jane Slaughter) "Concessions & How to Beat Them".
Institute for Policy Studies
Winpisinger was a member[11]of the Institute for Policy Studies 20th Anniversary Committee, which organized an April 5, 1983, reception at the National Building Museum, Washington DC attended by approximately 1,000 IPS staffers and former staff.
In 1993 William Winpisinger was listed[12] among former "Trustees" of the Institute for Policy Studies, Washington DC.
1987 Rainbow conference/Board
At the 1987 National Rainbow convention in Raleigh North Carolina, a new board was elected, which included William Winpisinger.
"In Celebration of Michael Harrington"
"In Celebration of Michael Harrington" was held June 30 1988 Roseland Ballroom 239 West 52nd Street.
The Program
Tickets: $125 each. A $250 contribution enables you to attend a reception with the speakers prior to the Celebration. Proceeds from the tribute will endow The Next America Foundation, a new policy center Mike has created to be a powerful voice for justice and democracy in public debate. Make contributions payable to The Commonwealth Foundation and mail to l5 Dutch Street, Suite 500. New York, NY I 0038. All contributions are tax deductible. For more information about the Tribute, The Next America Foundation, or the Commemorative Journal, contact Jane Welna at (212) 962-0390.
Committee for Responsive Democracy
The Committee for Responsive Democracy began a series of hearings in New York, on November 13, 1990, on the "need for significant reform of the two party political system, as well as the feasibility of forming a new party". Sixteen hearings were planned, in eight major cities across the US. New York City Comptroller Liz Holtzman greeted the commission, saying that "many people don't see themselves as being represented".
Witnesses included Manhattan Borough president Ruth Messinger, Simon Gerson, chair of the Political Action and Legislative Commission of the Communist Party USA, Fern Winston of the Party's Womens Equality Commission. Civil Rights attorney Joseph Rauh urged work to invigorate the Democratic Party rather than turn to a third party.
Among the Commission's 49 members were former machinists Union president William Winpisinger, former California Supreme Court justice Rose Bird, former New Mexico governor Toney Anaya, environmentalist Barry Commoner, farm workers union leader Dolores Huerta, former Attorney general Ramsey Clark, author Barbara Ehrenreich, Joseph L, Rauh, Jr. and former Congressman and Presidential candidate John Anderson.[13]
DSA book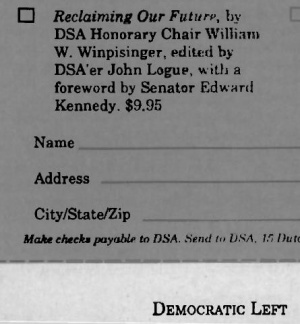 In 1991 Democratic Socialists of America was selling a book "Reclaiming our Future", by DSA honorary chair William Winpisinger, edited by "DSAer" John Logue and carrying a foreword by Senator Edward Kennedy.[14]
Peace for Cuba Appeal
In 1994 William Winpisinger was an initiator of the International Peace for Cuba Appeal, an affiliate of the Workers World Party dominated International Action Center.
Other prominent initiators included Cuban Intelligence agent Philip Agee, academic Noam Chomsky, Congressman John Conyers and Charles Rangel[15].
DSA vice chair
In 1984 Democratic Socialists of America vice chairs were Harry Britt, Ron Dellums, Dorothy Healey, Irving Howe, Frances Moore Lappe, Manning Marable, Hilda Mason, Marjorie Phyfe, Christine Riddiough, Rosemary Ruether, Edwin Vargas Jr, William Winpisinger[16].
Socialist honoree
William Winpisinger was presented with Chicago DSA's Thomas-Debs Award in May of 1989, a few months before he retired, at the 31st Annual Thomas - Debs Dinner.
References
Template:Eugene V. Debs Award recipients