William Mandel
From KeyWiki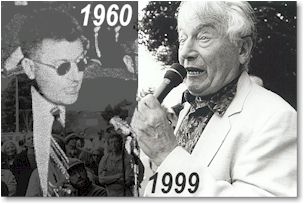 William Marx Mandel
"A letter to Congress" on North Korea
In 1974, approximately 50 prominent, mainly Communist Party USA aligned leftists, signed a "Letter to Congress" on the situation regarding North Korea.
"For a quarter of a century the people of all Korea have needed such a peace agreement. The American People are ready for it. The People of the world deserve it. Peaceful coexistence must replace war and the threat of war. Negotiations must replace confrontation."
"Therefore, we the undersigned, concerned about the dangerous conditions in Korea earnestly appeal to you, and to all peace-minded Americans to join together in combining our reason and our political influence to secure the peaceful resolution of this problem."
The letter to Congress was in response to a March 25th, 1974 letter from the Supreme Peoples Assembly of the Democratic Peoples Republic of Korea to the United States Congress.
The signatories which included William Mandel Author, urged Congress to act on North Korea's Concerns.[1]
CoC National Conference endorser
In 1992 William Mandel, broadcaster KPFA, Kensington, California endorsed the Committees of Correspondence national conference Conference on Perspectives for Democracy and Socialism in the 90s held at Berkeley California July 17-19.[2]
Committees of Correspondence
At the Committees of Correspondence conference, Berkeley California, July 17-19, 1992, was a candidate[3]for the CoC National Coordinating Committee-from Berkeley, Author and radio commentator.
CrossRoads
In the mid 1990s William M Mandel was[4]a contributing editor to Oakland based Institute for Social and Economic Studies- sponsor of CrossRoads magazine, which sought to promote dialogue and building new alliances among progressives and leftists... and to bring diverse Marxist and socialist traditions to bear while exploring new strategies and directions for the progressive political movements.
Progressives for Obama
In 2009 William Mandel Journalist and Activist was listed as a signer of the Progressives for Obama website.[5]
References