Walter Mondale
Jump to navigation
Jump to search
Walter F. Mondale Template:TOCnestleft
F.B.I. Soviet contacts memo
On July 28, 1970, the F.B.I. issued a top secret memo entitled CONTACTS BETWEEN REPRESENTATIVES OF THE SOVIET, UNION AN MEMBERS OR STAFF PERSONNEL OF THE UNITED STATES CONGRESS INTERNAL SECURITY - RUSSIA
The memo stated;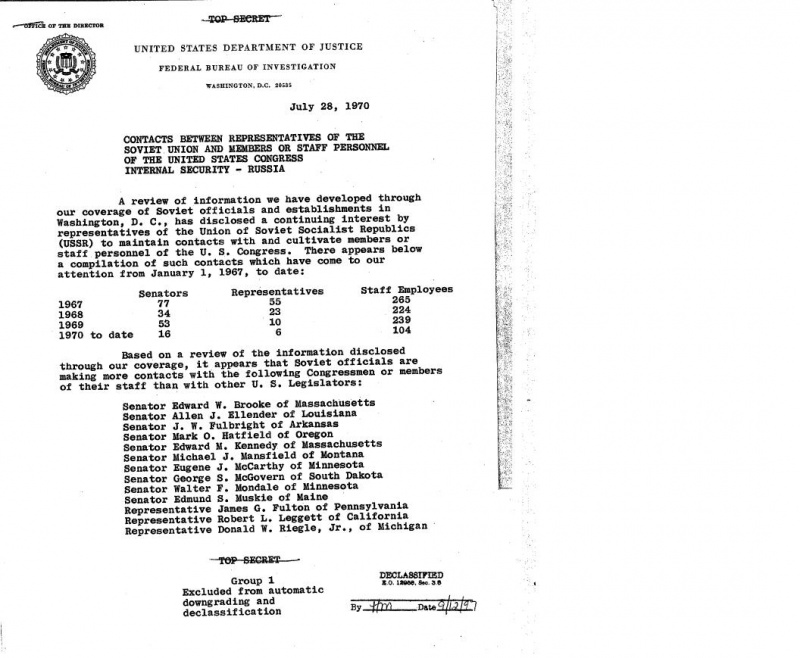 A review of information we have developed through our coverage of Soviet officials and establishments in Washington, D. C., has disclosed a continuing interest by representatives of the Union of Soviet Socialist Republics (USSR) to maintain contacts with and cultivate members or staff personnel of the U. S. Congress. There appears below a compilation of such contacts which have come to our attention from January 1, 1967, to date:
Senators
1967 77
1968 34
1969 53
1970 to date 16
Representatives
1967 55
1968 23
1969 10
1970 to date 6
Staff Employees
1967 265
1968 224
1969 239
1970 to date 104
Based on a review of the information disclosed through our coverage, it appears that soviet officials are making more contacts with the following Congressmen or members of their staff than with other U. S. Legislators
Group 1
Excluded from automatic downgrading and declassification
The document was declassified on September 12, 1997
Supported by Council for a Livable World
The Council for a Livable World, founded in 1962 by long-time socialist activist and alleged Soviet agent, Leo Szilard, is a non-profit advocacy organization that seeks to "reduce the danger of nuclear weapons and increase national security", primarily through supporting progressive, congressional candidates who support their policies. The Council supported Walter Mondale in his successful Senate run as candidate for Minnesota.[1]
21st Century Democrats support
21st Century Democrats is a Political Action Committee that has stood for Progressive causes for over 20 years. Founded in 1986 by Institute for Policy Studies affiliate, Iowa Senator Tom Harkin, Democratic Socialists of America affiliates, former Texas Agriculture Secretary Jim Hightower, and former Illinois Congressman Lane Evans. Its three main goals are to help elect progressive candidates, train young people about grassroots organizing, and lastly, to continue to support our elected officials after Election Day "through our comprehensive progressive network".
Long time Board chair was Democratic Socialists of America member Jim Scheibel, a former Mayor of Saint Paul, Minnesota.
The mission of 21st Century Democrats is to build a "farm team" of progressive populists who will be the future leaders of the Democratic Party.
In each election cycle, we endorse a diverse array of candidates who exemplify our values and show unusual promise to advance our progressive goals. We invest in some of the most competitive races as well as in some of the most challenging – those in which the candidates are outstanding but the traditional Democratic supporters are most reticent. We back candidates in primaries as well as general election races, and we focus the bulk of our resources on electing challengers and protecting vulnerable incumbents.[2]
Mondale was endorsed by 21st Century Democrats in the 2002 election cycle.[3]
Wellstone Action
In 2009 Walter Mondale was listed as a member of the Advisory Board[4] of Wellstone Action, a Minnesota based organization based on the political legacy[5] of that state's late 'progressive" Senator Paul Wellstone.
Wellstone Action and Wellstone Action Fund combine to form a national center for training and leadership development for the progressive movement. Founded in January 2003, Wellstone Action's mission is to honor the legacy of Paul and Sheila Wellstone by continuing their work through training, educating, mobilizing and organizing a vast network of progressive individuals and organizations.
References