Walt Minnick
Jump to navigation
Jump to search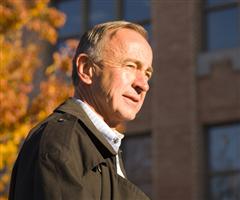 Walt Minnick was a Democratic member of the United States House of Representatives, representing the 1st congressional district of Idaho. He was born September 20, 1942. The district is located in the western part of the state and includes roughly one-fourth of Boise and most of that city's suburbs, as well as the cities of Meridian and Nampa. It also includes the cities of Lewiston, Moscow and Coeur d'Alene.
Minnick was born in Walla Walla, Washington and grew up on a wheat farm. He received his bachelor's degree from Whitman College, then went on to Harvard Business School.
He is a businessman and politician who resides in Boise, Idaho. Minnick is also a U.S. veteran who served during the Vietnam War but not in Vietnam.
From Mountain Goat Reporter:
In the airbrushed version, Walt spent two years in the Army and even, as his campaign Facebook page reads, "serving his country in Vietnam." This assertion is repeated in other biographies, including the executive search site "Boardroom Insiders" and The Committee for a Liveable Future (LivPAC), the political action committee founded by Congressman Earl Blumenaur (D-OR). Actually a young Walter Minnick was desperately looking for a way to avoid the draft, and did so successfully. While scores of men his age, most with less means, spent their tours of duty in the jungles of Southeast Asia, Walt spent his time as an analyst in the Pentagon, with at least the last six months of his two-year obligation spent in the White House.
He is also the co-founder and CEO of SummerWinds Garden Centers, Inc., the 10th largest independent garden center company in the United States.[1]
Minnick also served as CEO of TJ International, a $700 million public company in the forestry industry headquartered in Idaho (acquired by Weyerhaeuser in 2000) and has served on the board of directors of several corporations and non-profit organizations.[2]
Affiliations
Earth Justice
Minnick was a donor to Earthjustice, a legal group that uses litigation to force far left environmental policies through the courts, while destroying good paying jobs. Earthjustice is a non-profit public interest law firm, (formerly the Sierra Club Legal Defense Fund).[3] In Earthjustice's 2003 annual report, Minnick was listed as being a member of their "Advocates Circle," their mid-level donor membership level.
EarthJustice, an environmental law firm with the motto, "because the Earth needs a good lawyer," makes a business of suing to achieve their extreme policy goals. It has sued to halt plans to drill offshore, prevent drilling in ANWR and have made it a policy priority to breach the lower Snake River dams as well as restricting access to public lands.
League of Conservation Voters
On Sept. 17, 2008, the League of Conservation Voters endorsed Minnick for office.
"Walt Minnick's experience as a business leader gives him the tools to reach across the isle and work on meaningful, bipartisan measures to keep Idaho and the West a great place to live and raise families," said LCV President Gene Karpinski. "He will be an important voice for legislation to end our addiction to oil and invest in alternatives to create new good-paying jobs."[4]
NARAL
Representative Minnick supported the interests of NARAL Pro-Choice America 100 percent in 2009.[5]
The National Abortion Rights Action League, or the NARAL Pro-Choice America Foundation (previously the National Association for the Repeal of Abortion Laws), is committed to advancing pro-choice ideas, taking an offensive approach.
Planned Parenthood
Minnick received $5,000 in lobbying funds from Planned Parenthood in 2008.[6]
Planned Parenthood Federation of America (PPFA) is an organization that funds abortions for people who ask for their services. PPFA has 91 locally governed affiliates nationwide operating 850 health centers, that offer abortion services and abortion referrals, birth control services, emergency contraception (morning after pill) services, general health care, HIV testing, Hepatitis vaccines and HPV vaccines, Lesbian, Gay, Bisexual and Transgender (LGBT) services, men's health services, patient education, pregnancy testing and pregnancy services, sexually transmitted disease (STD) testing and treatment and women's health services.
Unions
Walt Minnick is supported by big unions in Idaho. In 2008, Minnick received almost $100,000 in donations from the labor unions.[7] To date, in the 2010 election, he has received roughly $25,000 in donations from the unions including the Teamsters, the Carpenters & Joiners Union and the International Union of Operating Engineers (IUOE).
In 2009, the National Education Association (the teacher's union) gave Representative Minnick a grade of A.[8] In 2008, the NEA contributed roughly $5,000 to Minnick's campaign.[9] Lifetime contributions are approximately $22,000 so far.
Wilderness Society
Since 1935, The Wilderness Society has led the conservation movement in wilderness protection, writing and passing the landmark Wilderness Act, and winning legislative protection for 109 million acres of wilderness, including 56 million acres of land in Alaska, eight million acres of land in California and millions more throughout the nation.[10] It currently has 300,000 members and supporters and is an ultra-environmental movement unto itself. They are involved deeply with the 26% of the United States that is overseen by the Bureau of Land Management.
One of The Wilderness Society's strengths is building coalitions consisting of environmental groups, as well as representatives of the faith community, sportsmen, ranchers, scientists, business owners and others. Another specialty is economic analysis. They are aligned with Green Peace and are involved in global warming prevention.[11]
Minnick served on the Governing Board of The Wilderness Society for 16 years.[12]
Contributions
Minnick seems to be getting contributions from the left and the right, but there are some heavy players on the left that give to Walt Minnick including the law firm of Arnold & Porter, LLP which is a left-wing law firm from DC. If you follow the ties that bind, this firm is connected to individuals such as Charles Halpern, Sarah Bloom Raskin, Thurman Arnold and Jeremy Karpatkin.
Top Contributors
Top Contributors to Walter Clifford Minnick:
Contributions 2010
Top Contributors to Campaign Committee and Leadership PAC for 2010 to Date:
Record and Controversies
Minnick voted for both Nancy Pelosi as speaker in 2008 and Charles Rangel per the party line for the Democrats. He voted against the resolution to remove Rangel as chairman of the powerful House Ways and Means Committee for ethics violations and against the Republican Study Committee's (RSC's) blueprint to restrain spending and to reduce the budget.[13]
Minnick has voted with the Democrats 72% of the time.[14] After taking office, Minnick joined the Blue Dog Coalition of House Democrats.[15] He has a strong relationship with Steny Hoyer as well.
Congressman Minnick has voted with the Democratic majority for the Lilly Ledbetter Fair Pay Act of 2009,[16] the Helping Families Save Their Homes Act of 2009,[17] the Family Smoking Prevention and Tobacco Control Act,[18] the Local Law Enforcement Hate Crimes Prevention Act[19] and against establishing spending caps through fiscal year 2014.[20]
In January 2009, Minnick joined with 10 other Democrats to oppose the American Recovery and Reinvestment Act of 2009.[21] In June 2009, Congressman Minnick voted with 43 other Democrats against the American Clean Energy and Security Act[22] and in December 2009, voted with 38 other Democrats against the Affordable Health Care for America Act.[23] Minnick was the lone Democrat to receive a perfect score from the Club For Growth on their RePork Card ratings for his votes to strip pork-barrel spending from bills.[24] Minnick voted for Cash for Clunkers and H.R. 2499 - the Puerto Rico Democracy Act.[25]
Minnick strongly supports modifying tax breaks given to the wealthiest Americans. He is for a progressive income tax and believes that it is one of the cornerstones of modern society. Its premise is that the wealthy contribute proportionally more than those with lower incomes. He believes that is the right way to run our tax system, and we should keep it that way. It also means that he believes in the principle of progressive taxation, i.e., that redistribution of wealth is a proper role of government.[26]
Illegal Immigration
In 2008, Minnick compared the border fence being built along the Southern Border to the Berlin Wall. He also called for a path to normalization for illegal immigrants which is basically amnesty.[27]
Although he calls for secure borders, Minnick has attempted to avoid until recently immigration as an issue and did not put it on his platform. He has made some statements in favor of a path to citizenship, but when an organization called the Club for Truth accused Minnick of being soft on illegal immigration, his spokesman responded:
"Walt's position on immigration has been consistent from the beginning, and it's that we need to secure the borders, send troops to the borders if necessary. Everyone who's failed a background check needs to be deported immediately, the remainder needs to pay a fine and move to the back of the line for legal immigration."[28]
This position mirrors President Obama's current stance that if you are here illegally, you don't need to be deported as long as you pass a background check and pay a fine. After doing this, you will receive one form of amnesty or another. This is the progressive stance on illegal immigration.
Jobs Bill
Walt Minnick voted in favor of the Jobs Bill - HR 2847 which passed in the House of Representatives on March 4, 2010. This bill was originally titled: H.R. 2847: Green Jobs Act of 2007.[29] It is now entitled: H.R.2847 - Hiring Incentives to Restore Employment Act.[30] The bill was signed into law by President Obama on 3/18/2010.
The Jobs Bill will create few if any jobs, while spending a great deal of taxpayer money in the process.[31] Much of the bill is financed over the coming decade by cracking down on offshore tax havens, though it would add $13 billion to the debt in the coming three years.
Second Amendment
Walt Minnick is quoted as owning 7 guns. He is also an avid hunter by all accounts.
Minnick received a D+ from the NRA in 2008 in response to his answers on their 27-question survey. Minnick is backed by the liberal Maryland-based American Hunters and Shooters Association, which is an association that supports the banning of certain firearms and does not support the Second Amendment as implemented by the Constitution.[32] They believe in government regulation and control. They are a progressive group advocating gun control on arms that are not strictly for hunting or recreation and they are extremely pro-conservation and pro-environment.
Minnick has issued conflicting statements on gun control. First he is against it:
"I think guns are part of our American culture," Minnick said earlier this month. "There is no one more opposed to gun control than I am."
Then he is for it:
The survey included this question: "The NRA opposes gun bans as a violation of both the Second Amendment and common sense. (However, fully automatic firearms, short-barreled shotguns and certain 'destructive devices' are currently very strictly regulated.) Which of the following statements best describes your opinion about banning firearms?"
Minnick, an NRA member, wrote "firearms with no legitimate sporting or recreational use" should be banned.
Andrew Arulanandam, an NRA spokesman in Virginia and a former Idaho GOP state director, said that answer won Minnick the poor rating.
Minnick's answers did conform with the NRA's stance opposing registration, federal licensing and waiting periods. His answers also showed he was backing the U.S. Supreme Court's June 2008 decision to overturn a Washington, D.C. handgun ban. However, Minnick does support the Brady Bill.
Serve America Act
Minnick voted in favor of instituting National Service as a new social invention. The H.R. 1388: Serve America Act (Mar 2009).[33] Following is a summary of this Progressive piece of legislation:
Authorizes funding to promote, operate and expand service-learning programs in elementary and secondary schools through training, curriculum development, program assessment methods and community outreach (Sec. 1201).
Allows the Secretary of Education to designate up to 25 Campuses of Service, or institutions of higher education where service-learning is an important component of the curriculum to receive a government award to develop or disseminate service-learning models (Sec. 1203).
Expands AmeriCorps openings over 8 years, allowing for up to 250,000 AmeriCorps volunteers by fiscal year 2017 (Sec. 1301).
Raises the amount of the full-time national service educational award to the maximum amount of a Federal Pell Grant (Sec. 1404).
Expands the National Civilian Community Corps mission to include projects on energy conservation, environmental stewardship or conservation, infrastructure improvement, urban and rural development or disaster preparedness needs (Sec. 1506).
Wall Street Reform and Consumer Protection Act of 2009
Walt Minnick voted for H.R.4173 - Wall Street Reform and Consumer Protection Act of 2009. Here is a quick summary of this legislation:
This is comprehensive legislation to overhaul regulations in the financial sector. It would establish a new Consumer Financial Protection Agency to regulate products like home mortgages, car loans and credit cards. It would give the Treasury Department new authority to place non-bank financial firms, like insurance companies, into receivership and regulate the over-the-counter derivatives market. A two-page summary from the House Financial Services Committee can be downloaded here.[35]
Committees
Articles
External links
References