Vinie Burrows
From KeyWiki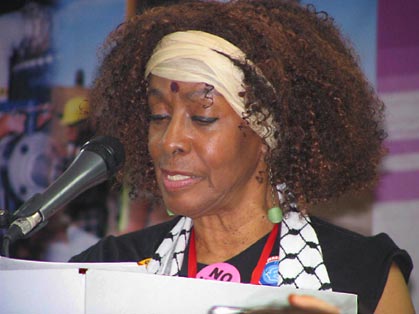 Vinie Burrows is an actress, writer, socialist activist, and educator.
We Will Make Peace Prevail!
On March 28, 1982 the New World Review organized a gala luncheon "We Will Make Peace Prevail! Disarmament Over Confrontation, Life Over Death", at the Grand Ballroom, Hotel Roosevelt, New York City. Virtually all participants were identified as Communist Party USA.
Readings were given by Vinie Burrows and Sarah Cunningham. Vinie Burrows was on the Committee of Sponsors of the event.[1]
Education
Vinie Burrows completed a B.A. in pre-law at NYU and received her M.A. in Performance Studies in 2002[2].
Acting career
Vinie Burrows began her acting career as a child actress in a production of Wisteria Trees directed by Joshua Logan on Broadway with Helen Hayes. Since then, she has been featured in over 5,000 performances on and off-Broadway, on television, and in films, as well as on the stages of theatre groups, universities, and other organizations around the world.
She has appeared onstage with Mary Martin, Claude Rains, Ossie Davis, James Earl Jones, Louis Gossett, and Earle Hyman. An active member of The Dramatists Guild, Vinie Burrows has gained honors in radio, film and television with appearances on As The World Turns, The Today Show, Good Morning America, CBS Presents, and The Hallmark Hall Of Fame. She also hosted More Than Half the World, a weekly two-hour radio show in New York City for three years. Her solo productions include a repertoire of eight different one-woman shows including, Rose McClendon: Harlem's Gift to Broadway, Sister! Sister!, A Child is Born, Daughters of the Sun, and Song of Lowino[3].
Honors and activism
Vinie Burrows has been the recipient of various honors awards throughout her performing career including, the Eugene McDermott Award of the Council for the Arts (Massachusettes Institute of Technology, 2002), an Emmy nomination in 1996 for her narration of The Amistad Revolt, a Living Legend Award for a Lifetime of Excellence of in Theatre (National Black Theatre Festival, 1995), and the Paul Robeson Award from the Actors' Equity Association.
Burrows has been adjunct professor at St. Peter's College and Sarah Lawrence College, a lecturer at The New School for Social Research and theater director at Franklin and Marshall College. Sheis the Permanent Representative for the Women's International Democratic Federation, a non-governmental organization in consultative status with the Economic and Social Council of the United Nations. She is also Chair Emeritus of the NGO Committee on Southern Africa. In 1990, the Alliance Against Racist and Political Repression gave Vinie their Human Rights Award and in 1992, the NYC Chapter of the National Organization for Women honored her with their Susan B Anthony Award[4].
Robeson event sponsors
On May 31 1998 the Peoples Weekly World held a Paul Robeson birth centennial celebration in New York, at the Henry Winston Auditorium.
Speakers included Gus Hall, chairman of the Communist Party USA and Roger Green of the NY State Assembly.
Sponsors of the event included poet Amina Baraka, Grace T. Bassett, actress Vinie Burrows, former Peoples Voice editor Marvel Cooke, Councilmember Tom Duane, Attorney Rob Ellis, Assemblymember Roger Green, Gus Hall, Councilmember Bill Perkins, labor unionist Bobbie Rabinowitz, actor John Randolph, Pete Robinson, poet Sonia Sanchez, singer Pete Seeger, labor unionist Chris Silvera, PWW editor Tim Wheeler, New York City Coalition of Black Trade Unionists president Jim Webb and labor unionist Ira Williams.[5]
Communist "Manifestivity"
On October 30 and 31, 1998 the Brecht Forum presented the "Communist Manifestivity to celebrate the 150th Anniversary of the Communist Manifesto" at Cooper Union's Great Hall, New York.
Individual endorsers of the event included Vinie Burrows.[6]
Presentations/performances included a dramatic reading from the Communist Manifesto by Amiri Baraka, Vinie Burrows, Sandra Maria Esteves, Tony Kushner, Louis Reyes Rivera and Wallace Shawn
WIDF
In May 2007, under the theme "Women of the World: a vital force against neoliberal globalization, terrorism and imperialist wars; for equality, social and economic justice and for peace," more than 1,000 women representing organizations from five continents met in Caracas, Venezuela, from April 9 through 14. They were joined by thousands of Venezuelan women who hosted the 14th Congress of the Women's International Democratic Federation.
Many women went from the U.S. The largest delegation was organized by African-American artist Vinie Burrows, who is also the WDIF representative to the U.N., and the National Women's Fightback Network of the International Action Center, an affiliate of the WIDF.
The Burrows delegation included representatives of the Granny Peace Brigade and the Women's International League for Peace & Freedom. The NWFN delegation included Susan Abulhawa, Palestinian writer and director of Playgrounds for Palestine; Brenda Stokely and Anna Wilson from the labor sector; Patricia Dahl, who works in solidarity with Colombia; Nellie Hester Bailey, co-founder and director of the Harlem Tenants Council; Sara Ann Mokuria, LeiLani Dowell, Liza Green, Jill Hill, Kris Hamel, Minnie Bruce Pratt, all from the NWFN.
Free Mumia Abu-Jamal
In 2008 Vinie Burrows, U.N. Representatie, Women's International Democratic Federation, New York signed a statement circulated by the Partisan Defense Committee calling for the release of convicted "cop-killer" Mumia Abu-Jamal.[7]
WIDF affiliated United States "Regional Workshops"
Circa 2007 these people were members of the US "Regional Workshop" of the former Soviet front Women's International Democratic Federation;[8]
Open Letter to Obama on Iran
In 2008 Vinie Burrows of Women's International Democratic Federation, New York signed an online petition "A Open Letter to Barack Obama on Iran".[9]
Independent Progressive Politics Network
In 2009 Vinnie Burrows served on the Advisory Committee of the Independent Progressive Politics Network[10].
Vietnam Agent Orange Relief & Responsibility Campaign
In 2012 Vinie Burrows served on the Board of the Vietnam Agent Orange Relief & Responsibility Campaign.[11]
Maine tour
In early 2010 Burrows toured Maine.
The renowned actress and political activist honors Martin Luther King and those struggling against racial oppression, bringing a message of support for the Cuban 5 political prisoners.
Tuesday, January 18, Farmington, Nordica Auditorium, Merrill Hall, University of Maine, 7 p.m.: presentation of "Walk Together Children," a program drawing upon slave narratives and the works of Langston Hughes, Richard Wright, Ishmael Reed, and others.
Wednesday, January 19, Portland, Glickman Library (seventh floor), University of Southern Maine, 314 Forest Ave, 7 p.m.: reception marking the exhibition (on fifth floor) of prison paintings by Antonio Guerrero, one of the Cuban 5 political prisoners. Vinie Burrows will speak, dedicating the evening to the late Rev. Lucius Walker of Pastors for Peace. She calls for Antonio's freedom and that of four other Cuban men serving unjust sentences in U.S. prisons.
Ms. Burrows has performed on and off Broadway, on radio and television. "A magnificent performer" (The NY Times); "one of the reigning divas of the Black theater" (drama critic Clive Barnes).
At the United Nations, Ms. Burrows serves as Permanent Representative for the Women's International Democratic Federation. Her causes have included labor and women's rights, racial justice, and universal health care. "The future of the planet rests on people coming together to save the earth and all living things," she wrote recently; "It is five minutes to midnight. Come together, brothers and sisters".
Ms. Burrows' appearances in Maine are arranged by the Maine Peace Council and Let Cuba Live.[12]
Alfred L. Marder 90th Birthday Celebration
The March 2012 Host Committee, in honor of Connecticut Communist Party USA member Alfred Marder's 90th Birthday Celebration, held at the New Haven People's Center consisted of;
Hon. Rosa DeLauro, Sen. Toni Harp, Sen. Martin Looney, Rep. Juan Candelaria, Rep. Patricia Dillon, Rep. Toni Edmonds Walker, Rep. Gary Holder-Winfield, Rep. Roland Lemar, Ald. Jorge Perez, President, New Haven Board of Aldermen, Ambassador Sylvester Rowe, Mohammed Barrie, Vinie Burrows, Mary Compton, Joelle Fishman, Craig Gauthier, Emanuel Gomez, Hilda Kilpatrick, Henry Lowendorf, Kenneth Marder, Rev. Scott Marks, William Morico, John Olsen, Quentin Snediker, Jarvis Tyner, Andrea van den Heever, Susan Yolen
A statement issued on the committee's behalf read;[13]
Dear Friends and Family of Al Marder,
We are excited to invite you to celebrate the 90th birthday of Al Marder and to recognize his many contributions, international and local, toward world peace, justice and equality.
Please join us in this joyous occasion on Sunday, March 18, at 3:00 pm at the New Haven Peoples Center, 37 Howe Street, New Haven, Connecticut 06511.
References