Victor Rabinowitz
From KeyWiki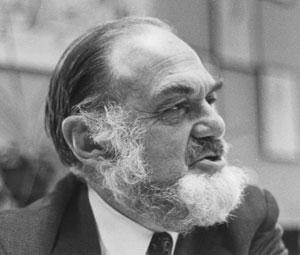 Victor Rabinowitz Esq. (July 2, 1911 – November 16, 2007), was a New York activist and lawyer.
Herbert Aptheker Testimonial Dinner
On April 28, 1966 Victor Rabinowitz was a sponsor of the Herbert Aptheker Testimonial Dinner. The dinner was held on the occasion of Herbert Aptheker's 50th birthday, the publication of his 20th book, and the 2nd anniversary of the American Institute for Marxist Studies. It was held in the Sutton Ballroom, The New York Hilton, Avenue of the Americas, 53rd to 54th Street, New York City. Most speakers, organizers and sponsors were known members or supporters of the Communist Party USA.[1]
Changing Communist brands
Leonard Boudin, the father of Weatherman Kathie Boudin, was a partner of Victor Rabinowitz.
Both served as attorneys for the Castro Communist government of Cuba. Victor Rabinowitz admitted in his book Unrepentant Leftist, A Lawyer's Memoir that he joined the Communist Party USA late in 1942[2].
He also stated "I date the end of my membership in the Party at sometime in 1960 or 1961. There was no formal act marking the end of the relationship. I just stopped going to meetings and paying dues and considered myself a nonmember, and I suppose the Party came to the same conclusion, though I continued to meet with Party members to discuss both political and legal matters for many years after."[3] .
Rabinowitz admitted being loyal to the Soviet Union and said, "The importance of the Soviet Union to the Communist Party of the United States can hardly be overestimated. With all of its imperfections the U.S.S.R. represented, to me and all those I worked with, Socialism Triumphant. Itsn proclaimed goals were our goals; its hopes were our hopes."[4] In January 1963, Communist Party USA functionary Henry Winston met with leaders of the East German Socialist Unity Party, the ruling Communist Party of East Germany. Winston provided the East Germans with a list of members of the Progressive Labor Party, the Maoist Communist organization in the United States. Among those he listed were Victor Rabinowitz, New York, Lawyer, and Joni Rabinowitz, student, daughter of Victor Rabinowitz. According to the list in the East German archives it was prepared by Comrade Mille Stand[5].
Young DSA conference
The 1998 Democratic Socialists of America Youth Section Conference was held on February 28 through March 1 on the campus of Bryn Mawr College, outside Philadelphia. It provided young activists with the chance to acquaint themselves with others members of the Youth Section, participate in several informative workshops, and learn from long-time progressive and socialist activists.
One of the main features of the conference was the "Activism Through the Ages" panel discussion. The panel featured testimonials from four brave souls who can take pride in their commitment.
Civil rights attorney and National Lawyers Guild founder Victor Rabinowitz spoke[6]about enduring as a principled radical during the dark period that characterized the onset of the Cold War and the damning scourge that was McCarthyism in America.
Advisory Board Maurice & Jane Sugar Law Center
As at Winter, 2008, the following served on the Advisory Board of the Maurice & Jane Sugar Law Center:
References