Tupac Shakur
Jump to navigation
Jump to search
Template:TOCnestleft Tupac Shakur was a revolutionary minded "rap" artist.
Tupac Shakur joined the Young Communist League in Baltimore as a teen in the late '80s. He was dating Mary Baldridge, the daughter of Jim Baldridge, the chairman of the Communist Party of Maryland at the time and his wife, Margaret Baldridge. Ironically, Tupac Shakur and his "white girlfriend" participated in an "antigun violence campaign" spearheaded by life-long "activist" Truxon Sykes.[1]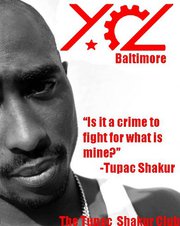 Though murdered in September 1996, in the famous East Coast West Coast hip hop wars, Shakur's revolutionary memory lives on in Baltimore. The Young Communist League branch in the city is named the Tupac Shakur Club in his honor .
Application
References