Tony Pecinovsky
From KeyWiki
Tony Pecinovsky is a prominent member of the Communist Party USA. He is currently[1]district staffperson for the Missouri/Kansas Communist Party.
Tony Pecinovsky is the Bureau Chief of the Missouri / Kansas Friends of the People's World. He serves as the Secretary-Treasurer of the Greater St. Louis CWA City Council and Secretary of St. Louis Jobs with Justice. He is also a Newspaper Guild delegate to the St. Louis Central Labor Council and a St. Louis Progressive Vote Coalition board member[2].
He is married to Julie Terbrock.
New York
In 2003, Tony Pecinovsky was a independent media/labor activist in Brooklyn, New York. He has organized for the SEIU and the Teamsters[3].
YCL Midwest Voter Project
This Fourth of July, 2004, activists from across the country joined activists in Missouri, to defeat George W. Bush. Communist Party USA and Young Communist League members, alongside friends and allies from Texas, California, New York, and everywhere in between, have been plugged into local political battles.
The goal of the CPUSA's Midwest Project was to defeat Bush and the ultra-right in America's heartland. Central to the Missouri "part of the Midwest Project is helping to elect progressive, pro-labor candidates. Strengthening grassroots coalitions and building a broader movement to defeat Bush is tied directly into the efforts to build the Party and YCL."
After Missouri, the Midwest Project workers went to Ohio.
Participants included Tony Pecinovsky, Docia Buffington, Sheltreese McCoy, Joel Lewis and Cinomin Brothers.[4]
Dynamic Collective 2005
In 2005, the Collective running the Young Communist League magazine Dynamic, consisted of Shane Brinton, Cesar Casamayor, Melissa Chadburn, Julia Donahue, Maya Funaro, Cristina Gallo, Abdul-Aziz Hassan, Molly Kelly, Tony Pecinovsky, Kristy Ringor, Brandon Slattery, Mike Tyner, Keren Wheeler.[5]
Venezuela
Pecinovsky traveled to Venezuela in 2005. In March 2006, he gave a talk on the experience the University of Missouri-Columbia[6];
With the help of Cuban medical personnel, he said, 75% of Venezuelans receive free health care, and currently thousands of Venezuelan students are training in Cuba to become doctors and will provide free health care upon return.
Millions of Venezuelans have learned to read and write within the past few years, and those previously excluded from education because of poverty are seeking higher education for free — another aspect of Chavez' 21st century socialism. "Chavez realizes that if you want to get rid of poverty, you need to empower the poor," Pecinovsky said.
Communist Party USA
In September 2006 the Peoples Weekly World listed several members or supporters of the Missouri/Kansas Communist Party USA.[7]
Colan Holmes, Garon Foxx, Glenn Burleigh, Jim Wilkerson, Jocelyn Cochran-Biggs, Joey Mooney, John Pappademos, Julie Terbrock, Katrina Molnar, Kaveh Razani, Margarida Jorge, Mary Barbur , Nafisa Kabir, Phil Webb, Quincy Boyd, Russ Ford, Steve Johnson, Tony Pecinovsky, Yvette Harris, Zenobia Thompson.
Supporting Pat Allen
The weekend before the Aug. 8 2006, Missouri primary, about half a dozen St. Louis volunteers from the Communist Party USA went to Kenett, a small southern Missouri "Boot Heel" town, where a historic state representative race was going on. We volunteered to help Pat Allen, who would have been the first African American woman state representative in southern Missouri. She and her opponent, Tom Todd, were campaigning for the Democratic Party nomination in the 163rd District.
The volunteers included Tony Pecinovsky, district staff person for the Communist Party in Missouri and Kansas.and Jocelyn Cochran-Biggs, a member of the Missouri/Kansas Peoples Weekly World bureau. pat Allen's campaign co-ordinator was Communist Party USA affiliate Margarida Jorge.
Wrote Pecinovsky and Cochran-Biggs;
Though her opponent won the primary, the campaign was an important learning experience and in many ways a victory.
That a progressive African American woman ran at all in southern Missouri, where sexism and racism are very real, signifies a significant shift in the political balance of forces.
Allen's campaign also laid the groundwork for future base-building and mobilization, including in the Claire McCaskill campaign for U.S. Senate. McCaskill, who is in a neck-to-neck race with right-wing Republican Jim Talent, may be able to pick up some extra votes in southern Missouri, Talent's strongest base, which would be a real victory for the fight against racism and sexism, as well as for rural voters.
Shortly after the primary was over, it was discovered that Allen's opponent Tom Todd, who was running as a Democrat in a Democratic primary, was actually working the Republican base and telling voters that Allen was a Black radical.
Allen's platform included standing up for women's reproductive rights, access to affordable health care for seniors, better schools and better jobs with living wages. She also had years of experience in local politics as a teacher and member of the school board.[8]
CPUSA Missouri/Kansas District Executive Board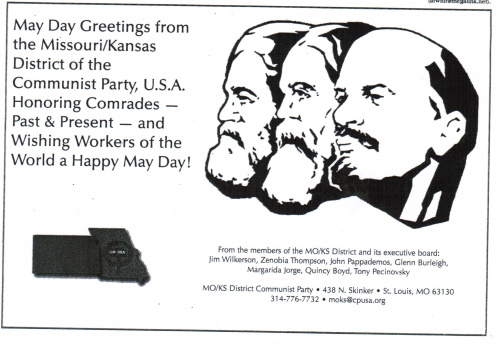 In 2007, members of the Communist Party's Missouri/Kansas District Executive Board were;
Obama supporter
Pecinovsky wrote on the PA Editors blog in February 2008[10];
History was made in Missouri (and around the country) yesterday. With a margin of less than 5,000 votes Barack Obama won Missouri's democratic primary...
Excitement is in the air here. Students, trade unionists, peace activists, and the African American community are rejoicing. Obama's call for change resonated loud and clear, especially in Missouri's urban centers – St. Louis and Kansas City.
While rural voters predominantly voted for Clinton, it was the African American, working class, urban core that put Obama over the top. With the help of a number of unions and community groups, including the Coalition of Black Trade Unionists (CBTU), the Service Employees Union (SEIU) and UNITE-HERE, Obama was able to mobilize the core of MO's progressive forces and put a dent in the Clinton election machine.
GRO Gala
This is What Democracy Looks Like! GRO – Grass Roots Organizing Tenth Anniversary Gala Event, October 8, 2010, at the The Renaissance Grand Hotel St. Louis, Missouri
Keynote Speaker John Nichols Washington Correspondent The Nation.
St. Louis Host Committee;[11]
References