Toni Harp
From KeyWiki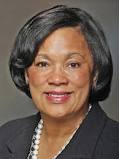 Toni Nathaniel Harp is a State Senator from Connecticut.
For five years Toni Harp served as the Alderwoman for the Second Ward in New Haven. During her term, she served as President Pro Tempore, Vice Chairwoman of the Finance, Revenue and Bonding Committee, Chairwoman of the Select Committee on Homelessness, a member of the Human Resources Subcommittee on Discrimination and Harmony, and the Public Service and Substance Abuse Committee. On behalf of the Board of Alderman, she also served on the Affirmative Action Commission. She is a member of Links, Inc., the New Haven Alumnae Chapter of Delta Sigma Theta, Incorporated, a public service sorority, and The Coalition of 100 Black Women.
Senator Harp has lived in New Haven for more than 25 years and is currently employed as the Homeless Service Director at the Hill Health Center. She was married to the late Wendell Harp and is the mother of three children, Djana, Jamil, and Matthew.[1]
Political career
In 2012, Toni Harp was serving her tenth consecutive term representing the 10th Senatorial District and its residents. Her district includes western New Haven and northern West Haven. She was reappointed to lead the budget-writing Appropriations Committee for a fifth consecutive term; she also serves on the Education Committee, the influential Executive and Legislative Nominations Committee and the Legislative Management Committee.
Senator Harp is a Deputy President Pro Tempore of the Senate, underscoring her leadership role.
She is the former chairperson of the National Conference of State Legislatures' standing committee on Health where she had the responsibility of reviewing policy, coordinating lobbying strategies, and presiding over programs throughout the United States. In 2006 Senator Harp spoke at an international forum in Brussels on public policy challenges prompted by the fast-growing population of senior citizens.[2]
Recognition
Harp's standing has been recognized by numerous groups, associations, and organizations: the American Lung Association of Connecticut presented her with a Breath of Life Award; it had previously named her Legislator of the Year for her leadership in the areas of public health and lung health. End Hunger Connecticut! commended her for efforts to redistribute food and get it onto the plates of those who struggle to afford it, and she also received a Legislative Award from the Connecticut Psychological Association for her leading role in maintaining access to mental/behavioral health services for state residents.
Senator Harp was a recipient of the 2007 Dr. Nathan Davis Award for Outstanding Government Service in the category Outstanding State Senator. This award was established by the American Medical Association and is one of the most prestigious forms of recognition for outstanding public service in the advancement of public health.
She received an annual Legislative Award from Connecticut Sexual Assault Crisis Services, Inc. for her 'unfailing' support and assistance on behalf of legislation to help sexual assault victims, survivors, and their families. She has also been active in efforts to reform Connecticut's corrections system and has spoken many times before corrections and probation officers.
In 2000, Senator Harp received the Distinguished Citizen Award from the Connecticut Psychiatrists Society. She was also selected by the New Haven County Silver Shields to receive the Dedicated Service Award. The Connecticut Chapter of the American Academy of Pediatrics presented her with its annual award. She has been named the Woman of the Year Award from the African-American Affairs Commission. She was also named 2000 Family Legislator of the Year by the Connecticut Council of Family Service Agencies for her extraordinary efforts to strengthen families in our state. She received the Clarence Daniel Advocacy Award from the Connecticut AIDS Residents Coalition. Senator Harp received the Women's Advocacy Award from the Connecticut Women's Consortium. And, she was honored by Children in Placement—CT/CASA (CIP) for her contribution to a better life for Connecticut's abused and neglected children.
In 1999, the Connecticut Chapter of the NAACP selected Senator Harp to receive its Clarence Mitchell Political Action Award. She was cited for her outstanding leadership in a number of issues, including managed care reform, the increase in the minimum wage, economic development for cities and making insurance coverage available to uninsured children, among others. Also in 1999, Senator Harp received the Phoebe Bennett Award from the Connecticut Association of Mental Health Clinics for Children.
In 1998, she was selected by the Council of State Governments for its prestigious Toll Fellowship Program. In 1997, Senator Harp was named Legislator of the Year by the Connecticut Psychological Association for her work on managed care legislation. In 1996, many groups honored her, including her peers in the Connecticut State Senate in a bi-annual recognition ceremony at the Old State House when she was named "the conscience of the Senate."She was also honored by the U.S. Congress as the 1996 Woman of the Year from Connecticut's Third Congressional District for "her achievements and contributions in public service and the advancement of women's issues."
Senator Harp has twice been honored by the Connecticut State Medical Society, first for her "advocacy on behalf of patients," and most recently with their Legislative Service Award for her record of preserving and enhancing quality medical care.
In 1995, she was awarded citations by the National Association of Social Workers, the Connecticut Association for Human Services, the New Haven Chapter of the National Association for the Advancement of Colored People, and the New Haven Club of the National Association of Negro Business and Professional Women's Clubs, Incorporated. She was also honored as one of New Haven Business' 20 Noteworthy Women. Senator Harp received her Bachelor of Arts in English from Roosevelt University in Chicago, Illinois, and a Master of Environmental Design from Yale University in New Haven, Connecticut.[3]
Activism
Harp led the fight against Big Tobacco as an outspoken proponent of the state law to mitigate second-hand smoke through a ban on indoor smoking in places of public accommodation. She also helped start Connecticut's Asthma Action Plan, through which health officials began to track asthma in Connecticut's public schools beginning in 2003. She was also recognized by the Connecticut Local Administrators of Social Services (CLASS) for her contributions in that area.[4]
Supported Progressive Health Care Reform
In late 2009, Toni Harp was one of more than 1,000 state legislators to sign a letter entitled "State Legislators for Progressive Health Care Reform". The letter was a project of the Progressive States Network and was developed in consultation with national health care reform advocates, including the AFL-CIO, AFSCME, Community Catalyst, Families USA, Herndon Alliance, National Women's Law Center, Northeast Action, SEIU, and Universal Health Care Action Network. The letter reads in part,[5]
"Failure to pass national comprehensive health reform now will further jeopardize state and local budgets, undermining public services like education, public safety, and transportation infrastructure... We, the undersigned, call on President Obama and the Congress to enact bold and comprehensive health care reform this year – based on these principles and a strong federal-state collaboration – and pledge our support as state legislators and allies in pursuit of guaranteed, high quality, affordable health care for all."
Alfred L. Marder 90th Birthday Celebration
The March 2012 Host Committee, in honor of Connecticut Communist Party USA member Alfred Marder's 90th Birthday Celebration, held at the New Haven People's Center consisted of;
Hon. Rosa DeLauro, Sen. Toni Harp, Sen. Martin Looney, Rep. Juan Candelaria, Rep. Patricia Dillon, Rep. Toni Edmonds Walker, Rep. Gary Holder-Winfield, Rep. Roland Lemar, Ald. Jorge Perez, President, New Haven Board of Aldermen, Ambassador Sylvester Rowe, Mohammed Barrie, Vinie Burrows, Mary Compton, Joelle Fishman, Craig Gauthier, Emanuel Gomez, Hilda Kilpatrick, Henry Lowendorf, Kenneth Marder, Rev. Scott Marks, William Morico, John Olsen, Quentin Snediker, Jarvis Tyner, Andrea van den Heever, Susan Yolen
A statement issued on the committee's behalf read;[6]
Dear Friends and Family of Al Marder,
We are excited to invite you to celebrate the 90th birthday of Al Marder and to recognize his many contributions, international and local, toward world peace, justice and equality.
Please join us in this joyous occasion on Sunday, March 18, at 3:00 pm at the New Haven Peoples Center, 37 Howe Street, New Haven, Connecticut 06511.
The afternoon will include remarks, greetings, cultural expressions, and refreshments.
Among Al's many projects, there is one he selected for support on this occasion. The New Haven Peoples Center is a site on the African American Freedom Trail in Connecticut. It provides social, cultural and educational opportunities for the community. From his youth, Al has taken part in the activities of the Peoples Center, where today he serves as president.
2012 People's World Amistad Awards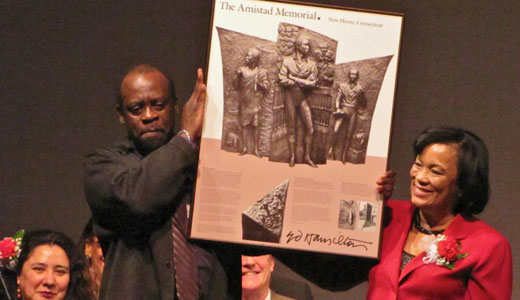 "Solidarity, determination, and celebration were the watchwords at this year's post-election People's World Amistad Awards held at Cooperative Arts and Humanities High School in New Haven", December 2012. Three grassroots leaders for progressive social change, Sen. Toni Harp, Kurt Westby, and Fatima Rojas, were honored around the theme, "Connecticut Rising - We are all the 47 percent!"
Filling the auditorium were striking 1199 members from Healthbridge nursing homes nearing a full year on the picket lines; a large delegation of custodial workers, members of Local 32 BJ who came to help honor their director Kurt Westby, and many Unite Here union members including several who serve on the New Haven Board of Aldermen..
Sen. Toni Harp who represents the 10th District in New Haven and West Haven and serves as chair of the appropriations committee, moved the audience when she said that she was dedicating the award to Al Marder with whom she works on the Connecticut Freedom Trail, and to her late husband Wendell Harp who first encouraged her to run for office.
"This election shows that the 47 percent are the most important part of the electorate," she exclaimed.
Harp was repeatedly applauded for refusing to back down in her support of the New Haven People's Center when the "Right Wing used red baiting to pressure Governor Daniel Malloy to withdraw bonding funds requested by Harp to re-point the 150 year old brick structure."[7]
Support for People's Center
In 2012, Sen. Toni Harp was thanked for her unwavering stand in defense of the funding for the New Haven People's Center. [8]
References