Tom Downey (former Representative)
Jump to navigation
Jump to search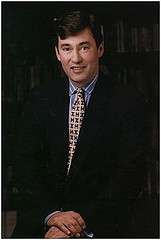 Template:TOCnestleft Thomas J. Downey is a former Democratic Congressman, and is the husband of former Obama "Energy Czar", Carol Browner.
The Chile letter
On August 1 1979 Thirty-five U.S. Congressmen signed a letter[1]to President Jimmy Carter demanding that private bank loans to Chile be barred unless the Chilean government chose to extradite three military officials, including the former director of the Chilean intelligence service. The three had been indicted for complicity in the assassination of marxist Unidad Popular government member and KGB agent Orlando Letelier and the killing of Institute for Policy Studies (IPS) staffer Ronni Moffitt in 1976.
In May 1978 the Chief Justice of the Chilean Supreme Court rejected the U.S. request for extradition.
Chief sponsor of the letter was Rep. Tom Harkin (D-IA), who was joined by Congressmen John Burton (D-CA), John Conyers (D-MI), Robert Kastenmeier (D-WI), Ron Dellums (D-CA), Berkley Bedell (D-IA), Richard Ottinger (D-NY), Fred Richmond (D-NY), Robert Drinan (D-MA), Leon Panetta (D-CA), Don Edwards (D-CA); Norman Mineta (D-CA), Pete Stark (D-CA}, Anthony Beileson (D-CA) George Brown (D-CA), Toby Moffett (D-CT), Dale Kildee (D-MI), Eugene Atkinson (D-PA), Michael Barnes (D-MD), David Bonior (D-MI), Adam Benjamin (D-IN), William Brodhead (D-MI), Robert Carr (D-MI), Tom Daschle (D-SD), Tom Downey (D-NY), Harold Hollenbeck (R-NJ), Pete Kostmayer (D-PA), Stewart McKinney (R-CT), Edward Markey (D-MA), Andrew Maguire (D-NJ) Richard Nolan (DFL-MN), Gerry Studds (D-MA), Bruce Vento (DFL-MN) and Howard Wolpe (D-MI).
The Harkin letter characterized the Chilean government as "an enemy of the American people" and urged the President to "take strong action against this terrorist government." The letter was released (9 A.M. on August 1 1979) at the same time a press statement from the Washington, DC, Chile Legislative Center of the National Coordinating Center in Solidarity with Chile, staffed by veterans of the Venceremos Brigade and the Communist Party USA, supported the Congressional letter and urged pressure so that the State Department does not accept a military trial of the three Chileans in Chile as a substitute for extradition and trial in the US.
Voted against support for "Contras"
The Congressional Record of February 3, 1988 shows that the following leading Democratic Party Congressmen voted against aid to the Nicaraguan Freedom Fighters - the "Contras"- then fighting against the Marxist-Leninist Sandinista government of Nicaragua:
Supported by Council for a Livable World
The Council for a Livable World, founded in 1962 by long-time socialist activist and alleged Soviet agent, Leo Szilard, is a non-profit advocacy organization that seeks to "reduce the danger of nuclear weapons and increase national security", primarily through supporting progressive, congressional candidates who support their policies. The Council supported Tom Downey in his successful House of Representatives run as candidate for New York.[2] He has also been previously supported by the Council.[3]
Pubic "wants test ban"
April 17, 1986, the Committee for a Sane Nuclear Policy said a poll it commissioned with Opinion Research Corp. of Princeton, N.J., also showed that 60 percent of U.S. citizens believe the United States should halt nuclear weapons testing as long as the Soviet Union stops its tests.
The poll shows beyond a doubt that the vast majority of Americans want President Reagan to stop nuclear testing, especially before any second summit meeting, said David Cortright, executive director of the group.
The poll results were announced as several members of Congress pushed for House consideration of an amendment to cut off money for nuclear weapons testing until the president certifies that the Soviet Union has conducted another test.
The House Rules Committee agreed Thursday to allow consideration of the amendment in conjunction with a $1.7 billion supplemental spending bill scheduled to come up next Tuesday. The committee said debate and amendments to the testing cutoff would be limited to two hours.
What we're trying to do is break the administration's testing habit - cold turkey, Rep. Ed Markey, D-Mass., said at a news conference with officials from the anti-nuclear group.
Markey said he and Reps. Patricia Schroeder, D-Colo., and Tom Downey, D-N.Y., had planned to offer their amendment cutting off nuclear test funds Thursday on the House floor. But their vehicle, the supplemental appropriations bill, was pulled off the floor Wednesday after an unusual parliamentary maneuver.
According to the organization, governors or legislatures in five states - Washington, New York, Hawaii, Ohio and Rhode Island - have adopted test ban resolutions. More than 60 communities in 13 states have passed similar resolutions, the group said, while 25 Nobel laureates signed an April 8 letter to Reagan urging him to stop testing until a summit or until the Soviet Union resumed testing.
SANE also released a nuclear test ban endorsement signed by five former high-ranking government officials including former CIA director William Colby; former arms control negotiator Paul Warnke; former scientific director Jerome Weisner; former deputy secretary of the Air Force Townsend Hoopes; and former deputy assistant defense secretary Adam Yarmolinsky.[4]
LIPC Electoral support
Around 1990, Marge Harrison, a long time leader of the Democratic Socialists of America dominated, Long Island Progressive Coalition, was the state vice chair of the Democratic Party. Thanks to LIPC support Suffolk County , once a Republican "fiefdom", elected three "progressive" Democratic Reps., Tom Downey, Robert Mrazek and George Hochbrueckner, as well as a liberal Democratic County executive, Patrick Halpin.[5]
All have been supported and helped by the LIPC, which enjoys good relations with all of them and many other local office holders, such as Republican County legislator Fred Thiele...
LIPC support for Unemployment Bill
In 1991 the Democratic Socialists of America dominated Long Island Progressive Coalition organized unemployed workers in support of Tom Downey's bill to extend the number of benefit weeks for unemployed workers in states with more than 6% unemployment.[6]
JStreet advisory council
In 2009 listed members of the JStreet advisory council included Thomas Downey, Former Member of Congress, New York [7]
Council for a Livable World, 50th Anniversary
On June 6, 2012, Council for a Livable World, along with its sister organizations Center for Arms Control and Non-Proliferation and Council for a Livable World's PeacePAC, celebrated the 50th Anniversary of their founding by Leo Szilard in 1962.
An evening celebration was held at the Newseum in Washington, D.C. Congressman Barney Frank acted as the Master of Ceremonies and, in the process, received a lifetime achievement award from former Rep. Tom Downey, a member of the Council's Board of Directors. The Robert F. Drinan Peace and Human Award was presented to former Representative and PeacePAC Chairman David Bonior and the late Edith Wilkie, a longtime advocate and leader for peace and justice.[8]
CDA connection
Former Rep. Tom Downey attended the Center for Democracy in the Americas' 8th Anniversary Event, June 19, 2014.[9]
References