Thistle Parker-Hartog
From KeyWiki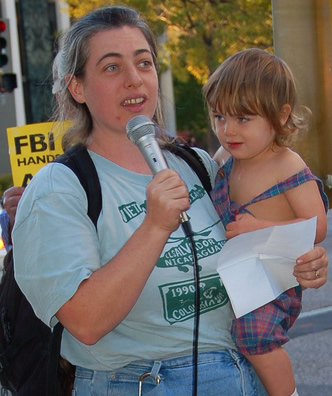 Thistle Parker-Hartog was raised in Oregon and lives in Minneapolis with her partner and two children, ages 2 and 4.
International Advocacy
Parker-Hartog traveled to El Salvador where she aided CISPES in constructing a church/community center and monitoring the 1994 elections. After moving to Minnesota , she continued to work with CISPES around issues of immigrant justice, and helped form the Anti-War Committee in 1998. In that capacity, she has worked to end U.S. wars and aggression abroad. She traveled to Colombia and met with union leaders, activists, and indigenous leaders who have been struggling to survive and make progressive change in the face of repression from their own government, a repression fueled by her government. [1]
Minnesota Coalition for a People's Bailout
Circa September 19, 2009, Thistle Parker-Hartog signed a petition initiated by the Minnesota Coalition for a People's Bailout entitled, Petition to Demand a People's Bailout which includes the statement, "Tax the rich, make them pay for their crisis!"[2]
September 24, 2010 FBI Raids
On September 24 the F.B.I. raided the homes of twelve leftist activists across the U.S.A. looking for links to foreign terrorist organizations. Thistle Parker-Hartog was one of those whose home was raided and who is being investigated by the FBI.[1]
References