The Guardian
Jump to navigation
Jump to search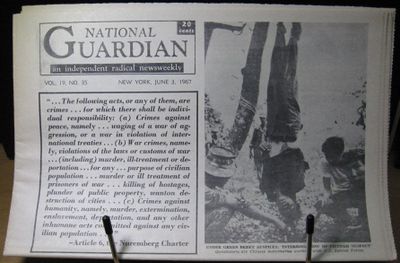 The Guardian was a radical left, independent weekly newspaper published between 1948 and 1992 in New York City. The paper was founded by James Aronson, Cedric Belfrage and John T. McManus. It was originally named the National Guardian.[1]
The National Guardian was cited as a Communist Party CPUSA and Soviet propaganda publication by HCUA in 1956, thusly:
"established by the American Labor Party in 1947 as a 'progressive' weekly * * *. Although it denies having any affiliation with the Communist Party USA (CPUSA), it has manifested itself from the beginning as a virtual official propaganda arm of Soviet Russia." [2] as listed in Guide to Subversive Organizations and Publications and Appendixes, House Document No. 398, House Committee on Un-American Activities, December 1, 1961, p. 193
Some of its earliest writers were directly linked to Soviet operations, including Cedric Belfrage[3] and [4]
The Guardian supporters and fundraising efforts sponsors
Source: Mailing dated March 2, 1979 from the Guardian asking for financial support for the newspaper. Signed by the following members of the Guardian Coordinating Committee:
Names of supporters of the Guardian and its appeal:

SOURCE: Guardian, May 6, 1981, p. 8 fundraising appeal
"We urge you to support the Guardian's good work in bringing independent, radical journalism to the people of North America" Partial list of endorsers, May 1981
[This list contains a good mix of old hardcore CPUSA members and sympathizers, New Left/Hanoi Lobby members, Cuba Lobby members, black Marxists, and a couple maoist-oriented radicals]
"Conrad Lynn, Attorney: Conrad Joseph Lynn was a witness before the House Committee on -Un-American Activities on May 6, 1963. During his testimony, he admitted membership in the Young Communist League (YCL) from 1928 to 1931, and membership in the Communist Party (CPUSA) from 1934 to 1937, when he was expelled from the Party. "HCUA hearings re "Violations of State Department Regulations and Pro-Castro Propaganda activities in the United States, Part I", pp. 304-320).
"Conrad J. Lynn, of New York, was listed as a member of the National Council of the National Emergency Civil Liberties Committee (NECLC). (Letterhead dated April, 1972)." The NECLC was cited as communist and subversive twice in the 1961 "Guide to Subversive Organizations and Publications", NCUA. "HUAC Annual report for 1958, House Report No. 187", March 9, 1959, pp. 34 and 35, as well as in "Handbook for Americans, [Senate Internal Security Subcommittee]] (SISS), Sen. Judiciary Committee, S. Doc. 117, April 23, 1956, p. 91.
Lynn was listed as a "sponsor" of the pro-Castro "The Committee for the 20/26 Expo Cuba, Expocuba, ExpoCuba, July 16, 1973, p. 2237 of the "Theory and Practice" volume.

SOURCE The Guardian, April 13, 1983, p. 2, fundraising message "We Interrupt This Newspaper to Bring You An Urgent Message"
$35,000 Matching Fund deadline: May 1
Contributions needed immediately for the Guardian to continue publication
Source:[5]
"We Interrupt This Newspaper to Bring You An Urgent Message"
$35,000 Matching Fund deadline: May 1
Contributions needed immediately for the Guardian to continue publication
"35: 1948-1983" "Now, during its 35th anniversary year, join us in offering much-needed support to the Guardian - an essential voice committed to today's struggles for peace, liberation and social justice" - Banner over list of supporters as follows:
Organizations Supporting the Guardian Fundraising appeal:
Guardian Staff, Writers and Contributing Writers/Guardian Associates
In this section, lists of Guardian Staff, Writers, and Contributing Writers known as Guardian Associates will be listed from various issues covering over 20 years (roughly 1970-early 1990's). Some of these individuals will show up elsewhere in the media and in marxist/socialist/communist groups, fronts and causes.
"Guardian" issue of May 6, 1981, p. 15:
Staff Writers:
Guardian Associates:

"Guardian" issue of September 13, 1989:
[Some are members of the Guardian staff cooperative; others are members of the staff and elected coordinating committee]
Business Staff:
Production:
Guardian Associates:

"Guardian" issue of April 3, 1991, Vol. 43, No. 23: Letters to the Editor:
Writers/Contributing Writers of articles/columns, etc.: [Staff writers are not listed again]
External links
References