Terrie Albano
From KeyWiki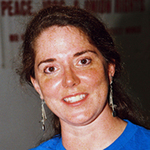 Teresa (Terrie) Albano is a Communist Party USA activist and is editor of People's World. Born and raised in Chicago, Teresa (Terrie) Albano lived and started a family in Bronx, N.Y. before moving back to her hometown.
She is a member of the Chicago Newspaper Guild, Communication Workers of America, and has been active in grassroots political and labor organizing for more than 25 years.
Albano has traveled throughout the U.S. and world, including Italy, India, Cuba, Ireland, Angola, Mexico, Moscow and Pyongyang[1].
She is married to John Bachtell.
WREE contact
Terrie Albano, of Chicago, was on a May 2, 1985 mailing list for Chicago Women for Racial and Economic Equality - a front for the Communist Party USA.[2]
YCL
In the early 1990s, Terrie Albano was National coordinator of the Young Communist League USA
Albano had a variety of jobs, including four years as a machinist/tool and die maker, and seven years on the national staff of the Young Communist League USA, where she participated and organized in the U.S. youth and student movement of the 1980s and 90s.[3]
Party role
In 2001 Albano was assistant editor of the People's Weekly World, under Tim Wheeler.[4]
In 2009 Terrie Albano is the Chicago based editor of the Communist Party USA newspaper People's Weekly World.
Endorsed Communist Party Call
On March 30 2002 the Communist Party USA paper People's Weekly World called for a national holiday in honor of late Farm Workers Union leader Cesar Chavez. The article was followed by a long list of endorsers[5]including Terrie Albano, Almost all endorsers were confirmed members of the Communist Party USA.
Supporting Obama
Terrie Albano, as editor of the Communist Party USA newspaper Peoples Weekly World was an early and ardent backer of Barack Obama and the movement around him.
Albano wrote on the PA Editors Blog on January 31 2008[6];
The movement that has exploded around Obama is so important. It's antiracist in essence. It's deep and broad and multiracial and multigenerational. It has insightful and sophisticated everyday people active in it. It's the cream rising to the top after the long horrendous period of the Bush administration and ultra right rule since Reagan.
But even if Obama doesn't win and Hillary Clinton does, getting rid of any ultra rightist will take this country forward. And the movement around Obama will influence Clinton.
This kind of upsurge comes around just once in a lifetime. I hope for all progressives - each of us - get involved. Don't stand on the sidelines. Be active. Don't let history pass you by.
References