Tennessee Equality Project
From KeyWiki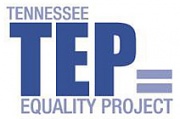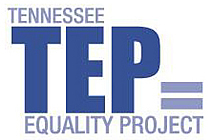 Tennessee Equality Project is a statewide organization dedicated to promote and sustain the equality of lesbian, gay, bisexual, and transgender persons in the State of Tennessee through the "establishment of fair and equitable laws protecting these rights and the elimination of laws that would seek to counter this effort".
TEP was founded on June 15, 2004 by members of the LGBT community in Nashville, TN in an effort to organize a group of committed citizens who believe in protecting the rights of GLBT persons in Tennessee.
While the Tennessee Legislature is in session, TEP monitors legislators and has a full-time lobbyist on the hill "representing the LGBT community. In addition, TEP encourages and provides the resources for Tennesseans to contact their representatives regarding specific legislation that affects the LGBT community in Tennessee".
Since inception, TEP and TEP Foundation have been proud members of the Equality Federation, a nationwide membership and support organization for independent state LGBT advocacy organizations.[1]
Leadership
As of December 2012.
Chattanooga-Hamilton
Cookeville-Upper Cumberland
Jackson-Madison
Knoxville-Knox
Memphis-Shelby
Nashville–TEP Nashville Committee serving Middle TN
Tim Busch, Director of Government Relations/Advocacy
Chai Feldblum visit
According to writer James Raines, writing for the Communist Party USA's People's World, Chai Feldblum, a Commissioner at the EEOC and the lead attorney in drafting the Americans with Disabilities Act, met with a small group of Memphis equality advocates days before the rally in the basement of Evergreen Presbyterian Church. "Ultimately what is needed," Feldblum said, "is a federal law." "But," she said, "until we get that, what we need is an executive order."
The meeting tool place at the Evergreen Presbyterian Church, December 6, and was sponsored by the Tennessee Equality Project, SCC, and Tennessee Transgender Political Coalition. [8]
Commissioner Feldblum helped bring the recent EEOC ruling extending workplace protections to transgender people, and she is a vibrant and exciting speaker.
According to Raines, Feldblum outlined her approach, saying, "You need three things to create social change: law, policy and practice and social norms." An executive order from President Obama would represent a crucial change in policy and advance the cause of equality. Feldblum confided, "I have zero doubt the President will issue this executive order." She paused, then added, "The question is when...we have to be smart and strategic about it.[9]
Anti "discrimination" protests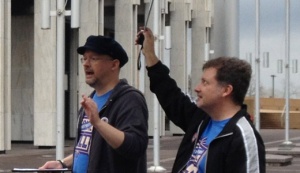 Supporters of the Tennessee Equality Project rallied outside of the federal courthouse in Memphis Dec. 9.2012. All across the state, similar rallies took place to petition President Barack Obama to sign an executive order barring discrimination based on sexual orientation and gender identity in federal contracting jobs.
Michelle Bliss, discussed why the TEP is seeking an executive order from the President: "Our state legislature has cut us off at the knees." She went on to explain, "Nashville has passed a law that says no municipality can extend protections beyond their own employees."
In October, by a 9-4 vote, the City Council of Memphis approved a nondiscrimination ordinance that extended protections to city workers based on sexual orientation and gender identity. However, the City of Memphis is powerless to extend similar protections to other workers due to state law.
According to Bliss, "The only way to overcome this state law is through federal action." She added, "Workers should be judged by what they do 9 to 5" and not by who they love.
Anne Gullick, the Tennessee Equality Project's Shelby County chairperson, addressed a semicircle of thirty equality advocates saying, "This is about equality in the workplace." Gullick, standing beneath the American flag, said, "I am a straight woman. This is my cause." She pointed out that "the women's rights movement and the LGBTQ rights movement" have much in common: "the oppressors are the same."
Communist Party USA supporter Glenn Ramsey, an adjunct professor at the University of Memphis, encouraged the crowd to "extend the struggle" and "build on the recent victory [in the Memphis City Council]." Ramsey said they should secure "the real right to work... for lesbian, gay, bisexual and transgender" people across Tennessee.
While his partner, Jim Maynard, from Democratic Socialists of America held an umbrella over his head, Ramsey put the purpose of the rally into perspective, saying, "We know, as America's working people, that policies like these [right to work] and longstanding employment discrimination against LGBT people, only serve the aims of America's corporate elite to divide and conquer our national workforce."
James Raines, attended, and photographed the pair.[10]
References